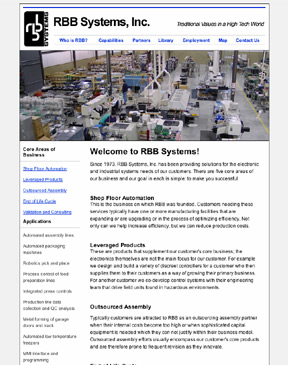 RBB Systems, Inc.
Industrial electronics and engineering company RBB Systems was one of my first, oldest clients. The site I had designed for them in 1996 had served them well for over six years, but after the economic slowdown the company had refocused itself and streamlined its marketing materials. The challenge: to speed up the website, make it easier to update, and redesign it with a more industrial look and feel.
First, by stripping out the 1996-era nested tables and replacing them with clean, straightforward CSS, the download times required for the site were sliced almost in half. The graphical navigation system was replaced with simple text links, and whole sections of the site were refocused, combined and condensed to optimize the site's architecture. The result is a site that is much faster, easier to navigate and more in step with the company's new focus. Further, by using PHP includes to further separate the content from the markup and introducing the company to Macromedia's Contribute, we were able to ensure that simple text edits and additions could be made in-house.
This revised version of the website served the company well for several more years, until a shift in the company's central business model required a complete marketing overhaul in 2006. Unfortunately, at that time I wasn't available to help, but I wish the company the very best in its future projects and remain eternally grateful to RBB as a place where I first learned the tools of the trade.
Rbbsystems.com was produced using Photoshop, HTML, JavaScript, and lots of CSS.