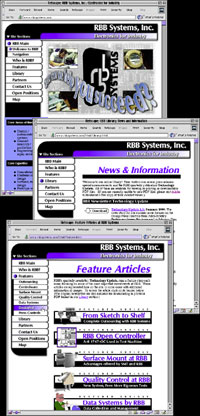 RBB Systems, Inc.
The year: 1996. I'd been working part-time at RBB Systems for a while, putting together their press releases and newsletters, when they asked me to assemble their web site for them. "No problem," thought the pre-web version of me. "I've surfed the web before. How hard can this be?"
Luckily, my experience with paper layout sort of translated into online design. The first version of rbbsystems.com closely resembled the newsletters, which was all right since that was basically what the site was: an online edition of the newsletters I was already doing. As the site grew, however, we quickly outgrew both the initial information architecture and NetObjects Fusion, which we had used to build it. By the end of the first year, we had migrated to GoLive CyberStudio and had begun to incorporate new features into the site, such as open employment opportunities, a map to the company for visitors, and a library of all our documentation in PDF format.
While this was one of my first web design projects, it was still a sound, solid project. The design and work that I did on this project lasted the company for six years, until I returned to redesign it in 2003.
I was responsible for the site architecture, 90% of the copy and 100% of the graphics. In addition to the site creation itself being done in GoLive and Fusion, the project's toolbox included Photoshop, Illustrator, and ImageReady for the graphics and Acrobat for the PDFs.