Characters
Michael Coldman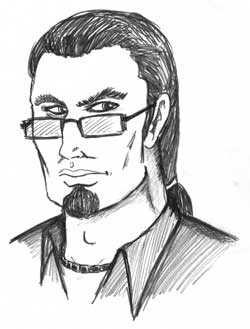 Synopsis
Michael Coldman, 25, is part Fox Mulder and part Vin Diesel. He is both brilliant and muscular, but like Mulder, his penchant for the supernatural has rendered him an outcast. He has unknowingly attracted the attention of both the right people and the wrong ones by publishing numerous articles on religion, folklore, mythology and archaeology in various magazines and academic journals. His real passion, though, is for ghost stories and cryptozoology, which he is currently researching in his small apartment over the Time Out Cafe in Beckett, Ohio.
Physical Appearance
Michael is a big, burly man, standing about 6'2. He has a small closely-trimmed goatee and long black hair which he wears in a ponytail. He wears small square glasses over his sharp green eyes, and has a fondness for black shirts and blue jeans.
Attitude
Michael has a fairly gruff, often grumpy demeanor, and a deep bitter streak. His highly defensive attitude may come from his losing his parents in a plane crash at an extremely young age, and from his being betrayed by both his mentor and his girlfriend in college.
Background
Michael was born in Beckett, but after the crash he was raised by an aunt who was a nun in New York. His aunt was extremely strict and openly resented him for invading her life, and shuttled him off to a prestigious Catholic boarding school as soon as possible. While he would never admit it, the loss of his parents probably also explains the zeal with which he researches and investigates the paranormal, out of some conscious or unconscious desire to contact them. His membership in several secret societies was facilitated by the middle-sized fortune left to him by his parents, which has also bankrolled his primarily academic lifestyle.
He attended Harvard University for two years, where he studied under Dr. Simon Blacknail, one of the top religious scholars in the world. Blacknail became Michael's mentor and the closest thing to a father figure he had ever known, but Blacknail destroyed that trust by seducing Michael's girlfriend. Michael transferred to Beckett University, partly to move back to Beckett in search of a home he'd never known, and partly because it was in the middle of nowhere. It was there that he met Pi St. John, who quickly became his best friend, as well as Jack Walker and Callie Davies. After graduation, Michael elected to stay in Beckett and began making a name for himself as a writer. His first book, The History and Mythology of Spring-Heeled Jack, was released by a very obscure publisher somewhere in New England and can usually only be ordered over the Internet. Since then, though, he has been frustrated as to what to do for his next project. He has been living in Beckett for five years, and has no immediate plans to leave.
Pi St. John
Synopsis
Pi St. John, 25, is the best friend of Michael Coldman, whose articles and books Pi frequently illustrates. Initially, he seems to be little more than a Dr. Watson to Michael's Sherlock Holmes, but this is misleading. In truth, Pi is a natural born leader. He thinks quickly on his feet, has a very strong moral compass and, completely unbeknownst to him, can be as hard as steel when he's properly determined. The trouble is, up to this point he hasn't really set his mind to anything. That is about to change.
Physical Appearance
Pi has floppy, tousled blonde hair and a lean, agile physique. He has sharp blue eyes and an easygoing smile. He likes to wear t-shirts and paint-spattered blue jeans. All of this combines to give him a perpetually boyish appearance, which, coupled with his lack of ambition, makes him come across as the quintessential slacker artist.
Attitude
Pi is normally very easygoing. He is very much a small town boy, and to him friends and family are more important than anything. Pi's only major life goals are to show his work in New York and then return to Beckett to get married and raise some good kids. Someday. The only woman he ever truly considered for the job, Vicky Ravenswood, is the only daughter of the local billionaire so she is obviously out of his league, and besides, she's currently earning her Master's degree in Paris, where she is sure to have found an appropriate fellow. Pi tries not to think about it, but isn't making any efforts to find anyone else either. He will, eventually. Someday.
Of course, when Vicky suddenly shows up again, "someday" becomes a lot more real and Pi is abruptly confronted with a very solid reason to grow up.
Background
Pi has always lived in Beckett, and until three years ago, he lived on the Beckett University campus. The son of two mathematics professors, Pi baffled everyone's expectations by turning out to be horrible at mathematics and fairly spectacular at both painting and kickboxing. After graduation he elected not to move back in with his parents but to move into a basement apartment beneath his uncle's bookstore, where he works part time to complement his meager income as an artist and freelance illustrator.
When he's not working at the bookstore, Pi can usually be found sitting in the window seat at the Time Out Cafe, drinking black coffee, chatting with Jack Walker and sketching the people that pass by.
Vincent Ravenswood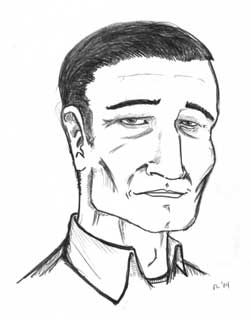 Synopsis
Vincent Ravenswood III is the last of a long line of lumber and industrial barons, and the resident billionaire in Beckett. Since his only daughter, Vicky Ravenswood, left for college, Vincent has lived alone in their mansion on a hill overlooking the town. He spends his time using his money to bring new business development to Beckett, assemble little charitable organizations, trusts and public buildings with his name on them, and to indulge in his bizarre hobbies – one of which is the occult. He's heard of Michael Coldman, but has never attempted to contact him. He prefers to associate himself with the big names in the field, like Dr. Simon Blacknail, Ph.D. from Harvard. Once Michael has proven himself, however, Vincent may be in a position to financially assist Michael and Pi St. John and give them the direction they're looking for.
Physical Appearance
Vincent is a tall, gaunt man who likes to wear charcoal gray suits. He keeps his salt-and-pepper hair cut short. His most noticeable feature, though, are his cloudy gray eyes, which have a perpetually slightly sad look to them.
Attitude
Vincent genuinely tries to be pleasant to everyone, but there has been an air of sadness about him ever since his wife died in childbirth. He raised Vicky himself, even though he could certainly have afforded to hire a nanny, because he still feels responsible for his wife's death. He is a very loving father, just slightly offbeat, and that loneliness sometimes permits him to be taken in by the odd con man. He is constantly baffled by the strong rebellious streak that this extremely close upbringing installed in the girl, but he considers her his life's greatest accomplishment nevertheless.
Background
Generations ago, the Ravenswood family came to Ohio not long after the Becketts, and over the years have set themselves up as the people who know people. They made their fortune in logging and manufacturing, but the Ravenswood empire was sold off to an international conglomerate by Vincent's father. There was a lot of uproar in the town when this happened, because the big corporation began to shut down the local factories, but the Ravenswood family played such a large part in the local community that they eventually begrudgingly forgave them. Still, Vincent has lived a very lonely, eccentric life.
Since Vicky left, Vincent has been indulging in more and more weird activities, such as seances and expeditions to Africa to look for Mokele Mbembe and other monsters. This worries his daughter no end, because while it makes her happy to see him happy at last, she fears his being taken in by charlatans.
Vincent's most recent local development is the installation of a chain megabookstore, which he is building in downtown Beckett. It is during the excavation on the bookstore's underground parking garage that the construction team discovers what appears to be the fossilized bones of an angel. This supernatural discovery is like an early Christmas present to Vincent, who promptly calls in Dr. Blacknail to consult. When Vicky catches wind of what's happening, she comes home to make sure her father doesn't get swindled, and turns to Pi and Michael for help.
Victoria Ravenswood
Victoria Ravenswood is a self-styled gypsy, actress, and eternal belle of the ball. She is artistic, a whirlwind of energy and an expert in everything that she sets her mind on. She is brilliant, charming, loving, views everything new in the world with excitement and embraces it wholeheartedly, and is often completely blindsided by how annoying she can be to others.
Victoria loves wearing long, brightly-colored print dresses and dangly earrings that seem like they've been scrounged from the local Goodwill, but actually sported four-figure price tags when they were snatched up on one of her regular trips to 5th Avenue. She wears her black hair in a long ponytail that stretches most of the way down her back, and her eyes are a deep, beautiful brown.
Victoria is keenly aware of the stereotype of the poor little rich girl, and has always tried fiercely to avoid all such behavior – except where it could make her a little more worldly. She has tried to combine learning everything she can about the world with as many small-town ideals as possible, which has resulted in a strange, unpredictable cocktail of flightiness and responsibility. Growing up, she snubbed the expected social circles and was best friends with Pi St. John. Her father approved wholeheartedly of their friendship – after all, Pi was the son of two math professors, so surely he must have had some passion for numbers and practicality, two things his daughter sorely lacked? But alas, it was not to be so; Pi and Victoria terrorized the town with their antics and spent long days making up stories and playing with Pi's art supplies. Some of her truly horrendous paintings still hang in the mansion, beside the Rembrandts and the Magrittes.
Dr. Simon Blacknail, Ph.D.
One of the top religious historians and anthropologists in the world, Dr. Simon Blacknail was Michael Coldman's mentor during his brief stint at Harvard. Dr. Blacknail has been hired to oversee the excavation of the bones by Vincent Ravenswood.
Dr. Jonathan Nautonnier, Ph.D.
Assistant to Dr. Blacknail. French. Annoying.
Jack Walker
The protagonist from NeverJack returns in a cameo appearance. Jack Walker, also 25, graduated from Beckett with a creative writing degree a couple of years ago. He got to know Pi while at Beckett, and has maintained a good friendship with him ever since. He is currently a part-owner of the Time Out Cafe, along with Kirby Richmond. Pi can almost always be found working at the front window of the Time Out.
Caliban Davies
Reminiscent of the Lone Gunmen from the X-Files, Caliban is an old Internet friend of Michael's. He lives in a trailer deep in the woods outside of Beckett, where he works on programming projects and other mysterious things for clients all over the world. He lives with his common law wife, Winnie, who keeps him in line. Aside from Winnie, Caliban is very much a loner, and paranoid in the extreme. One of his hobbies is developing extremely sensitive surveillance equipment, which most likely ties in nicely with his work for those unnamed clients.
Grant Nichols
A one-time cop and an ex-marine, Grant Nichols is currently the head of security at the excavation. He's a big guy, tough, likes his guns and fast cars. When not working for Mr. Ravenswood, he can usually be found at one of the local bars. He has little patience for geeks and artists, but he's a good man to have around when the chips are down.