Recently in DrawMo Category
November 14, 2008


DrawMo and NaNoWriMo updates: 23,656
The steady march to 50,000 words nears the halfway point, as I hit 23,656 words this morning. I elected not to attend the Simon Winchester lecture last night after all due to feeling a little under the weather, so I used the time instead to get a mess of work done on both this and a number of other projects (including some editorial work I'm doing for the Journal of Transformative Works and Cultures, which is taking me back to my Inkblots glory days. I also uploaded DrawMo entries for November 12th and November 13th – the one from the 13th is probably my favorite so far because it's the first time I've successfully done a cartoon of a cat that I'm really happy with. (Thanks for modeling, Albus.)
I am, however, slightly annoyed with how NaNoWriMo is suffering from its own success. Although I made sure to update my word count last night before midnight, it didn't count it until today, which means that the little widget on the side of my blog there has yesterday marked down in red, which it shouldn't have done. Also annoying is the fact that since I didn't start entering word counts until the 10th, and since the system automatically ignores outlier numbers, the report card page that they have set up for each author has my average word count at around 91 words a page, which is obviously bunk. For the curious, 23,656 divided by 14 is 1,690, rounded up - so that statistic is only around 1,600 words off!

November 12, 2008


DrawMo and NaNoWriMo updates: 19,629.
First of all, I've just uploaded a mess of illustrations from the last 10 days or so to my Flickr account as part of my DrawMo 2008 experiment. I cheated a little by doing three drawings yesterday to make up for missing two days before (shhh, don't tell). Mostly they're influenced by my recent obsession with Mike Mignola and Guillermo del Toro, especially the ones I did last night while watching the special features on the Hellboy II Blu-Ray discs with Laura, but there's a couple character sketches of the new blood from Children of Winter, Children of Wolves in there as well, including this guy: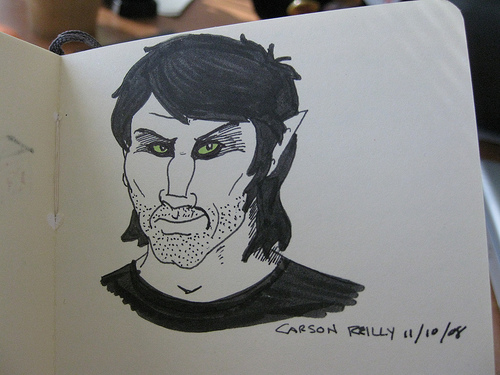 Does he look like trouble to you?
That brings me to my NaNoWriMo update. Although I fell short yesterday thanks to the siren song of the long-awaited and aforementioned Hellboy II Blu-Ray release, as well as last night's episodes of House and Fringe, I woke up early this morning to bang out an additional 2,265 words in the form of a chapter wherein a college professor meets a grisly end. Mwa ha ha. Hopefully I can tuck back into it again tonight, because tomorrow night I have a lecture to attend (Simon Winchester on the OED, woo-hoo!) and Friday night is Quantum of Solace, which I am well and truly geeked out about.
It has just occurred to me that I should probably apologize to any readers out there who follow this blog for deep, insightful intellectual observations, but then again, if you know me then none of this recent geekery should come as a surprise. As Heath Ledger's Joker said, "It's all part of the plan."
See? Even my apologies are rife with metageekery. There's no escaping it, so I might as well revel in it.

November 1, 2008


Masochism incarnate: NaNoWriMo AND DrawMo 2009.
Because I am completely barking mad, I've decided to attempt both NaNoWriMo and DrawMo this month. So far DrawMo is winning, as "Lanterns" indicates, but I have several things kicking around for the story already. I'm trying to decide if a series of interconnected short stories counts as cheating for NaNoWriMo. I hope not. (Hey, if people can publish such things as novels, I think I'm in the clear – and coming out of this with a handful of short stories I can shop around would be worth its weight in gold.
I'm also wondering if conference/journal proposals and interviews should count towards the word count – on this I'm leaning towards definitely not, which is too bad – I've been writing more of those lately than I care to think about!