Recently in Events Category
November 19, 2009


Free Public Lecture Tonight: Jeff Vandermeer on Transmedia
In the Boston area tonight for Futures of Entertainment, or a C3-minded local who can't make it to the conference? This evening from 5-7, the novelist, anthologist and cross-media storyteller Jeff VanderMeer is giving a free, open-to-the-public talk as part of MIT's Comparative Media Studies Colloquium lecture series and the unofficial kickoff to Futures of Entertainment! The talk will last about 45 minutes, after which the anthologist, essayist, NPR commentator and Booktour.com CEO Kevin Smokler will lead the Q&A session.
Here's the rundown:
Booklife: The Private and the Public in Transmedia Storytelling and Self-Promotion
Jeff VanderMeer with Kevin Smokler

Fictional experiments in emerging media like Twitter and Facebook are influencing traditional printed novels and stories in interesting ways, but another intriguing new narrative is also emerging: the rise of "artifacts" that, although they support a writer's career, have their own intrinsic creative value. What are the benefits and dangers of a confusion between the private creativity and the public career elements of a writer's life caused by new media and a proliferation of "open channels"? What protective measures must a writer take to preserve his or her "self" in this environment? In addition to the guerilla tactics implicit in storytelling through social media and other unconventional platforms, in what ways is a writer's life now itself a story irrespective of intentional fictive storytelling? Examining these issues leads naturally to a discussion on the tension and cross-pollination between the private and public lives of writers in our transmedia age, including the strategies and tactics that best serve those who want to survive and flourish in this new environment. What are we losing in the emerging new paradigm, and what do we stand to gain?

A writer for the New York Times Book Review, Huffington Post, and Washington Post, Jeff VanderMeer is also the award-winning author of the metafictional City of Saints & Madmen, the noir fantasy Finch, and Booklife: Strategies & Survival Tips for 21st-Century Writers. His website can be found at jeffvandermeer.com.

Kevin Smokler is the editor of Bookmark Now: Writing in Unreaderly Times (Basic Books) which was a San Francisco Chronicle Notable Book of 2005. His writing has appeared in the Los Angeles Times, the San Francisco Chronicle, Fast Company and on National Public Radio. He lives in San Francisco, blogs for the Huffington Post and at kevinsmokler.com, and is the CEO of BookTour.com.

Presented in conjunction with Futures of Entertainment 4.
The event is, again, free and open to the public – registration for Futures of Entertainment is not required. It begins at 5 PM, runs until 7, and is going down at room 4-231 (building 4, room 231) on the MIT campus. Parking on-campus is a little wonky, but there are multiple parking garages around; a better bet is likely to take public transportation. The Red Line in Boston comes straight to Kendall Square, which is right on the edge of the MIT campus. The lecture location is only a few minutes' walk from there.
Jeff is currently on tour supporting his new book Booklife, which he describes as "a unique writing guide to sustainable careers and sustainable creativity, the first to fully integrate discussion of the role of new media into topics that have always been of interest to writers". I just finished reading my copy this afternoon and I can personally testify that it's full of a wide range of great stuff. Jeff splits the book into two distinct sections, one on the author's Public Booklife (marketing, PR, social interactions and other public engagements) and Private Booklife (the actions, philosophies, emotions and other internal struggles of the actual act of writing) and both halves - plus the appendices - are packed with thoughtful insights and useful advice. For example, how do writers deal with envy - and what does Francis Bacon have to say about that? To steal a line from an old tomato sauce commercial, "It's in there!"
5 o'clock PM tonight, Thursday, November 19th, in room 4-231 at the Massachusetts Institute of Technology - I'll see you there!

June 1, 2009


GAMBIT's Phorm at E3!
For those of you lucky to be running around at the
Electronic Entertainment Expo
in Los Angeles this week, keep an eye open for our summer 2008 prototype game
Phorm,
which is being featured in the
IndieCade Independent Games Showcase
! Posted below is the official press release from IndieCade.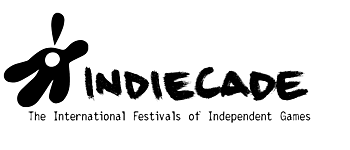 IndieCade @ E3: An Indie Games Showcase
What is the IndieCade International Festival of Independent Games?
IndieCade is the only stand-alone Independent Game Festival in the Nation. It is also the only event of its type open to the public. It is a completely international event.
IndieCade holds an annual juried competition that culminates in its annual Festival. The 2009 Festival will be held in Culver City, California, October 1- 4, 2009. The festival will include an interactive exhibition of finalist games, premiere screenings, live gameplay, a conference, salons, workshops, artist talks, performances, and more. The IndieCade 2009 Festival is programmed to serve the gamemaking community, the industry, consumers of independent media, digitally energized youth, and the general public. Culver City is located between Hollywood, Santa Monica, and Downtown Los Angeles.
What are the IndieCade Showcase Events?
IndieCade holds multiple showcase events at larger venues throughout the year including its IndieCade Europe event. These are either individually juried or curated depending upon the requirements of the venue. The 2009 series of showcase events include:

IndieCade@E3, June 2-4
IndieCade@SIGGRAPH Sandbox, August 3-7
IndieCade@OIAF Canada, October 14-18
IndieCade Europe @ GameCity, October 26-31
What is IndieCade's Mission?
IndieCade supports independent game development and organizes a series of international festivals and showcase exhibitions for the future of independent games. It encourages, publicizes, and cultivates innovation and artistry in interactive media, helping to create a public perception of games as rich, diverse, artistic, and culturally significant. IndieCade's events and related production and publication programs are designed to bring visibility to and facilitate the production of new works within the emerging independent game movement. Like the independent developer community itself, IndieCade's focus is global; it includes producers in Asia, Europe, Australia, and wherever independent games are made and played. IndieCade was formed by Creative Media Collaborative, an alliance of industry producers and leaders founded in 2005. Advisors to IndieCade include Dave Perry, Will Wright, Eric Zimmerman, Neil Young, Tracy Fullerton, and Keita Takahashi, among many other storied industry veterans and rebels.
What do we mean by independent?
Simply put, independent games are games that come from the heart, that follow a creative vision, rather than a marketing bottom line. Independent developers are not owned by or beholden to a large publisher. This means that they generally have smaller budgets than mainstream games (often no budget at all!), but they also have the freedom to innovate and to enlarge our conception of games and game audiences. Indie developers can run the gamut from artists, to academic researchers, to students, to emerging development studios striving to make the next big indie hit. They can be one person or a large team. They may be internally funded, funded by grants or private investors, or not funded at all! The key is that they create games based on their own unique vision.
What is IndieCade doing at E3?
We were invited to curate this exhibition in order to showcase and promote innovation in the game industry. We also help to expose publishers to new independent voices. We work closely with the ESA, the IGDA and other organizations interested in supporting the cause of independent game creation. We share the goal of these organizations to showcase the present and future of video games as a culturally significant form of expression.
How were the games for the E3 Independent Games Showcase Selected?
The showcase was curated by IndieCade co-chairs Celia Pearce and Sam Roberts and Creative Media Collaborative CEO Stephanie Barish. The games were primarily drawn from the 2009 Submissions to IndieCade and we included a few successful games from last year's selection that are otherwise not possible to see. The criteria for this showcase was to put together a diverse array of games that would showcase innovation for the mainstream game industry and game press, represent a wide array of independent game developers, and highlight works to come later this year.
Who are the developers?
The developers represented here include individuals, small teams, independently owned studios, universities and their faculty and students. Developers come from around the world including the US, Belgium, Spain, Austria, Great Britain and others.
Are any of these games slated for mainstream publication?
Last year a number of games shown by IndieCade were picked up by major publishers such as Nintendo, Xbox, and Sony, as well as multiple digital distribution platforms. Other games were selected for Museum installations and other artistic venues. So, don't be surprised to see some of the titles at our showcases and festival as commercial games in next year's E3.
IndieCade @ E3: An Indie Games Showcase
Hands-On Demos
And Yet It Moves*
And Yet It Moves Team *(2007/2008 Official IndieCade Selection, Coming to Nintendo Wii Soon!)
Blueberry Garden*
Erik Svedäng/Sweden *(2008 Official IndieCade Selection, 2009 IGF Awardee)
Closure
Tyler Glaiel & Jon Schubbe/United States
Cogs
Lazy 8 Studios/United States
Dear Esther
thechineseroom/United Kingdom
Flywrench* & Cowboyana
Messhof, Mark Essen/United States *(2008 Official IndieCade Selection, Currently on display at New Museum, New York)
Global Conflicts: Latin America
Serious Games Initiative/Denmark
Octopounce
Auntie Pixelante/United States
Papermint
Avaloop/Austria
Snapshot
RetroAffect/United States
Winds of Orbis: An Active-Adventure
Deep End Interactive/United States
Zephyr: Tides of War
Florida Interactive Entertainment Academy/United States
Alternate Reality, Live Games, and Installations
The Deep Sleep Initiative
ARx/United States
Mightier
Lucas Pope & Keiko Ishizaka/United States
Pluff
Diana Hughes/United States
Prototype161: Agents Wanted
Prototype 161/United States
Mobile
AquariYum!
Teatime Games/United States
Bobobua
Tripod Games/China
Guru Meditation
Ian Bogost/United States
Ruben & Lullaby
Erik Loyer/United States
Games on Video
Fabulous/Fabuleux
Lynn Hughes & Heather Kelley/Canada
Gray
Mike Boxleiter & Greg Wohlwend/USA
Posemania
Anthony Whitehead, Hannah Johnston, Kaitlyn Fox, Nick Crampton, Joe Tuen/Canada
Phorm
Singapore-MIT GAMBIT Game Lab/United States & Singapore
When The Bomb Goes Off
Tom Sennett/United States
Art Exhibition
For this year's E3, IndieCade selected games from past years to present high-resolution prints of screenshots. Below is a list of art on display and the artwork being showcased.
Braid*
Jon Blow & David Helman/United States *(2007 IndieCade Offiial Selection, Xbox Live Arcade)
Blueberry Garden*
Erik Svedang/Sweden *(2008 IndieCade Official Selection, 2009 IGF Awardee)
The Endless Forest - ABIOGENESIS
Tale of Tales/Belgium
Freedom Fighter '56
Lauer Learning/United States
ioq3aPaint
Julian Oliver*/Spain *(2008 IndieCade Awardee, Technical Innovation)
Machinarium*
Amanita Design/Czech Republic (2008 IndieCade Awardee, Aesthetics, 2009 IGF Design Awardee)
The Misadventures of P.B. Winterbottom*
The Odd Gentlemen/United States (2008 IndieCade Awardee, World/Story, Distribution to be announced Shortly)
The Night Journey*
Bill Viola Studio and USC/United States *(2008 IndieCade Awardee, Sublime)
Nobi Nobi Boy Collage
Keita Takahashi*/Japan *(IndieCade Board of Advisors)
Passage*
Jason Rohrer/United States *(2008 IndieCade Awardee, Jury Selection)
Rooms*
Hand Made Games/Korea *(2007 Official Selection, Available on Big Fish Games)
Ruckenblende*
Die Gute Fabrik (the good factory)/Denmark *(2008 IndieCade Awardee, Gamemaker's Choice)
The Unfinished Swan
Ian Dallas/United States
Where is My Heart?
Bernhard Schulenburg/Germany
IndieCade Sponsors, Supporters, and Partners
The Culver Hotel
The City of Bellevue, Washington
The City of Redmond, Washington
Electronic Entertainment Design and Research (EEDAR)
The Entertainment Software Association (The ESA)
GameCity, Nottingham
Gregg Fleishmann Gallery
The International Game Developers Association (IDGA)
Gaming Angels
IDG World Expo
Imago imaging
Jon Burgerman
Open Satellite Gallery
M Café de Chaya
Mary Margaret Network
Royal-T
Rush Street
Signtist
SIGGRAPH
The Wonderful World of Animation Gallery

May 27, 2009


MIT Enterprise Forum Salutes Henry Jenkins on June 16th
If you're in the Boston area and are a friend of GAMBIT, Comparative Media Studies or GAMBIT Co-PI and CMS Co-Director
Henry Jenkins
, you're invited to come help send Henry off to USC in style. From 6-8 PM on June 16th at the new Microsoft Cambridge offices, the MIT Enterprise Forum New England Games and Interactive Entertainment SIG is hosting "A Salute to Henry Jenkins: The End of an Era at MIT". The complete details are as follows:
A Salute to Henry Jenkins: The End of an Era at MIT
Games & Interactive Entertainment SIG Date: Tuesday, June 16, 2009 Time: 6:00 - 8:00 pm Location: Microsoft, One Memorial Drive, Cambridge, MA 02139 One Memorial Drive is located on the Red Line at the Kendall Square/ MIT MBTA Stop. Driving directions and additional details can be found here: DIRECTIONS Join the MIT Enterprise Forum New England Games and Interactive Entertainment SIG (NE Games SIG) for an evening celebrating and honoring Henry Jenkins. For more than 16 years, Henry Jenkins has graced the halls of MIT and shaped the New England games industry as we know it. An avid advocate of games culture, Henry has helped to build a deeply collaborative and creative community as Co-Director of the MIT Comparative Media Studies Program and the Peter de Florez Professor of Humanities at MIT. At the forefront of understanding the effects of participatory media, like video games, on society, politics and culture, Henry is a renowned industry figure and accomplished author/editor of twelve books. It has now come time for Henry to seek warmer pastures as he departs MIT for the University of Southern California. Join the NE Games SIG for this early summer networking event in Henry's honor. Take part in saluting Henry Jenkins with his friends, closest colleagues and your industry peers. The night will be filled with fond farewells and warm memories as we share a collective toast, reflect on his work at MIT and wish him all the best in the road ahead. [Register] [Directions]
We hope to see you there!

April 27, 2009


New Deadline for Indiecade!
Considering submitting something to
Indiecade
, but worried about the April 30 deadline? Good news - the deadline has been extended until
May 15th, 2009 at Midnight PST
. For more information, visit
www.indiecade.com
or check out
our earlier post
. Good luck!

April 13, 2009


Tonight: On the WOW Pod
This evening (Monday, April 13th 2009), the MIT Museum and the Comparative Media Studies program will be hosting a special colloquium panel discussion to examine the WOW Pod, a new collaborative project from artists Cati Vaucelle and Shada/Jahn. Here are the details:
On the WOW Pod:
A Design for Extimacy and Fantasy-Fulfillment for the World of Warcraft Addict Panel Discussion Monday, April 13, 7:00 - 9:00 p.m.
MIT Museum
265 Massachusetts Avenue, Cambridge, MA A discussion about the inducement of pleasure, fantasy fulfillment, and the mediation of intimacy in a socially-networked gaming paradigm such as World of Warcraft (WOW) in conjunction with the exhibition SHADA/JAHN/VAUCELLE, "Hollowed," which includes the WOW Pod, a collaborative project by Cati Vaucelle & Shada/Jahn.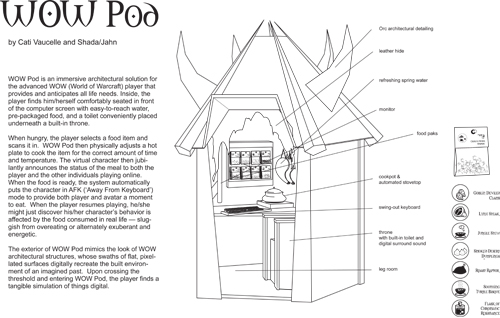 World of Warcraft
(WOW) is a massive online multi-player game that attracts millions of players. A typical scenario for teenagers addicted to the game is to settle down in front of the monitor on Friday night and collapse on Sunday night. Sleep deprivation as well as high saturated fat diet is the pride of these players who barely take any breaks, and when they do they sign the typical "AFK" ("Away from Keyboard") that pops up on top of their avatar. The average AFK is two minutes, time to run to the fridge, to open a bag of potato chips, to replenish the glass of milk, or go to the bathroom. A model for an immersive architectural solution that anticipates all life needs, WOW Pod by Vaucelle/Shada/Jahn responds to these conditions. Panelists include:
Jean-Baptiste Labrune, Postdoctoral Associate at the Tangible Media Group, MIT Media Lab
Raimundas Malasauskas, Curator, Artists Space (NYC)
Henry Jenkins, Co-Director of the MIT Comparative Media Studies Program
Marisa Jahn, Artist in Residence, MIT Media Lab
Steve Shada, artist collaborator
Cati Vaucelle, artist collaborator and PhD candidate at the MIT Media Lab
Laura Knott, Curatorial Associate, MIT Museum
This event is presented by the MIT Museum in collaboration with the Visual Arts Program, MIT School of Architecture + Planning, and the Comparative Media Studies Program, MIT School of Humanities, Arts, and Social Sciences.

April 6, 2009


Philip Tan and Eitan Glinert at IGC East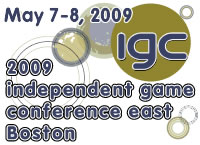 Boston-area indie developers, take note – GAMBIT's US Executive Director
Philip Tan
and recent GAMBIT graduate (and
Firehose Games
Founder and Creative Director)
Eitan Glinert
have both been added to the speakers lineup for the
2009 Independent Game Conference East
conference happening May 7-8 at Northeastern University. Philip and Eitan's talks are as follows:
Steal This Idea!
Philip Tan, US Executive Director, Singapore-MIT GAMBIT Game Lab Are you wrestling with pipelines? Managing multiple projects? Designing emotional games? Or just looking for a different way to play? Games developed by the Singapore-MIT GAMBIT Game Lab challenge assumptions about how games "should" be designed, developed, and played. We'll demonstrate a few of them and describe opportunities for intrepid teams that want to rethink their game development processes and methodologies. Rapid and Iterative Prototyping, or How to Rip Off Dinosaur Comics Eitan Glinert, Founder and Creative Director, Fire Hose Games Ethan Fenn, Programmer, Fire Hose Games You want to make a game, but you're missing an artist, you don't have the design nailed down, you need to find funding, and you don't know what platform you're going to develop for. How do you even start? With prototyping! In this energetic talk we'll walk through the iterative rapid prototyping process we went through making our first title, and we'll demo builds created along the way to highlight key points. The lessons we'll cover are geared towards new developers figuring out how to get off the ground, but we'll have plenty of tips for more seasoned industry vets.
Other speakers currently scheduled to appear at the conference include:
Dallas Snell, Co-Founder of Origin Systems Austin
Vladimir Starzhevsky, Co-Founder and CEO of Creat Studios, Inc.
Brett Close, President and CEO of 38Studios
Norma Crippen, VP of Executive Recruiting and Client Services at the Mary-Margaret Network
Darius Kazemi from Orbus Gameworks
Steve Meretzky, VP of Game Design at Playdom
Judy Tyrer, Networking Engineer at Red Storm Entertainment
Duncan Watt, Founder and Creative Director of Fastestmanintheworld
See you there!

February 11, 2009


Boston Game Jam Games at Post Mortem
A quick reminder to everyone here in the Boston area: tonight's
Boston Post Mortem
will feature the games from the Boston session of the 2009 Global Game Jam, which GAMBIT hosted here at our lab. Here's the description of the event from
the official announcement
:
Instead of a single speaker, we're going to be doing a showcase and post mortem of the games created last weekend at the Boston site of the Global Game Jam. For those of you who don't know, the GGJ was organized by the IGDA as a game jam happening simultaneously around the world, with over 1600 participants creating over 300+ games in 48 hours. Our Boston site was hosted by the Singapore-MIT GAMBIT Game Lab. All 300 games are on the official website, but you might particularly want to check out the six games that were made in Boston. They're all open-source, too, so feel free to take a crack at the code! Hope to see you there!
Post Mortem will go down tonight at 7pm at the Skellig in Waltham. For directions,
click here
.