August 2009 Archives
August 31, 2009


Judging the Parsec Awards.

I've wanted to say something about this for a while, but I was instructed to keep it under wraps. As the page just went live (and my
truncated little bio
is up), I feel comfortable making the announcement: I, Geoffrey Long, served as a
judge for the 2009 Parsec Awards
.
If you're familiar with the Parsecs, you know what an honor this is. I was floored to discover that my fellow judges included Tobias S. Bucknell, Frank Conniff (Frank from Mystery Science Theater 3000), Ubisoft's Richard Danksy, Charles de Lint, Cory Doctorow, James Patrick Kelly, Annalee Newitz, Tim Pratt, and a whole host of other luminaries. If you're not familiar with the Parsecs, here's how the Parsec Awards website describes them:
Mur Lafferty, Michael R. Mennenga & Tracy Hickman founded The Parsec Awards in 2006 to celebrate Speculative Fiction Podcasting, under the banner of Farpoint Media.

Podcast shows are nominated by fans, and finalists are chosen by a yearly steering committee. Those finalists are then voted on by an independent panel of judges from outside of podcasting. Awards are given in several categories ranging from content to audio quality.

The Parsec Awards Steering Committee and their assignees (as selected by the committee) will determine a list of five finalists in each category. Each podcast will be evaluated by a set of numerical ratings based on criteria specific to the nominated category. These ratings and criteria are to be published separately. Steering committee members and assignees in this process will be recused from any portion of this judging process involving podcasts with which they are associated or have contributed. All participants acknowledge that the awards process involves subjective judgment on the part of those making award determinations and that artistic merit and ranking is highly influenced by personal preference. Nevertheless, every effort will be made in the selection of finalists and awarding the winner to be as fair and objective as possible.

Voting is conducted by secret and secure means, which shall be explained at the time of the award ceremony. Winners will not be informed in advance and the presenters will have no foreknowledge of the outcome. The award will be presented at the Dragon*Con convention held in Atlanta, Georgia, in the country of the United States. Podcast producers need not be present to be awarded but will be asked to participate in the awards show if present.
Alas, I will not be at Dragon*Con this weekend to witness the awards being given, nor do I have any idea who the winners are (so please don't ask). I'm dying to know how my picks fared against my fellow judges' picks, so I'm definitely going to be keeping an eye on www.parsecawards.com this week! What I will say is that all the nominees I was asked to review did a bang-up job, and I was well and truly impressed by the quality of the works streaming through my earbuds. Congratulations to all the nominees, and I can't wait to hear who won!

August 30, 2009


Introducing Waker!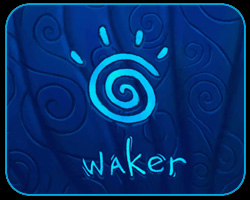 I've been working with the
Singapore-MIT GAMBIT Game Lab
for a while now, primarily as its Communications Director but also occasionally as a researcher. This summer I had my first chance to write a game with this group, and now said game –
Waker by Poof Games
– is up and available to play for free on the GAMBIT website! As the game's developers described it on the game's page:
Waker is a puzzle/platform game set in the world of a child's broken dream. As the Waker, the player uses both mind and reflexes to solve puzzles, creating platforms to form a safe path through the dream worlds. Forming the paths, however, is the trick - it is up to the player to figure out how to create each path, and to manipulate the Waker and the world to travel safely through each level. With dynamic obstacles and three difficulty modes, the game offers continuing challenges even for experienced players, while allowing beginners an easier path to the end.

Waker was developed in tandem with Woosh, its abstract variant. Waker offers the same gameplay as Woosh, but also includes a rich narrative and a story that is reflected in its art and cutscenes.
I am thoroughly honored to have been involved with this project for multiple reasons. First,
Waker
gave me a chance to work with my friends
Sara Verrilli
,
Kevin Driscoll
,
Scot Osterweil
and
Lan Le
, as well as befriend a bunch of other folks from Singapore, MIT and RISD. Second, the game is absolutely beautiful, thanks to the hard work of
Brandon Cebenka
,
Rini Ong Zhi Qian
and
Steven Setiawan
. I loved the aesthetic of
Waker,
from the graceful, fluid animation of the cat-monkey creature to the textures to the gentle glow scattered throughout the game. I loved the dreamlike sensibility of the world, and the basics of the storyline that Brendan and the others had sketched out before I was brought onboard was completely up my alley.
I was invited to join the project when it was decided – at the last minute! – that the story needed to be fleshed out some more, so I rewrote the story in an evening, met with Brendan and the others the next morning, did some super-fast re-rewrites and then jumped into the recording booth to do all the voiceover work myself as well. Mercifully I managed to nail the
John Hurt
-esque narrator's voice that had popped into my head while writing the thing, so I was thoroughly happy with how well that turned out.
I'm also thoroughly grateful for the opportunity to write a GAMBIT game (complete with the apparently all-too-true-to-the-industry "Can we have this tomorrow?" experience) and for the not-very-true-at-all-to-the-industry experience of being able to perform the role I'd written. If you're half as much of a fan of Neil Gaiman's Sandman or Mike Mignola's Hellboy as I am, I recommend that you go and give Waker a shot. (Hey, it's free and it runs in a browser window – what's stopping you? Go! Play it now!)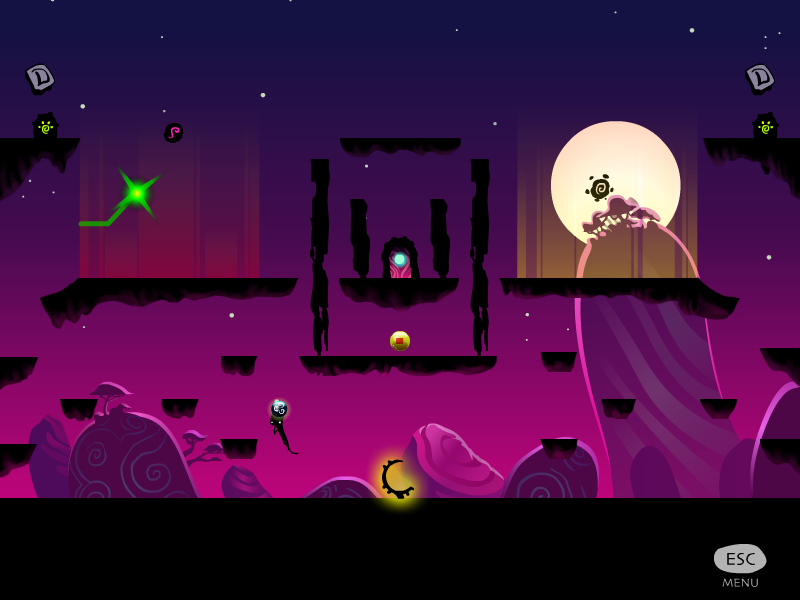 Please let me know what you think of the game! You can also see what people are saying about the game already at
Free Games News
and
XSp
, and follow new reviews for
Waker
and the rest of the GAMBIT games as they appear at the
In the Press
section of the GAMBIT site.
Heh. I still get a grin on my face just thinking about that whole experience. I've got a new GAMBIT project in the works for this fall, so I'll keep you posted!
Update (9/1/09): Flytrap Games just published a really funny writeup of the game titled Agile Spirit Cat Required for Mental Roadworks. These guys really got what I was going for:
Dreaming is more hazardous than most people suspect. Every time you sleep, a path forms behind your dreaming self to guide you back to the waking world.

On occasion, however, that path breaks, leaving the dreamer to stand forever stark naked in front of the sixth form girls while Billy Connolly plays the banjo. Or whatever private delusions are appropriate to your particular mental setup.

Fortunately, a ruptured dream path can be repaired by a Waker - a sort of Druidic cat entity which puts us in mind of the mog from Coraline. As one such Waker, players of Singapore-MIT GAMBIT Game Lab's latest puzzle-platformer must collect "wisps" to restore a lost soul to consciousness.
I am, as they say, well and thoroughly chuffed. (I wish we'd thought of that Billy Connolly nightmare. That would make a thoroughly horrific bonus level.)
Update (9/2/09): Waker is getting even more press! Lewis Denby of Resolution magazine in England makes the following observations:
This odd little pairing is more than a bit interesting to talk about. Woosh and Waker are puzzle/platform games developed by Poof Games for Gambit, which is a collaboration between MIT and the Singapore government. Woosh and Waker are part of an experimental, educational project, to see how players respond to different presentations within videogames.

Launching each game doesn't immediately throw up too many similarities. But dive into the game proper and you'll realise they're both exactly the same in terms of the mechanics and level design. The difference? One presents an anthropomorphic character and introduces a story. The other sees you guiding a bouncy ball around the same platforms, only with a backdrop consisting purely of abstract art. There's no plot to be found.

It is, of course, very interesting to consider which side of the fence you fall on. Do you prefer the abstract visual beauty of Woosh, or the more evocative, story-driven presentation of Waker? Do you prefer guiding a living character, or a blissfully unaware rolling ball? But what's particularly brilliant for the player is that both are excellent, seriously clever games. Try them both out, and have a think about the difference in your approach to each one.
Meanwhile, Bart at bontegames.com gives the game a one-line notice, but a user calling itself Lichen Fairy says this in the comments: "The ending is beautiful. The game-play can be a bit frustrating at times but I love the story." Thanks!
The game has even been picked up in Italy, where a post from indievault.it describes the game as follows:
Benvenuti nel mondo dei sogni... Waker, sviluppato dai ragazzi di Poof Games, vi proietterà in un mondo onirico, nelle sembianze di un waker, una sorta di guardiano del dolce dormire simile a un gatto. Il vostro scopo sarà quello di ristabile il continuum del sogno di una bambina, permettendole così di risvegliarsi da un sonno ininterrotto. Dovrete intraprendere un viaggio lungo tre mondi, ciascuno dei quali è formato da molteplici sottolivelli che garantiscono un'esperienza non certo da mordi e fuggi.
Or, if Google translate is to be believed:
Welcome to the world of dreams ... Waker, developed by the young people Poof Games, we will project into a dream world, in the form of a waker, a kind of guardian of sweet sleep like a cat. Your goal will be to restore the continuum of the dream of a child, enabled it to awaken from a sleep uninterrupted. You will need to undertake a journey across three worlds, each of which consists of multiple sub-levels, offering an experience not by hit and run.
This is awesome – and they're still coming!
Update (9/2/09, again): Perhaps the biggest and best review of Waker just went live – check out Daniel Archer's glowing profile at JayIsGames!
Waker is a project born from GAMBIT, Singapore-MIT's game design lab, and the multidisciplinary input shows. The art and animation invoke the phantasmal in such a way that it's not hard to believe that this idea could have been hauled from the same place dreams come from. Little touches breathe life into the Waker and the world, like the blinking of one eye at a time should you let the creature sit still for a few moments. The music is softly whimsical, the same way a child's dream should be.

While the writing sets up the game quite marvelously, what with the Wakers and the Dreamtime and associated fantasies, the story starts to fade as the game progresses, being delivered to the player in short injections between one world and the next. It's a tad disappointing to have the developers weave all this vibrant lore about what happens when the lights go out, only to have it squeezed into the cracks. It would have been nicer to see the story dovetail with the gameplay more smoothly, but there's still a lot more creativity at work here than your average puzzle game.

...While the game might be short for those who attack it head-on, it's certainly a trip worth taking, and the dazzling visuals coupled with the imaginative tale of the Wakers marks this game as one of the most innovative puzzlers to date. Now don't let me keep you, for there's already a child lost in the slumber, hoping for someone, anyone to show them the way home.

Well? The Waker is waiting.
You can't see it, but I'm throwing devil horns in the air. It's true that the story only appears in little bits between the worlds, but given the time constraints and the massive workload on Poof's shoulders (they made not just one game in eight short weeks, but two! Two, people! Two!) I can safely say that Poof kicked ass. Way to go, guys!

August 28, 2009


Transmedia Storytelling and Entertainment: A Syllabus
Since the announcement that
Futures of Entertainment 4 will focus on transmedia
, since I'm actually on it (twice – check out August 24th and October 5th) and – most importantly – since Henry asked me to, I'm republishing Henry's syllabus for the transmedia storytelling class he's offering at USC this fall. The following post originally appeared at henryjenkins.org
on August 11th
; if you're not already following Henry's blog "Confessions of an Aca-Fan", then I humbly suggest you have some bookmarking to do!
Here's Henry's post, republished in its entirety.
---
Transmedia Storytelling and Entertainment: A Syllabus
by Henry Jenkins
Given the interest out there in transmedia or cross-media entertainment, I thought I would share the syllabus for the course I am teaching this fall at the University of Southern California. I am still shifting some details, as I deal with the scheduling of guest speakers, but all of the speakers listed have agreed to come. The readings are a good starter set for people wanting to do more thinking on this emerging area of research. I will be sharing reflections about the course material here throughout the fall, since I'm sure working through these readings in a class context is going to spark me to do some fresh thinking on the topic. I'd love to hear from others out there teaching transmedia or cross-media topics.
If you know someone at USC who you think might want to take this class, let them know. I still have room for more students.
Course Description and Outcomes:
We now live at a moment where every story, image, brand, relationship plays itself out across the maximum number of media platforms, shaped top down by decisions made in corporate boardrooms and bottom up by decisions made in teenager's bedrooms. The concentrated ownership of media conglomerates increases the desirability of properties that can exploit "synergies" between different parts of the medium system and "maximize touch-points" with different niches of consumers. The result has been the push towards franchise-building in general and transmedia entertainment in particular.
A transmedia story represents the integration of entertainment experiences across a range of different media platforms. A story like Heroes or Lost might spread from television into comics, the web, computer or alternate reality games, toys and other commodities, and so forth, picking up new consumers as it goes and allowing the most dedicated fans to drill deeper. The fans, in turn, may translate their interests in the franchise into concordances and wikipedia entries, fan fiction, vids, fan films, cosplay, game mods, and a range of other participatory practices that further extend the story world in new directions. Both the commercial and grassroots expansion of narrative universes contribute to a new mode of storytelling, one which is based on an encyclopedic expanse of information which gets put together differently by each individual consumer as well as processed collectively by social networks and online knowledge communities.
The course is broken down into five basic units: "Foundations" offers an overview of the current movement towards transmedia or cross-platform entertainment; "Narrative Structures" introduces the basic toolkit available to contemporary storytellers, digging deeply into issues around seriality, and examining what it might mean to think of a story as a structure of information; "World Building" deals with what it means to think of contemporary media franchises in terms of "worlds" or "universes" which unfold across many different media systems; "Audience Matters" links transmedia storytelling to issues of audience engagement and in the process, considers how fans might contribute unofficial extensions to favorite media texts; and "Tracing the History of Transmedia" pulls back to consider key moments in the evolution of transmedia entertainment, moving from the late 19th century to the present.
In this course, we will be exploring the phenomenon of transmedia storytelling through:
Critically examining commercial and grassroots texts which contribute to larger media franchises (mobisodes and webisodes, comics, games).
Developing a theoretical framework for understanding how storytelling works in this new environment with a particular emphasis upon issues of world building, cultural attractors, and cultural activators.
Tracing the historical context from which modern transmedia practices emerged, including consideration of the contributions of such key figures as P.T. Barnum, L. Frank Baum, Feuillade, C.S. Lewis, J.R.R. Tolkien, Cordwainer Smith, Walt Disney, George Lucas, DC and Marvel Comics, and Joss Whedon.
Exploring what transmedia approaches contribute to such key genres as science fiction, fantasy, horror, superhero, suspense, soap opera, teen and reality television.
Listening to cutting-edge thinkers from the media industry talk about the challenges and opportunities which transmedia entertainment offers, walking through cases of contemporary projects that have deployed cross-platform strategies.
Putting these ideas into action through working with a team of fellow students to develop and pitch transmedia strategies around an existing media property.
Required Books:
Pat Harrington and Noah Wardrip-Fruin, Third Person: Authoring and Exploring Vast Narratives (Cambridge: MIT Press, 2009), 636 pages.
Kim Deitch, Alias the Cat (New York: Pantheon, 2007), 136 pages.
Kurt Busiek and Alex Ross, Marvels (Marvel Comics, 2003), 216 pages.
Kevin J. Anderson (ed.), Tales from the Mos Eisley Cantina (New York: Spectra, 1995), 416 pages.
Joss Whedon, The Long Way Home (New York: Dark Horse, 2007), 136 pages.
All additional readings will be provided through the Blackboard site for the class.
Grading and Assignments:
Commercial Extension Paper: 20 percent
Grassroots Extension Paper: 20 percent
Final Project - Franchise Development Project: 40 percent
Class Forums: 20 percent
In order to fully understand how transmedia entertainment works, students will be expected to immerse themselves into at least one major media franchise for the duration of the term. You should consume as many different instantiations (official and unofficial) of this franchise as you can and try to get an understanding of what each part contributes to the series as a whole.
COMMERCIAL EXTENSION PAPER: For the first paper, you will be asked to write a 5-7 page essay examining one commercially produced media extension (comic, website, game, mobisode, amusement park attraction, etc.). You should try to address such issues as its relationship to the story world, its strategies for expanding the narrative, its deployment of the distinctive properties of its platform, its targeted audience, and its cultural attractors/activators. (Due Sept. 23)(20 Percent)
GRASSROOTS EXTENSION PAPER: For the second paper, you will be asked to write a 5-7 page essay examining a fan-made extension (fan fiction, discussion list, video, etc.) and try to understand where the audience has sought to attach themselves to the franchise, what they add to the story world, how they respond to or route around the invitational strategies of the series, and how they reshape our understanding of the characters, plot or world of the original franchise. (Due Nov. 18) (20 Percent)
FINAL PROJECT - FRANCHISE DEVELOPMENT PROJECT: Students will be organized into teams, which for the purpose of this exercise will function as transmedia companies. You should select a media property (a film, television series, comic book, novel, etc.) that you feel has the potential to become a successful transmedia franchise. In most cases, you will be looking for a property that has not yet added media extensions, though you could also look at a property that you feel has been mishandled in the past. By the end of the term, your team will be "pitching" this property. The pitch should include a briefing book that describes:
the core defining properties of the property
a description of the intended audience(s)
a discussion of the specific plans for each media platform you are going to deploy
an overall description for how you will seek to integrate the different media platforms to create a coherent world
a business plan which includes likely costs and revenue and the time table for rolling out the various media elements
parallel examples of other properties which have deployed the strategies being described
The pitch itself will be a 20 minute group presentation, followed by 10 minutes of questioning. The presentation should give us a "taste" of what the property is like as well as to lay out some of the key elements that are identified in the briefing book. For an example of what these pitches might look like, watch the materials assembled at http://www.educationarcade.org/SiDA/videos, which shows how a similar activity was conducted at MIT. Each member of the team will be expected to develop expertise around a specific media platform as well as to contribute to the over-all strategies for spreading the property across media systems. The group will select its own team leader who will be responsible for contacts with the instructor and will coordinate the presentation. The team leader will be asked to provide feedback on what each team member contributed to the effort, while team members will be asked to provide an evaluation of how the team leader performed. Team Members will check in with the instructor on Week Ten and Week Fourteen to review their progress on the assignment. Presentation (Dec.7, 9) Briefing Book (Dec. 14) (40 Percent)
CLASS FORUM: For each class session, students will be asked to contribute a substantive question or comments via the class forum on BlackBoard. Comments should reflect an understanding of the readings for that day as well as an attempt to formulate an issue that we can explore through class discussions or with the visiting speakers. (20 Percent)
Class Schedule:
*Guest Speakers are tentative, subject to availability. Shifts in speakers and thus topics and readings may occur after the semester starts.
Part One: Foundations
Week 1
August 24: Transmedia Storytelling 101
Henry Jenkins, "Transmedia Storytelling 101" Confessions of an Aca-Fan, http://henryjenkins.org/2007/03/transmedia_storytelling_101.html
Henry Jenkins, "Searching for the Origami Unicorn: The Matrix and Transmeda Storytelling," Convergence Culture: Where Old and New Media Collide (New York: New York University Press, 2006), pp. 93-130.
Geoff Long, "What Is Transmedia Storytelling", Transmedia Storytelling: Business, Aesthetics and Production at the Jim Henson Company, http://cms.mit.edu/research/theses.php, pp. 13-69.
August 26 Intertextual Commodities?
P. David Marshall, "The New Intertextual Commodity" in Dan Harries (ed.) The New Media Book (London: BFI, 2002), pp. 69-81.
Derek Johnson, "Intelligent Design or Godless Universe? The Creative Challenges of World Building and Franchise Development," Franchising Media Worlds: Content Networks and The Collaborative Production of Culture, PhD Dissertation, University of Wisconsin-Madison, 2009. pp.170-279.
Watch: Battlestar Galactica: The Face of the Enemy
Week 2
August 31: Media Mix in Japan
Anne Allison, "Pokemon: Getting Monsters and Communicating Capitalism," Millennial Monsters: Japanese Toys and the Global Imagination (Berkeley: University of California Press, 2006), pp. 192-233.
David Buckingham and Julian Sefton-Green, "Structure, Agency and Pedagogy in Children's Media Culture" In Joseph Tobin (ed.) Pikachu's Global Adventure: The Rise and Fall of Pokemon (Durham: Duke University Press, 2004), pp. 12-33.
Mizuko Ito, "Gender Dynamics of the Japanese Media Mix," Beyond Barbie and Mortal Kombat: New Perspectives on Gender and Gaming (Cambridge, MIT, 2008), pp. 97-110.
September 2: Toys and Tales
Jeff Gomez, "Creating Blockbuster Worlds" (unpublished)
Henry Jenkins, "Talking Transmedia: An Interview with Starlight Runner's Jeff Gomez," Confessions of an Aca-Fan, http://www.henryjenkins.org/2008/05/an_interview_with_starlight_ru.html
Mark Federman, "What is the Meaning of the Medium is the Message," http://individual.utoronto.ca/markfederman/article_mediumisthemessage.htm
Guest Speakers:
Jeff Gomez, Starlight Runner
Jordan Greenhill, DivX
Week 3
September 7 is the Labor Day holiday
September 9: Transmedia Branding
Faris Yacob, "I Believe Children are the Future," http://www.slideshare.net/NigelG/ipa-thesis-i-believe-the-children-are-our-future
Henry Jenkins, "How Transmedia Storytelling Begat Transmedia Planning...", Confessions of an Aca-Fan, http://henryjenkins.org/2006/12/how_transmedia_storytelling_be.html http://henryjenkins.org/2006/12/how_transmedia_storytelling_be_1.html
Guest Speaker: Faris Yacob, McCann Erickson New York
Week 4
September 14 Heroes and Alchemists: The New Storytelling
The 9th Wonders, Chapters 1-9 http://www.nbc.com/Heroes/novels/novels_library.shtml?novel=9
Henry Jenkins, "We Had So Many Stories to Tell': The Heroes Comics as Transmedia Storytelling," Confessions of an Aca-Fan, http://henryjenkins.org/2007/12/we_had_so_many_stories_to_tell.html
Carolyn Handler Miller, Digital Storytelling: A Creator's Guide to Interactive Entertainment (Amsterdam: Focal Press, 2006), "Using a Transmedia Approach", pp. 149-164 (Rec.)
Guest Speakers: Mauricio Mota, Mark Warshaw, Here Come the Alchemists
Part Two: Narrative Structures
September 16: Seriality
Angela Ndalianis, Neo-Baroque Aesthetics and Contemporary Entertainment (Cambridge: MIT Press, 2004), "Polycentrism and Seriality: (Neo-)Baroque Narrative Formation," pp. 31-70.
Jason Mittell, "All in the Game: The Wire, Serial Storytelling and Procedural Logic" (Harrington and Wardrip-Fruin, pp. 429-438.
Watch: The Wire http://www.amazon.com/Wire-Complete-Fourth-Season/dp/B000QXDJLI/ref=pd_bbs_sr_1?ie=UTF8&s=dvd&qid=1197321529&sr=8-1
"Young Prop Joe"
"Bunk and McNulty"
"Young Omar"
Jennifer Haywood, Consuming Pleasures: Active Audiences and Serial Fictions from Dickens to Soap Opera (University of Kentucky Press, 1997), "Mutual Friends: The Development of the Mass Serial," pp. 21-51. (rec)
Week 5 September 21: Soaps Go Transmedia
Sharon Marie Ross, "Managing Millennials: Teen Expectations of Tele-Participation," Beyond the Box: Television and the Internet (London: Blackwell, 2008), pp. 124-172.
Sam Ford, "From Oakdale Confidential to L.A. Diaries: Transmedia Storytelling for ATWT," As the World Turns in a Convergence Culture (Master's Thesis), pp. 141-162.
Louisa Stein, "Playing Dress Up: Digital Fashion and Game Extensions of Televisual Experience in Gossip Girl's Second Life," Cinema Journal, pp. 116-122.
Watch: Gossip Girl: Tales From the Upper East Side http://www.cwtv.com/thecw/gossip-girl-tales-from-the-upper-east-side
LA Diaries http://www.cbs.com/daytime/specials/la_diaries/episodes.php
September 23: Creating Alternate Realities
Christy Dena, "Emerging Participatory Culture Practices: Player-Created Tiers in Alternate Reality Games," Convergence, February 2008, pp. 41-58.
Jane McGonigal, Why I Love Bees: A Case Study in Collective Intelligence Gaming." Ecologies of Play. Ed. Katie Salen. (Cambridge: MIT Press, 2008), pp. 199-228. http://www.mitpressjournals.org/doi/pdfplus/10.1162/dmal.9780262693646.199
Dave Szulborski, "Puppetmastering: Creating a Game" and "Puppetmastering: Running a Game,"This Is Not A Game: A Guide to Alternate Reality Gaming (New York: New Fiction, 2005), pp. 207-284.
Guest Speaker: Evan Jones, Stitch Media
COMMERCIAL EXTENSION PROJECT DUE
Week 6
September 28: Speaking of Serials
Kim Deitch, Alias the Cat (New York: Pantheon, 2007) (Required Book)
David Kalat, "The Long Arm of Fantomas" (Harrington and Wardrip-Fruin), pp. 211-225.
September 30: The Unfolding Text
Neil Perryman, "Doctor Who and the Convergence of Media: A Case Study in Transmedia Storytelling," Convergence, February 2008, pp. 21-40.
Lance Perkin,"Truths Universally Acknowledged: How the 'Rules' of Doctor Who Affect the Writing," (Harrington and Wardrip-Fruin), pp. 13-24.
Matt Hills, "Absent Epic, Implied Story Arcs, and Variations on a Narrative Theme: Doctor Who (2005) as Cult/Mainstream TV," (Harrington and Wardrip-Fruin), pp. 333-343.
Part Three: World-Building
Week 7 October 5: Migratory Characters
William Uricchio and Roberta E. Pearson, "I'm Not Fooled By That Cheap Disguise," in Roberta E. Pearson, The Many Lives of the Batman: Critical Approaches to A Superhero and His Media (New York: Routledge, 1991), pp. 182-213.
Will Brooker, "Establishing the Brand: Year One," Batman Unmasked: Analyzing a Cultural Icon (London: Continuium, 2001), pp. 36-67.
Bob Kane, "The Legend of the Batman" (1938) and Bob Kane, "The Origins of the Batman," (1948) in Dennis O'Neil (ed.) The Secret Origins of the DC Superheroes (New York: DC, 1976), pp. 36-50.
Bob Kane, "The First Batman" (1956) and Dennis O'Neil, "There Is No Hope in Crime Alley," (1978) The Greatest Batman Stories Ever Told (New York: DC, 1988).
Guest Speaker: Geoffrey Long, GAMBIT
October 7: World Building in Comics
Matthew J. Pustz, Comic Book Culture: Fanboys and True Believers (Jackson: University of Mississippi Press, 1999), pp. 129-133.
Jason Bainbridge, "Worlds Within Worlds: The Role of Superheroes in the Marvel and DC Universe," Angela Ndalianis (ed.), The Contemporary Comic Book Superhero (New York: Routledge, 2008) pp. 64-85.
Sam Ford and Henry Jenkins, "Managing Multiplicity in Superhero Comics," (Harrington and Wardrip-Fruin), pp. 303-313.
Kurt Busiek and Alex Ross, Marvels (New York: Marvel Comics, 1993) (Required Book)
Alec Austin, "Hybrid Expectations, Expectations Across Media, CMS Thesis, pp. 97-127.
Week 8
October 12: Who Watches the Watchman?
Stuart Moulthrop, "See the Strings: Watchmen and the Under-Language of Media" (Harrington and Wardrip-Fruin), pp. 287-303.
Watch: NBS Nightly News With Ted Philips http://www.youtube.com/watch?v=nd5cInmK6LQ&playnext_from=PL&feature=PlayList&p=878F6464EEBE32F9&index=10
The Keene Act and YOU http://www.youtube.com/watch?v=qkWGZ1G7TAE&playnext_from=PL&feature=PlayList&p=878F6464EEBE32
Saturday Morning Watchmen http://www.youtube.com/watch?v=YDDHHrt6l4w
Guest Speaker: Alex McDowell, Production Designer, Watchmen
October 14: World Building in Science Fiction
Walter Jon Williams, "In What Universe?" (Harrington and Wardrip-Fruin), pp. 25-32.
George R.R. Martin, "On the Wild Cards Novels," in Pat Harrington and Wardrip-Fruin (eds.) Second Person: Role-Playing and Story in Games and Playable Media (Cambridge: MIT Press, 2007).
Cordwainer Smith, "The Dead Lady of Clown Town," and "The Ballad of Lost C'mell," J. J. Pierce (ed.) The Best of Cordwainer Smith (New York: Del Rey, 1975), pp. 124-209, pp. 315-337.
Week 9
October 19: Launching a New World
David Lavery, "Lost and Long-Form Television Narrative" (Harrington and Wardrip-Fruin), pp. 313-323.
Guest Speaker: Jesse Alexander, Executive Producer, Year One
October 21: Transmedia and Social Change
TBA
Guest Speaker: Bram Pitoyo, Wild Alchemy
Part Four: Audiences
Week 10
October 26: The Logic of Engagement
Ivan Askwith, "The Expanded Television Text, "Five Logics of Engagement,"; "Lost at Televisions' Crossroads," Television 2.0: Reconceptualizing TV as an Engagement Medium, CMS thesis, pp. 51-150.
Guest Speaker: Ivan Askwith, Big Spaceship
October 28:
Expanding the Audience
Kim Moses and Ian Sander, selections from Ghost Whisperer: The Spirit Guide (New York: Titan Books, 2008).
Guest Speaker: Kim Moses, Executive Producer, The Ghost Whisperer
Week 11
November 2: Fan Productivity
Jesse Walker, "Remixing Television: Francesca Coppa on the Vidding Underground," Reason, August/September 2008, http://www.reason.com/news/show/127432.html
Francesca Coppa, "Women, Star Trek, and the Early Development of Fannish Vidding," Transformative Works and Cultures (2008), http://journal.transformativeworks.org/index.php/twc/article/view/44/64 Bud Caddell, "Becoming a Mad-Man," http://drop.io/becomingamadman
November 4: The Encyclopedic Impulse
Janet Murray, "Digital Environments are Encyclopedic," Hamlet on the Holodeck: The Future of Narrative in Cyberspace (Cambridge: MIT Press, 1997), pp. 83-90.
Bob Rehak, "That Which Survives: Star Trek's Design Network in Fandom and Franchise" (Unpublished), pp. 2-79.
Robert V. Kozinets, "Inno-Tribes: Star Trek as Wikimedia" Consumer Tribes (London: Butterworth-Heinemann, 2007), pp. 194-209.
Watch:
Star Trek: Phase II "In Harms Way" http://www.startreknewvoyages.com/episodes.html
Week 12
November 9: The Power of Details
Kristin Thompson, "Not Your Father's Tolkien" and "Interactive Middle Earth," The Frodo Franchise: The Lord of the Rings and Modern Hollywood (Berkeley: University of California Press, 2007), pp.53-74, p. 224-256
C.S. Lewis, "On Stories," Of Other Worlds: Essays and Stories (New York: Harvest, 2002), pp. 3-21.
November 11: Ephemeral Fascinations
Michael Bonesteel, "Henry Darger's Search for the Grail in the Guise of a Celesttial Child" (Harrington and Wardrip-Fruin), pp. 253-267.
Amelie Hastie, "The Collector: Material Histories, Colleen Moore's Dollhouse, and Ephemeral Recollection," Cupboards of Curiosity: Women, Recollection, and Film History (Durham: Duke University Press, 2007), pp. 19-72.
Week 13
November 16 Independent Horrors James Castonguay, "The Political Economy of the Indie Blockbuster: Fandom, Intermediality, and The Blair Witch Project," in Sarah L. Higley and Jeffrey Andrew Weinstock (eds.) Nothing That Is: Milllennial Cinema and the Blair Witch Controversies (Detroit: Wayne State University, 2004), pp. 65-86.
The Blair Witch Project Website http://www.blairwitch.com/
Head Trauma Website http://www.headtraumamovie.com/
Guest Speaker: Lance Weiller, Head Trauma
Part Five: Tracing the History of Transmedia
November 18: Before the Rainbow
Neil Harris, "The Operational Aesthetic," Humbug: The Art of P.T. Barnum (Chicago: University of Chicago Press, 1973), pp. 59-90.
Mark Evan Swartz, "A Novel Enchantment," Before the Rainbow: L. Frank Baum's The Wonderful Wizard of Oz on Stage and Screen to 1939 (Baltimore: Johns Hopkins University Press, 2000), pp. 161-172.
Week 14
November 23: What Uncle Walt Taught Us
J.P. Telotte, Disney TV (Detroit: Wayne State, 2004), pp. 1-91.
Karal Ann Marling, "Imagineering the Disney Theme Parks," in Karal Ann Marling (ed.) Designing Disney's Theme Parks: The Architecture of Reassurance (Montreal: Centre Canadian d'Architecture, 1997), pp. 29-178. (Rec.)
November 25: Franchises and Attractions
Henry Jenkins, "The Pleasure of Pirates And What It Tells Us About World Building in Branded Entertainment", Confessions of an Aca-Fan, http://henryjenkins.org/2007/06/forced_simplicity_and_the_crit.html
Don Carson, "Environmental Storytelling: Creating Immersive 3D Worlds Using Lessons Learned from the Theme Park industry," Gamasutra, http://www.gamasutra.com/features/20000301/carson_pfv.htm
Week 15
November 30: Lessons From Lucas
Jonathon Gray, "Learning to Use the Force: Star Wars Toys and Their Films," Show Sold Separately (Forthcoming), pp. 232-247.
Will Brooker, Using the Force: Creativity, Community and Star Wars Fans (New York: Continuum, 2002), "The Fan Betrayed," pp. 79-99, "Canon," pp. 101-114.
Kevin J. Anderson (ed.), Tales from the Mos Eisley Cantina (New York: Spectra, 1995) (Required Book)
December 2: Across the Whedonverse
Tanya Krzywinska, "Arachne Challenges Minerva: The Spinning Out of Long Narrative in World of Warcraft and Buffy the Vampire Slayer" (Harrington and Wardrip-Fruin), pp. 385-399.
Joss Whedon, The Long Way Home (New York: Dark Horse, 2007) (Required Book)
Watch:
Dr. Horrible's Sing-Along Blog http://www.hulu.com/watch/28343/dr-horribles-sing-along-blog
December 7 Student Presentations
December 9 Student Presentations

August 27, 2009


Announcing our Summer 2009 games!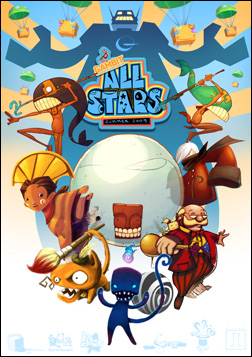 After several long, glorious months of chaos, code and camaraderie, GAMBIT is proud to unveil our
Summer 2009 GAMBIT Prototypes
! This year we've highlighted the research questions for each of our games so our players get a greater idea of the thinking behind each project – and there's some genuinely amazing research in these games. For example:
Here's the rundown of all the summer 2009 GAMBIT prototypes!
Abandon
Abandon is a game about running away. Step into the shoes of a girl lost in a surreal dreamscape, and escape from the encroaching darkness before it consumes everything, including you. Objects strewn about this dream world are brought to life by your light, but they seek only to bring darkness. No place is safe. Can you abandon these objects; can you abandon the night? Or are you the one who has been abandoned and left… alone?
Abandon showcases a large array of animated objects. The development team utilized experimental, automated rigging software to enable rapid creation of animated models. The direction for the project was motivated by the desire to create a game featuring a large number of unique animated models, not normally feasible with a small team size and short development time frame. The team strived to create a world for the player where just about anything can come to life.
Camaquen
Camaquen is a casual puzzler in which players guide two characters through a heated argument. As part of a research project examining user interfaces for conversation in games, Camaquen models the effect of emotions in dialogue, enabling players to affect the emotional dynamics of the conversation and thus affect the outcome of the characters' debate – even though the script remains the same. The actions of the player interact with the personalities of the brothers to determine one of five different Fates.
Players take on the role of Alux (Ah-loosh), the guardian spirit of the Sacred Grove. When the Great King dies and his kingdom is split between his sons Ban Amaru (Bahn A-mah-roo) and Huamanapu (Wah-nam-a-pu), the brothers begin to bicker over what to do with the Grove. Using Alux's ability to command spirits of emotional energy (or "camaquen"), players change the meaning behind their words and sway the two kings to their destiny.
Does Huamanapu build his enormous stargazing tower, or does Ban Amaru move forward with his plans for a golden palace? And what happens to Alux when her Grove is transformed?
Dearth
Dearth is an exciting co-operative action-puzzler. The Tribal Lands have been suffering through the worst drought in many lifetimes. Plant life is withering away, and people fear the approach of a great famine. Rumors spread of the awakening of monstrous creatures who the ancestors warned would one day rise to drain the land and its people of their water. As the thirsty beasts emerge, worried villagers turn to the Tribal Lands' two great shamans and ask them to restore the water to the land.
Play as the tribal shamans. Force the mysterious water-sucking creatures to smash into each other, allowing stolen water to gush from their engorged bodies and be returned to the land. Plan movements with your partner carefully or be ready to make split-second decisions if things don't go according to plan. The future of the Tribal Lands will depend on how well you work together!
Pierre: Insanity Inspired
Pierre is a cat. Pierre is also an artist.
On the verge of creating his greatest masterpiece, Pierre suddenly runs out of inspiration. Undaunted, he sets out to recover his lost creativity - but the path to completing his magnum opus is treacherous and filled with both dangerous obstacles and equally dangerous critics. Can he survive the challenge? Will Pierre finish his grand masterpiece? Who knows? The only thing certain is that Pierre is one strong-headed feline.
Pierre: Insanity Inspired is a unique combination of action and puzzle-solving. Players guide Pierre around a spinning circular platform to collect inspiring items, but only when they align with the right symbols! Making matters worse, Pierre must dodge falling spiked balls and - like all great artists - contend with the critics' gentle encouragements or savage insults.
Can you help Pierre finish his noble sculpture before he's driven completely insane?
Shadow Shoppe
Welcome to the Shadow Shoppe, located in a small town where people have lost their shadows.
As a temporary apprentice to the shadowmaker, your goal is to help create and return the shadows to your townspeople so that life can go back to the way it was.
To create complete shadows, you must pick the most suitable word out of those presented to you. When a customer request (or requests) comes in, these shadows are revealed again. This time round, you have to pick the shadow that best suits the customer's description.
Are you up for the challenge?
Waker
Waker is a puzzle/platform game set in the world of a child's broken dream. As the Waker, the player uses both mind and reflexes to solve puzzles, creating platforms to form a safe path through the dream worlds. Forming the paths, however, is the trick - it is up to the player to figure out how to create each path, and to manipulate the Waker and the world to travel safely through each level. With dynamic obstacles and three difficulty modes, the game offers continuing challenges even for experienced players, while allowing beginners an easier path to the end.
Waker was developed in tandem with Woosh, its abstract variant. Waker offers the same gameplay as Woosh, but also includes a rich narrative and a story that is reflected in its art and cutscenes.
Come explore the world of dreams. Will you awaken your dreamer, or leave her to drift forever?
Woosh
Woosh is a challenging puzzle/platform game that engages players in twelve levels of ever-increasing difficulty. Using concepts from physics, players draw platforms to explore the abstract world of Woosh and encounter dynamic obstacles and other challenges along the way. Woosh features three levels of difficulty: perfect for experienced platform players and more casual players alike.
Woosh was developed in tandem with Waker, its narrative version. Both games are intended as educational games for middle and high school students (age 12 and up), to complement an introductory physics class.
Do you have the wits, agility and finesse to play Woosh?
Credits
and be sure to check back here on our blog as we start posting their thoughts and postmortems! But most of all,
have fun!