September 2009 Archives
September 28, 2009


Waker wins the Bytejacker Indie Game of the Week!
Woo-hoo! Waker, the game I wrote for GAMBIT this summer, just won the Bytejacker Game of the Week competition, beating out two really impressive other games, Station 38 and Alchemia – and by a pretty wide margin to boot. Check out what the players themselves had to say at the 5:05 mark of the video clip!

September 25, 2009


Jobs in Comparative Media Studies.
I'm currently in Los Angeles, having coffee while I wait on my best man to finish up a quick audition before we head off for Las Vegas. Therefore, I would like to take this brief minute of downtime to make a couple of blog posts I'd been meaning to publish for a good long while now. First up, several teaching gigs in the field of Comparative Media Studies that I myself would totally be applying for if I already had my Ph.D. I'm posting these partly to help support the field, but also to demonstrate that comparative media studies as an academic discipline is exploding. O brave new world, hey?

MIT: Tenure-Track Faculty Position in Comparative Media Studies
MIT's Program in Comparative Media Studies seeks applications for a tenured position beginning in September 2010. A PhD and an extensive record of publication, research activity and leadership are expected. We encourage applicants from a wide array of disciplinary backgrounds. The successful candidate will teach and guide research in one or more of the Program's dimensions of comparativity (historical, methodological, cultural) across media forms. Expertise in the cultural and social implications of established media forms (for example, film, television, audio and visual cultures, print) is as important as scholarship in one or more emerging areas such as games, social media, new media literacies, participatory culture, software studies, IPTV, and transmedia storytelling.
The position involves teaching graduate and undergraduate courses, developing and guiding collaborative research activities, and participating in the intellectual and creative leadership of the Program and the Institute. Candidates should demonstrate a record of effective teaching and thesis supervision, significant research/creative activity, relevant administrative experience, and international recognition.
CMS offers SB and SM programs and maintains a full roster of research initiatives and outreach activities [see http://cms.mit.edu]. The program embraces the notion of comparativity and collaboration, and works across MIT's various schools, and between MIT and the larger media landscape. MIT is an affirmative action/equal opportunity employer.
Applications consisting of a curriculum vita, a statement of teaching philosophy and experience, a statement of current and future research plans, selected major publications, and names of suggested references should be submitted by November 1, 2009 to:
Professor William Uricchio
Director, Comparative Media Studies
MIT 14N-207
77 Massachusetts Avenue
Cambridge, MA 02139 USA

Miami University of Ohio, Tenure-Track Assistant Professor, Comparative Media Studies
One or more tenure-track assistant professor positions in comparative media studies, beginning August 2010. We welcome applicants from a range of disciplinary backgrounds; the position will be a joint appointment in a developing program in comparative media studies and another program or department in the humanities or social sciences.
Expertise in one or more of the following areas is desirable: history of media; technology and culture; creative non-fiction, documentary, and journalism in digital contexts. PhD by date of appointment.
Candidates should submit a letter of application, a curriculum vitae, three letters of reference, and a sample of recent scholarship to:
Professor Richard Campbell
c/o College of Arts and Science
143 Upham, Miami University
Oxford, OH 45056
Review of applications will begin on October 26 and continue until the position is filled.
More information on this position can be found at http://www.higheredjobs.com/details.cfm?JobCode=175392319.
Middlebury: Tenure-Track Assistant Professor, Comparative Media Studies
The Film and Media Culture Department at Middlebury College invites applications for a tenure-track position in Comparative Media Studies beginning in September 2010. Appointment will be made at the rank of Assistant Professor; Ph.D. preferred, A.B.D considered. The successful candidate will teach courses on the cultural impacts and influences of media technologies, new media as aesthetic forms, and additional contributions to the program's curriculum in film and media criticism, history, and/or production. Expertise in one or more of these areas is particularly desirable: online video, social software, videogames, new media art, digital media pedagogy, transmedia convergence, media and the environment, or global media. We welcome applicants from a range of disciplinary backgrounds, but the successful candidate should be comfortable teaching in a humanities-centered program anchored in film and media studies as part of an undergraduate liberal arts curriculum.
Candidates should provide evidence of commitment to excellent teaching and scholarly potential. Send letter of application with a statement of teaching and research interests, curriculum vitae, and three letters of recommendation, at least two of which must speak to teaching ability, to:
Professor Jason Mittell, Film and Media Culture Department
Axinn Center
Middlebury College
Middlebury VT 05753
Applications must be received by November 2 to ensure full consideration.
Please forward as appropriate, and see http://go.middlebury.edu/media-search for more information.
Middlebury College is an Equal Opportunity Employer, committed to hiring a diverse faculty to complement the increasing diversity of the student body.

September 22, 2009


Transmedia Storytelling and Entertainment: A Syllabus
Since the announcement that
Futures of Entertainment 4 will focus on transmedia
, since I'm actually on it (twice – check out August 24th and October 5th) and – most importantly – since Henry asked me to, I'm republishing Henry's syllabus for the transmedia storytelling class he's offering at USC this fall. The following post originally appeared at henryjenkins.org
on August 11th
; if you're not already following Henry's blog "Confessions of an Aca-Fan", then I humbly suggest you have some bookmarking to do! What follows is Henry's post, republished in its entirety.

September 16, 2009


Where in the world is Geoffrey Long?
For those of you wondering why I've been so silent lately, especially when teh Intarwebs have been so wonderfully flush with transmedia storytelling news, I have two responses:
I'm in Singapore. I'm currently on the other side of the planet from my regular home base in Boston – seriously, Singapore is a 12-hour time difference from Boston, which keeps things kind of simple but the jetlag is utter hell – and have had my hands full with GAMBIT-related things. (Such as, for example, the launch of Snap Escape, which is now live on Facebook).
I just launched the new interstitialarts.org. It was an unfortunate scheduling quirk that September 15th, the long-ago announced launched date for the new Interstitial Arts Foundation website and its attached brand-spanking-new Annex of short interstitial fiction happened to fall during this trip. Although I still believe in my heart of hearts that I can work from anywhere, there were some definitely odd things working against me on this one – not the least of which was getting reliable quasi-high-speed Internet connectivity from my hotel room. It's not easy to redesign a Wordpress install in public when your FTP connection keeps breaking every 5-10 minutes. Oy vey.
I will have plenty to say about the recent transmedia storytelling developments once I get back to Boston and things settle down a little bit. Until then, be good – and if you're in Singapore, come hear me talk at the Students Day at the Games Convention Asia 2009 conference on Saturday!
Akrasia selected for IndieCade 2009!
Akrasia,
GAMBIT's arthouse prototype game from the summer of 2008, has been selected to be showcased at
IndieCade 2009: The International Festival of Independent Games
! Here's the official IndieCade mission, courtesy of
indiecade.org
:
IndieCade supports independent game development and organizes a series of international events showcasing the future of independent games. It encourages, publicizes, and cultivates innovation and artistry in interactive media, helping to create a public perception of games as rich, diverse, artistic, and culturally significant. IndieCade's events and related production and publication programs are designed to bring visibility to and facilitate the production of new works within the emerging independent game movement. Like the independent videogame developer community itself, IndieCade's focus is global and includes producers in Asia, Latin America, Europe, Australia, and anywhere else independent games are made and played.
Akrasia
is, of course, described on
its official home on the GAMBIT site
as follows:
Akrasia is a single-player game that challenges game conventions and is intended to make the player think and reflect. It is based on the abstract concept of addiction, which is expressed metaphorically throughout the game. Spoiler Warning! The game is set in a maze that represents the mind. The maze has two states – a normal and a psychedelic state. To enter the game, the player has to collect a pill-shaped object and thus enters the game as "addict". From "chasing the dragon" and the experience of dependency to working your way through "cold turkey stage" where willpower is mapped onto navigation skills, this game models the essential dimensions of the addiction gestalt as identified by its creators. Depending on player behavior and choice, the game can have various outcomes that reflect this behavior. Someone who tries to shake the habit as quickly as possible will find herself in a different situation at the end of the game than someone who indulged in chasing the high. Unlike many other games where the player is forced to learn a specific behavior in order to win the game, this game gives the player a lot of freedom in regard to the realization of the game as text. The interpretation of the game is different depending on how the game is played, thus Akrasia is a prime example of a dynamic, player-dependent meaning generation. The game is meant to be played several times until all the connections between its various elements – the high-score, the life bar with its symbols, the two creatures that inhabit the maze in its two states, etc. – are decoded and its underlying meaning reveals itself. But although every single element in the game supports one specific reading, the beauty of Akrasia is its interpretative richness. All the elements in the game make sense in regard to one reading, but it is not the only possible one. The experiences that shall be conveyed in every single stage of the game do not only fit one experiential gestalt, but a variety of structurally similar experiences. Akrasia takes the notion of "meaningful games" to the next level. Play it, experience it and put on your thinking cap.
IndieCade 2009 will be going down October 1-4, 2009 in Culver City, California. There's all kinds of fantastic programming planned, including the
Hand-On Exhibition
, a three-day
Conference
(including GAMBIT co-PI
Henry Jenkins
and friend-of-the-lab Brenda Brathwaite), an
Awards Ceremony
, an extensive amount of
Outdoor and Pervasive Gameplay
, a series of
Artist Talks
, and, of course, the
IndieCade Happening
! Congratulations to
Doris C. Rusch
(Product Owner),
Paul Yang
(Scrummaster),
Alexander Luke Chong
(QA Lead),
Louis Teo
(Designer),
Shawn Dominic Loh
(Artist),
Zou Xinru
(Artist),
Law Kok Chung
(Programmer),
Stephie Wu
(Programmer),
Erik Sahlström
(Audio Designer),
Jeremy Flores
(Additional Audio),
Pradashini Subramaniam
(Additional Audio), and
Guo Yuan
(Additional Audio). Way to go, team! Several GAMBITeers will be in attendance at IndieCade 2009, including
Akrasia
product owner
Dr. Doris C. Rusch
. We hope to see you there!

September 8, 2009


An Interview with Mia Consalvo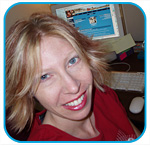 I recently had the pleasure of sitting down with
Dr. Mia Consalvo
, who is rejoining the GAMBIT US lab as a visiting associate professor this year, for an hour and chatting about her research interests. The resulting transcript has been published in the Fall 2009 issue of
In Medias Res,
the Comparative Media Studies newsletter. Here are the first few paragraphs as a preview:
Geoffrey Long: First of all, welcome! Where are you coming from?

Mia Consalvo: I'm coming from Davis Square, but I most recently come from Ohio University's School of Media Arts and Studies. I'm an associate professor there, and I teach classes in new media, media criticism and analysis, and videogame studies. I wrote a book with MIT Press in 2007 about cheating in videogames, and right now I have two big projects going. One is on the role of Japan in the formation of the game industry and its status now, and the other relates to casual games and casual game players and casual game player culture and those kinds of things.

GL: What stage are you in with these projects?

MC: I've written a few smaller pieces that have been articles or chapters for other things that are eventually going to be collected into a book. One of the pieces, which I wrote when I was here at MIT last summer as a visiting scholar, was on the business aspect of Japanese videogame industries and how they're trying to push more for globalization.

Interestingly, even though Nintendo kind of resurrected the videogame industry in the 1980s after it went bust, and most Western kids grew up playing Nintendo, once Western companies got back up and going there was a decline in sales of Japanese games, so that now Japanese games aren't quite as dominant in the West. In Japan, it's still almost completely Japanese games on the top sellers list, but in North America and Europe it's much more split, and you see Japanese companies trying to figure out how to get that global dominance back. They have plans for different kinds of localization, transnational products, those kinds of things.

GL: When you're talking about the East and the West, you're not talking about just Japan and the United States. What is the game sale breakdown like in the rest of the world?

MC: There are three major game markets that companies look at: North America, Europe (and mostly that's Western Europe) and Japan. Korea has its own special thing with online games, but otherwise they're kind of too small. North American bestseller lists are clearly mixed as to what games are made where, and Europe is the same. There are few local European products that wouldn't sell somewhere else, like football games, and the Germans prefer PC games over console games, particularly strategy games.

In Japan, there's been this dominance of Japanese companies. When I was there in 2005 for a few months, it took me a while to realize, looking at the bestseller lists, "Wait a minute, there are no Western games here!" There were a few, like Halo and The Sims, but it was almost completely dominated by Japanese game developers. Now, because of the downturn in the economy and the declining birth rate in Japan, they've seen some declines in their sales, and Japanese companies are more motivated to look globally for other markets.
The complete article can be
read online on the CMS site
. Alternatively, the full Fall 2009 issue of
In Medias Res
can be downloaded as a
1.4 MB PDF
for on-screen reading or as a
42 MB PDF
for high-quality printing. Check it out!

September 2, 2009


Transmedia extension as super-limited collector's item?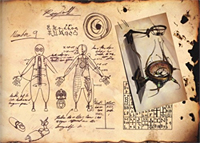 The folks behind the upcoming animated movie
9
have created a "mad science journal" that could be seen a prequel-esque diegetic artifact, insofar as it includes "ink blots, sketches and doomsday prophesies" as well as a whole bunch of information as to how the ragdoll characters of the film came to exist.
According to the article on io9.com, "Each book is encased in a uniquely numbered burlap bag, featuring a special forward by Ray Kurzweil, behind-the-scenes art, an extensive collection of stills from the film, commentary from director Shane Acker and producers Tim Burton and Timur Bekmambetov, and a DVD of the original short film by Shane Acker which inspired the full-length feature."
The catch is that only 999 of these books were made, which strikes me as sort of a tragedy. Such a project seems to be absolutely loaded with opportunities for additive comprehension, so ensuring that less than a thousand would-be fans have access to that enriched experience seems like a missed opportunity. (As readers of my Master's thesis, Transmedia Storytelling: Business, Aesthetics and Production at the Jim Henson Company know, similar art books were released as transmedia extensions for both Labyrinth and The Dark Crystal.) Still, in this day and age, I'd be utterly flabbergasted if some version of the same content didn't appear either online or in the inevitable collector's edition of the DVD.