August 27, 2009
11:39 AM


Announcing our Summer 2009 games!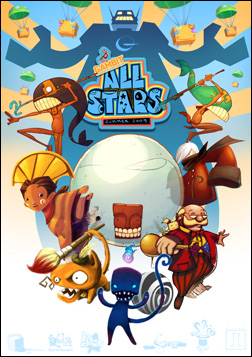 After several long, glorious months of chaos, code and camaraderie, GAMBIT is proud to unveil our
Summer 2009 GAMBIT Prototypes
! This year we've highlighted the research questions for each of our games so our players get a greater idea of the thinking behind each project – and there's some genuinely amazing research in these games. For example:
Here's the rundown of all the summer 2009 GAMBIT prototypes!
Abandon
Abandon is a game about running away. Step into the shoes of a girl lost in a surreal dreamscape, and escape from the encroaching darkness before it consumes everything, including you. Objects strewn about this dream world are brought to life by your light, but they seek only to bring darkness. No place is safe. Can you abandon these objects; can you abandon the night? Or are you the one who has been abandoned and left… alone?
Abandon showcases a large array of animated objects. The development team utilized experimental, automated rigging software to enable rapid creation of animated models. The direction for the project was motivated by the desire to create a game featuring a large number of unique animated models, not normally feasible with a small team size and short development time frame. The team strived to create a world for the player where just about anything can come to life.
Camaquen
Camaquen is a casual puzzler in which players guide two characters through a heated argument. As part of a research project examining user interfaces for conversation in games, Camaquen models the effect of emotions in dialogue, enabling players to affect the emotional dynamics of the conversation and thus affect the outcome of the characters' debate – even though the script remains the same. The actions of the player interact with the personalities of the brothers to determine one of five different Fates.
Players take on the role of Alux (Ah-loosh), the guardian spirit of the Sacred Grove. When the Great King dies and his kingdom is split between his sons Ban Amaru (Bahn A-mah-roo) and Huamanapu (Wah-nam-a-pu), the brothers begin to bicker over what to do with the Grove. Using Alux's ability to command spirits of emotional energy (or "camaquen"), players change the meaning behind their words and sway the two kings to their destiny.
Does Huamanapu build his enormous stargazing tower, or does Ban Amaru move forward with his plans for a golden palace? And what happens to Alux when her Grove is transformed?
Dearth
Dearth is an exciting co-operative action-puzzler. The Tribal Lands have been suffering through the worst drought in many lifetimes. Plant life is withering away, and people fear the approach of a great famine. Rumors spread of the awakening of monstrous creatures who the ancestors warned would one day rise to drain the land and its people of their water. As the thirsty beasts emerge, worried villagers turn to the Tribal Lands' two great shamans and ask them to restore the water to the land.
Play as the tribal shamans. Force the mysterious water-sucking creatures to smash into each other, allowing stolen water to gush from their engorged bodies and be returned to the land. Plan movements with your partner carefully or be ready to make split-second decisions if things don't go according to plan. The future of the Tribal Lands will depend on how well you work together!
Pierre: Insanity Inspired
Pierre is a cat. Pierre is also an artist.
On the verge of creating his greatest masterpiece, Pierre suddenly runs out of inspiration. Undaunted, he sets out to recover his lost creativity - but the path to completing his magnum opus is treacherous and filled with both dangerous obstacles and equally dangerous critics. Can he survive the challenge? Will Pierre finish his grand masterpiece? Who knows? The only thing certain is that Pierre is one strong-headed feline.
Pierre: Insanity Inspired is a unique combination of action and puzzle-solving. Players guide Pierre around a spinning circular platform to collect inspiring items, but only when they align with the right symbols! Making matters worse, Pierre must dodge falling spiked balls and - like all great artists - contend with the critics' gentle encouragements or savage insults.
Can you help Pierre finish his noble sculpture before he's driven completely insane?
Shadow Shoppe
Welcome to the Shadow Shoppe, located in a small town where people have lost their shadows.
As a temporary apprentice to the shadowmaker, your goal is to help create and return the shadows to your townspeople so that life can go back to the way it was.
To create complete shadows, you must pick the most suitable word out of those presented to you. When a customer request (or requests) comes in, these shadows are revealed again. This time round, you have to pick the shadow that best suits the customer's description.
Are you up for the challenge?
Waker
Waker is a puzzle/platform game set in the world of a child's broken dream. As the Waker, the player uses both mind and reflexes to solve puzzles, creating platforms to form a safe path through the dream worlds. Forming the paths, however, is the trick - it is up to the player to figure out how to create each path, and to manipulate the Waker and the world to travel safely through each level. With dynamic obstacles and three difficulty modes, the game offers continuing challenges even for experienced players, while allowing beginners an easier path to the end.
Waker was developed in tandem with Woosh, its abstract variant. Waker offers the same gameplay as Woosh, but also includes a rich narrative and a story that is reflected in its art and cutscenes.
Come explore the world of dreams. Will you awaken your dreamer, or leave her to drift forever?
Woosh
Woosh is a challenging puzzle/platform game that engages players in twelve levels of ever-increasing difficulty. Using concepts from physics, players draw platforms to explore the abstract world of Woosh and encounter dynamic obstacles and other challenges along the way. Woosh features three levels of difficulty: perfect for experienced platform players and more casual players alike.
Woosh was developed in tandem with Waker, its narrative version. Both games are intended as educational games for middle and high school students (age 12 and up), to complement an introductory physics class.
Do you have the wits, agility and finesse to play Woosh?
Credits
and be sure to check back here on our blog as we start posting their thoughts and postmortems! But most of all,
have fun!