March 2009 Archives
March 31, 2009


The philosophical quandary of post-cloud hard drive upgrades.
Okay, so I'm having a little bit of a strange crisis at the moment. I've noticed lately that Remiel, my 2006-era MacBook Pro, has been slo-o-o-o-owing do-o-o-own. The spinny pinwheel of death has been appearing more and more frequently, and the poor little guy just ain't what he used to be. Loading my email takes forever, as does loading applications. When I approached my friend Mike about it, he groaned and said that he'd seen those symptoms before. He suggested that maybe I was nearing a catastrophic hard drive failure.
Frak.
Okay, so maybe I need a new hard drive. This isn't necessarily a bad thing - the beastie only has a 100GB drive in her to start with, which has grown increasingly stuffed with various applications, media and other bric-a-brac. Clearing a bunch of that out is likely to help as well, but this has brought me to something of a philosophical quandary: given my recent decision to move into the cloud, how much sense does it make to buy a 7200RPM 500GB hard drive, even if is less than $150 now? I could buy this monster and thus have enough hard drive space to never worry about offloading photos and videos from my 16GB miniSD card again (well, not for a while anyway), but I'm growing increasingly concerned with the idea of data loss. That's why I bought the Western Digital Mirror Edition 2TB drive for backups at home - and the idea is that I'd offload all the photos and videos and whatnot onto that - but this recent trip showed me that when you're on the road, the cloud isn't always there for you, and it's not always feasible to try and move large amounts of data up and down that way. Worse, the bigger the hard drive, the more likely it is that (knowing me) the time between backups will just get bigger and bigger, thus increasing the likelihood of total catastrophic data loss if something should go wrong with said laptop. So theoretically I should buy a smaller hard drive to enforce my 'encloudification' and minimize any data loss, but it's hard to buck the notion of "yeah, but it's only a few bucks more..." Et cetera, et cetera.
What do you folks think?

March 30, 2009


Playing catch-up.
I've returned from CONATHON09 and am now playing some serious catch-up. If I owe you an email, hopefully you'll hear from me by Friday, if not sooner. I'm also hoping to get a bunch of new photos up onto Flickr and the rest of my videoblog entries up onto here, hopefully before my hard drive fails (as my friend and tech guy Mike at the office is warning me might be the cause of my machine's recent super slowdowns and erratic behavior). As always, stay tuned - I've got some great stories and media coming up.

March 21, 2009


CONATHON09.XX2: Paused.
Well, damn. My attempts at videoblogging have been temporarily paused due to an unforeseen circumstance: a shortage of hard drive space on my laptop. Once I land in San Francisco and drop my stuff off at the hotel, I may go searching for an el cheapo Flash drive or card to offload some of these files - I'm not really feeling the idea of uploading several gigs to my website just to clear up some video editing room - but this project might be halted for just a little bit. Stay tuned.
Pictoplasma was amazing, by the by. I've been to a lot of conferences in my day, and I think this one was one of my very favorites - seriously, right up there with vintage SXSW. Truly amazing events, art, city and people. More details to follow.

March 20, 2009


CONATHON09.XX: Slides and PDF
A brief interlude (hence the XX in the title) to say that my talk at Pictoplasma this afternoon went smashingly well, although I was up until 4AM last night reworking my slides into a fairly heavily reworked edition. A 25MB .zip file of the Keynote slides and PDF of said new edition is now available on my lectures and presentations page, or by clicking right here, or by clicking the below title card graphic.
Those of you who are interested in the rest of the stuff I have to say on transmedia narratives should check out my Master's thesis, "Transmedia Storytelling: Business, Aesthetics and Production at the Jim Henson Company", right here. (I really need to finish converting this into a book – the demand is definitely there.)
I've also been making a ton of great new friends and contacts while hanging out here – in a way, Pictoplasma feels like SXSW back in 2003. More details (and more videoblogs) tomorrow!

March 18, 2009


CONATHON09.13: Checkpoint Charlie.
In which our hero wraps up his sightseeing for the day with a somber visit to the monument to the Berlin Wall.
CONATHON09.12: Marienkirche.
In which our hero arrives at Museum Island, and finds himself entranced by Marienkirche (St. Marion's Cathedral).
(Laura take note - this one has some serious shakycam action going on. Be warned...)
CONATHON09.11: Bebelplatz.
In which our hero visits the infamous Bebelplatz, where the bookburnings were held under Hitler, and discovers the monument that remains.
CONATHON09.10: Paris in Berlin.
In which our hero marvels at the amazing architecture of the Galleries Lafayette, a little slice of Paris in Berlin.
CONATHON09.09: a Genuine Automall.
In which our hero sends a shout out to his Dad when he finds a mall for cars in downtown Berlin.
CONATHON09.08: Brandenburger Tor.
In which our hero admits that yes, he is a tourist.
CONATHON09.07: the Reichstag.
In which our hero arrives at the Reichstag, the home of the German Parliament.
CONATHON09.06: the Haus der Kulturen der Welt.
In which our hero arrives at the Haus der Kulturen der Welt (the House of World Cultures), where the conference will be held.
CONATHON09.05: AHOY!
In which our hero gets way too excited about finding a boat-themed playground along the river beside his hotel.
CONATHON09.04: A Friendly Face Outside the Hotel.
In which our hero finds an unexpected face welcoming him to Berlin.
CONATHON09.03: The Arrival.
In which our hero arrives successfully at the hotel in Berlin.
CONATHON09.02: Frankfurt.
In which our hero checks in very briefly to share a lovely German sunrise with you.
CONATHON09.01: Logan International Airport.
As I mentioned in an earlier post, I've somehow managed to get myself into a situation where I'm attending three conferences in two weeks, and presenting at two of them. The first one is starting now, which is why I'm posting this from Berlin, Germany (!!), which is hosting the third Pictoplasma conference. Since people seemed to like my videoblogging from Singapore back in December, I've decided to give it another go. So now, without further ado... (Apologies to those reading this in RSS feeds that don't include video feeds - you'll have to check out the videos over at http://www.geoffreylong.com/journal.)
In which our hero introduces CONATHON09 and waits on a plane.

March 15, 2009


Transformative Works and Cultures.

March 14, 2009


Where did that month go?
I've just realized, much to my horror, that it's been almost a month since I've posted anything here. Yikes. Sorry about that - suffice it to say that the last couple of weeks have been even more intense than usual, and the next couple of weeks are going to be even more intense than that. My lack of posting any new content here is Not Good, since I hope I'm going to be getting at least a few new visitors to this site after the smoke has cleared from the next two weeks. Let me explain.
On Tuesday, the GAMBIT Review Committee is showing up to go over our lab's progress as we near the halfway point of our initial five-year mission. The goal here is to overwhelm them (shock and awe, shock and awe!) with our excellence, so much so that the report they generate and send back to our funders in Singapore will result in a renewal of our funding, thus making our five-year mission a ten-or-more-year mission. To say this is a Very Big Deal is a fairly large understatement. As a result, I've been up to my neck in slides for the last week or so, hammering out the big presentation that's scheduled to go down on Tuesday morning.
Unfortunately, I don't get to stay around for the whole thing. As has been reported by several websites, on Tuesday afternoon I'm boarding an international flight to Germany, where I'll be presenting a lecture on character design for transmedia franchises at the 3rd Pictoplasma Conference in Berlin, which I'm intensely excited about despite the fact that I speak no German. This should be interesting, to say the least. With a little luck I'll be able to post videoblog entries like I did on my trip to Singapore last year, and I'll post my slides and lecture notes over on my Presentations and Lectures page sometime before the end of the month. Here's the basic synopsis of my talk:
From Plot to Character to World: Some Aesthetics of Transmedia Storytelling
As transmedia franchises such as Star Wars, Buffy the Vampire Slayer, LOST and Heroes increase in popularity, the ability to create characters that audiences will follow from one media form to the next becomes absolutely critical. Attendees will be shown how such carefully-crafted characters are the key to the success of such transmedia storytellers as George Lucas, Joss Whedon, J.J. Abrams, Jim Henson and Tim Kring. By drawing on the theories of Henry Jenkins, Stephen King and John Keats, this talk will examine such key aesthetics of transmedia franchises as the skillful deployment of negative capability and the shift in narrative emphasis from plot to character to world.
So I get to see a little bit of Berlin while I'm there, then I'm flying from Germany back to San Francisco, where I'll be attending the 2009 Game Developers Conference until Thursday evening, when I'm hopping another plane to come jetting back to Boston to present at the 2009 American Comparative Literature Association conference at Harvard. Here's the abstract for that talk:
From Horrorism to Terrorism: the New Weird, the New Horror and the War on Terror
On Halloween 2008, the fantasy and science fiction author Jo Walton posted an entry called "Halloween Special: Why I hate horror" to Tor.com, in which she declared: "...What horror readers want is blood, right away, rivers of it, and scary stuff too, immediately, even before you care about the characters." In the comments to her post, the novelist and essayist Nick Mamatas snarkily quoted this passage with the retort, "Ah, now I know! I also look forward to future posts in which I am told what I like in a meal, and in a sexual partner."

This exchange exemplifies the current shifting perceptions within and without of the horror genre. In the foreword to his 2008 anthology Poe's Children: The New Horror, horror novelist Peter Straub describes a new current horror Renaissance led by authors such as Kelly Link, who have more in common with John Crowley and Jonathan Carroll than with the authors who made up the previous horror boom in the 1970s and 1980s. What separates these generations is a shift away from horror and towards terror, as the terms are described in John Clute's 2005 short lexicon of horror, The Darkening Garden: terror is the revelation that the characters' normal, reliable world does not always adhere to the normal, reliable rules and actually has more wondrous and threatening creatures, places and things in it than one had imagined; horror, on the other hand, is when those threatening new elements actually make good on their threats and rend the characters limb from limb. Under these criteria, terror stories are more psychological and horror is more visceral.

It doesn't take much of a leap to connect the rise of this new psychological type of terror story to the popular mindset and psychology of America (and indeed the world) after 9/11. Terrorist warfare relies on the same basic mental mechanics as terror stories - both rip away our basic assumptions of safety and rely on the negative capability of the human imagination to do the rest; arguably, both are the most effective when the actual horror (the bombs, the dismemberment) never comes. This may be why the 2000s have seen not only the rise of Straub's New Horror but also the rise of the New Weird, as described by Jeff and Ann Vandermeer in their co-edited 2007 anthology of the same name, and the rebirth of the classic Weird Tales magazine under the editorship of Stephen H. Segal. Storytellers working under the banner of either the New Horror or the New Weird frequently have much more in common with H.P. Lovecraft's cosmic horrors than with the splatterfests of the 1970s and 1980s, which includes not only authors but also filmmakers and graphic novelists as well, as evidenced by the recent popularity of Guillermo del Toro's Pan's Labyrinth and Mike Mignola's Hellboy.

This paper will drill deeper into these observations, pulling examples from fiction, film and comics. It will compare the characteristics of Straub's New Horror to the Vandermeers' New Weird, examine how such shifts may have previously followed global upheavals such as WWI and WWII, and attempt to illuminate how this shift from horror to terror in art reflects the shift in the popular psyche from the fear of a shattered known to the fear of an encroaching unknown.
But wait, there's more! Later in April I'm also presenting a paper at the 6th Media in Transition Conference:
Play Chapter: Video Games and Transmedia Storytelling
Although multi-media franchises have long been common in the entertainment industry, the past two years have seen a renaissance of transmedia storytelling as authors such as Joss Whedon and J.J. Abrams have learned the advantages of linking storylines across television, feature films, video games and comic books. Recent video game chapters of transmedia franchises have included Star Wars: the Force Unleashed, LOST: Via Domus and, of course, Enter the Matrix - but compared to comic books and webisodes, video games still remain a largely underutilized component in this emerging art form. This paper will use case studies from the transmedia franchises of Star Wars, LOST, The Matrix, Hellboy, Buffy the Vampire Slayer and others to examine some of the reasons why this might be the case (including cost, market size, time to market, and the impacts of interactivity and duration) and provide some suggestions as to how game makers and storytellers alike might use new trends and technologies to close this gap.
Not only that, I'm also chairing a panel on the future of publishing at MIT6, one which will include a number of luminaries from the publishing industry that I'll announce here as soon as I get the lineup completely finalized. Right now, though, I desperately need to get back to those slides. Wish me luck!

March 9, 2009


IndieCade Call for Submissions (Updated)
Updated - note the new deadline of May 15th!
Attention students, academics, artists and industry professionals! We'd like to call your attention to the upcoming submission deadline for
IndieCade
, the upcoming festival of independent games and interactive art being chaired by friend-of-the-lab
Celia Pearce
. Here's the official CFP.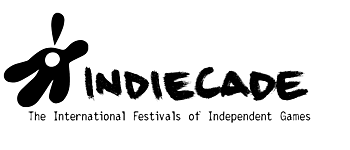 IndieCade Call for Submissions
IndieCade invites independent game artists and designers from around the world to submit interactive media of all types - from art to commercial, ARG to abstract, mind-bending to mobile, serious to shooter, as well as academic and student projects - for consideration. Work-in-progress is encouraged. A diverse jury of creative and academic leaders will select entries for top prizes at the IndieCade 2009 Festival. All entries for the Festival will also receive consideration for presentation at all 2009 IndieCade international exhibitions including: IndieCade 2009 Events:
IndieCade @ E3, Los Angeles (June 2-5) IndieCade Asia TBA IndieCade @ SIGGRAPH, New Orleans (Aug 5-7)
IndieCade 2009 (Oct 1-10)
IndieCade Europe, GameCity, UK (Oct 26-29)
Submissions Deadline: April 30, 2009 May 15, 2009 at Midnight PST. For more information and to enter: www.IndieCade.com.
IndieCade's successful flagship 2008 festival held last October at Open Satellite contemporary gallery in Bellevue, Washington, was the first major intertaional exhibition of independent videogames and videogame art in the area. Event organizers include IndieCade Founder Stephanie Barish, Chair Celia Pearce, and Festival Director Sam Roberts.