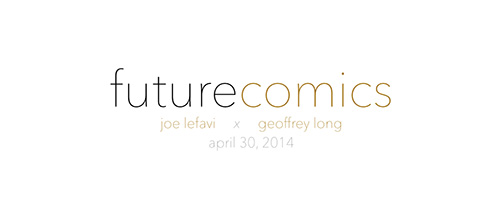 Yesterday afternoon my friend Joe LeFavi and I were invited to present futurecomics1, a conversation about what's next in the art and business of comics, in Henry Jenkins' "Comics and Graphic Storytelling" course at the USC Annenberg School of Communication and Journalism. It was the last course of the year, so Henry thought it'd be fun to get a couple of us forward-thinking comics geeks together to talk about where things appear to be going. I think I speak for all of us when I say that we had a blast.
Joe shared lessons from his work with the Jim Henson Company, Archaia, Welcome to Night Vale, and, most recently, the Thrilling Adventure Hour graphic novel – which netted him an Eisner nomination! I gave a version of the talk that I gave last fall at the grand opening of OSU's Billy Ireland Cartoon Research Library and Museum, only with even more futuristic comics stuff and with a heaping pile of insight from the business side of things from Joe. Henry stitched it all together, weaving our random bits of geekery back into the larger tapestry of what the students had been discussing all semester.
Some of the things we yakked about:
Scott McCloud's Reinventing Comics, which is coming up on its 15-year anniversary (!)
Image Comics, Jeff Smith, the 90s indie comics boom, and the new indie webcomics boom
Russell Monroe's xkcd, especially his 12,636 x 6,084-pixel "Click and Drag" and his ~3,100-panel "Time"
The Watchmen motion comics (and whether motion comics are even comics)
Mark Waid and John Roger's Thrillbent
Marvel Infinite Comics
Dan Burwen's Operation Ajax
Simogo's Device 6
The Ryse digital comic I did with Microsoft Studios
Marvel AR
Anomaly Productions' Anomaly
Brian David Johnson and will.i.am's Wizards and Robots and its stunning 3D-printed case from struck
Opertoon's Breathing Room
The impact of Amazon's acquisition of Comixology
Possible futures for comics on Google Glass and in the Oculus Rift
The 90 minutes flew by, and we still only scraped the tip of the iceberg! There's already chatter afoot to do something bigger and bolder, perhaps as soon as this fall, and one of these days, I'm going to write up a Futurecomics book on all this stuff – and of course I have some ideas for some more prototypes of my own… Too much fun!
1 Why yes, that title was an oblique Italo Calvino shout-out. Nice catch!