Recently in Illustration Category
November 14, 2008


DrawMo and NaNoWriMo updates: 23,656
The steady march to 50,000 words nears the halfway point, as I hit 23,656 words this morning. I elected not to attend the Simon Winchester lecture last night after all due to feeling a little under the weather, so I used the time instead to get a mess of work done on both this and a number of other projects (including some editorial work I'm doing for the Journal of Transformative Works and Cultures, which is taking me back to my Inkblots glory days. I also uploaded DrawMo entries for November 12th and November 13th – the one from the 13th is probably my favorite so far because it's the first time I've successfully done a cartoon of a cat that I'm really happy with. (Thanks for modeling, Albus.)
I am, however, slightly annoyed with how NaNoWriMo is suffering from its own success. Although I made sure to update my word count last night before midnight, it didn't count it until today, which means that the little widget on the side of my blog there has yesterday marked down in red, which it shouldn't have done. Also annoying is the fact that since I didn't start entering word counts until the 10th, and since the system automatically ignores outlier numbers, the report card page that they have set up for each author has my average word count at around 91 words a page, which is obviously bunk. For the curious, 23,656 divided by 14 is 1,690, rounded up - so that statistic is only around 1,600 words off!

November 12, 2008


DrawMo and NaNoWriMo updates: 19,629.
First of all, I've just uploaded a mess of illustrations from the last 10 days or so to my Flickr account as part of my DrawMo 2008 experiment. I cheated a little by doing three drawings yesterday to make up for missing two days before (shhh, don't tell). Mostly they're influenced by my recent obsession with Mike Mignola and Guillermo del Toro, especially the ones I did last night while watching the special features on the Hellboy II Blu-Ray discs with Laura, but there's a couple character sketches of the new blood from Children of Winter, Children of Wolves in there as well, including this guy: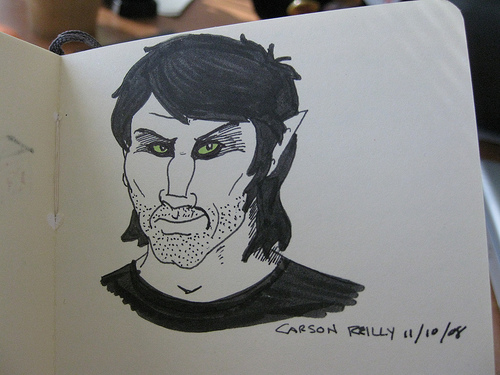 Does he look like trouble to you?
That brings me to my NaNoWriMo update. Although I fell short yesterday thanks to the siren song of the long-awaited and aforementioned Hellboy II Blu-Ray release, as well as last night's episodes of House and Fringe, I woke up early this morning to bang out an additional 2,265 words in the form of a chapter wherein a college professor meets a grisly end. Mwa ha ha. Hopefully I can tuck back into it again tonight, because tomorrow night I have a lecture to attend (Simon Winchester on the OED, woo-hoo!) and Friday night is Quantum of Solace, which I am well and truly geeked out about.
It has just occurred to me that I should probably apologize to any readers out there who follow this blog for deep, insightful intellectual observations, but then again, if you know me then none of this recent geekery should come as a surprise. As Heath Ledger's Joker said, "It's all part of the plan."
See? Even my apologies are rife with metageekery. There's no escaping it, so I might as well revel in it.

August 7, 2008


Redesigning MIT. Again.
Today I'm responsible for the design of the MIT homepage again. The MIT homepage changes design every day, so if you want to see it, go now!
The design is an evolution of what I posted earlier this summer, with a couple of changes – or, if you will, Easter eggs. First, note the MIT letterforms in the buildings on the upper right corner of the globe. Second, you'll see that the MIT homepage folks wanted something a little 'gamier' than my original design, so I made the aircraft circling the globe into Player One and Player Two. This led me to replace the airliner in the lower left of the original with a second airship in order to avoid 9/11 imagery. Finally, if you look carefully at the scores of Player One and Player Two, you'll see they're actually dates – the start date and the finish date of this summer's program. This was Philip's idea, so my hat's off to him yet again.
I'll add a version of this to my portfolio here sooner or later – I need to dedicate a good, solid weekend to updating this sucker across the board. I'm still trying to figure out the best way to rework this site's architecture to accommodate a new section for 'Academics', and what all that section should entail. Any suggestions would be appreciated. Stay tuned!

February 27, 2008


After Kafein.
I realize it's been almost two weeks since my last entry. Trust me, they've been busy weeks. Big update soon, but until then, some art.

March 2, 2007


Eurydice and the Snake.

March 1, 2007


Channeling Saul Bass.
Another piece for my World-Building class.

February 28, 2007


Beneath the Gaze of the Old Man Cliffs.