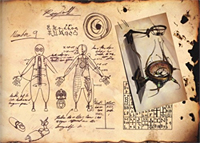 The folks behind the upcoming animated movie 9 have created a "mad science journal" that could be seen a prequel-esque diegetic artifact, insofar as it includes "ink blots, sketches and doomsday prophesies" as well as a whole bunch of information as to how the ragdoll characters of the film came to exist.
According to the article on io9.com, "Each book is encased in a uniquely numbered burlap bag, featuring a special forward by Ray Kurzweil, behind-the-scenes art, an extensive collection of stills from the film, commentary from director Shane Acker and producers Tim Burton and Timur Bekmambetov, and a DVD of the original short film by Shane Acker which inspired the full-length feature."
The catch is that only 999 of these books were made, which strikes me as sort of a tragedy. Such a project seems to be absolutely loaded with opportunities for additive comprehension, so ensuring that less than a thousand would-be fans have access to that enriched experience seems like a missed opportunity. (As readers of my Master's thesis, Transmedia Storytelling: Business, Aesthetics and Production at the Jim Henson Company know, similar art books were released as transmedia extensions for both Labyrinth and The Dark Crystal.) Still, in this day and age, I'd be utterly flabbergasted if some version of the same content didn't appear either online or in the inevitable collector's edition of the DVD.