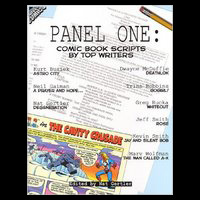 This is the first in what I'm hoping will be a long series of entries here that serve as mini-reviews of the texts I'm reading for my THESIS. For the first batch, I'm going to be focusing on writing for comics; I'm taking a class on comics this term with CMS co-head Henry Jenkins, so this entire section should come together into some form of a final project for that course.
First up is Nat Gertler's Panel One: Comic Book Scripts by Top Writers. The text is little more than what the title advertises, but that's enough to make for some compelling reading when the "top writers" include Neil Gaiman, Jeff Smith and Kevin Smith. A full rundown of the authors and their scripts are as follows:
Kurt Busiek, Astro City
Neil Gaiman, Miracleman
Nat Gertler, Degeneration
Dwayne McDuffie, Deathlok
Trina Robbins, GoGirl!
Greg Rucka, Whiteout
Jeff Smith, Rose
Kevin Smith, Jay and Silent Bob
Marv Wolfman, The Man Called A-X
The two main takeaways from this text, as Gertler notes himself in his introduction, are that one, "there is no standard format for comic book scripts", and, two, comic book scripts differ from TV, film or dramatic scripts in that they're only intended to be read by one person: the artist. This comes through in Gaiman's Miracleman script, which often addresses his artist (Mark Buckingham) directly by name, and refers to previous conversations between the two. Panel One is instructive in how it shows the different writers each playing to their strengths; Kevin Smith uses film terminology (like INT. and EXT. for interior or exterior locations) due to his film background, and Jeff Smith, who did all the wriitng and pencilling for his series Bone, delivered full rough pencils of the prequel book Rose to Charles Vess.
I'm not wholly certain what my takeaway is here for the THESIS itself. I want to say something about the way that comics tell stories as opposed to how film or television or books tell stories, but Panel One, while instructive in other ways, doesn't prove very illuminating in that regard. Each included script is prefaced by somewhere between a few paragraphs and a few pages of context, usually by the writer, which provides some insight. Marv Wolfman goes into the details of "full script style" and "plot style" (the first reading like a very specific screenplay and the second being little more than a concise overview) and the advantages and disadvantages of each. Kurt Busiek passes on a tip he picked up from Frank Miller. Irritatingly, though, Gertler himself writes the intros for Jeff Smith, Neil Gaiman and Kevin Smith – three of the people whom I'd most like to hear discuss their writing styles. Much similar content can be found elsewhere, like Gaiman's notes on the Sandman scripts in Dream Country and the new Absolute Sandman, Vol. 1 but still – more of that is always welcome.
Also mildly disappointing are the inclusion of a script from Gertler himself, which smacks of narcissism (although indeed informative in its own right) and a script from Trina Robbins, whose GoGirl! isn't on my embarassingly long books-I've-heard-of list, and I suspect was included only to give the anthology a shot of estrogen. A better choice might have been Jill Thompson, although I (of course) don't know if she was available. Ah, well – c'est la vie. I'm planning to pick up the sequel, inevitably named Panel Two, as well, so we'll see what improvements Gertler makes on his second pass.
All in all, Panel One is useful to have in one's library not as a reference so much as an artifact. Seeing the actual work of other comics writers makes the notion of writing for comics much more tangible and plausible, which is arguably worth the price of admission.