Recently in Transmedia Category
January 6, 2010


2010: The Year We Make Up
This is one of my favorite times, the liminal space between one year and the next. For most people, this time for intense thinking and planmaking runs from Christmas through New Year's, but at MIT this period is extended through the beginning of February. (Yet another reason I love it so much here at MIT.) According to MIT tradition, January is what's known as the Independent Activities Period, or IAP – originally founded (according to legend) in the 1960s as a way for students to take off and protest the Vietnam War all at once, instead of disappearing for random weeks out of the year. IAP has since evolved into a sort of micro-semester crammed in between the autumn semester and the spring semester, a month set aside for students (and faculty and staff) to enroll in courses they might not otherwise have a chance to take, to go off and tackle an externship somewhere, or to simply recuperate from MIT's normal grueling demands. (Another local legend likens an MIT education to drinking from a fire hose, which is truer than might be comfortable. This is, not coincidentally, why my friend Eitan named his new startup Firehose Games.)
I love this time not just for its interstitial nature, but because of the time it affords for reflection and planning. Years ago I launched a personal initiative called the Personal Improvement Project, or PIP (no relation to Fallout 3's pip-boy 3000, although I'm half-expecting a real one of those to show up at CES this week). This is the time of year when I mourn all the stuff I didn't get done in the previous year, and plan furiously for ways to achieve more of those goals in the year ahead. 2009 was a wonderful year, a crazy year, productive in ways I hadn't planned for, but, alas, rather unproductive in the ways that I had. Read the classics? Not so much. Get out of debt? Yeah, no. Get back in shape? Hells naw. To a certain extent, that's the nature of the universe – life is what happens when you're busy making other plans, man plans and God laughs, yadda yadda yadda.
This year, though? This year things are going to be different.

What Happened?
First, why did things go so wobbly in 2009?
For starters, in 2009 I got married. In 2010, I'm not getting married. This should help. Don't get me wrong – I loved getting married, but I love being married much more. For starters, being married is much cheaper than getting married. Further (and, perhaps, better), it's much less stressful. These are two hallmarks of a good marriage – if being married is cheaper and less stressful than getting married, you're doing something right. (Note that this most likely ceases to apply once kids become involved.)
Second, in 2010 I was racing like mad to prepare for applying for Ph.D. programs at the end of the year. Again, not so much. I finally wound up postponing applying to Ph.D programs for another year, which was an intensely difficult decision to make (at this rate, I won't be Dr. Long until I'm in my 40s), but it was the right thing to do. Being a grad student is a wonderful state of existence, but it's not a very lucrative one, and stepping right into that after just investing a bunch of money in my wedding was going to be a nightmare. So, the whole doctorate project is going to have to be pushed back until the fall of 2011 or even 2012.
Third, I took on a lot in 2009. Not just the wedding (although that was big enough), but also a whole mess of travel (Singapore, Germany, Los Angeles, Brazil, Pittsburgh, Austria, Florida, San Francisco...!), joined the Executive Board of the Interstitial Arts Foundation, took on a whole mess of projects at work (including writing my first video game) and am now in the middle of launching Playful Thinking, a new series of short game studies books published by the MIT Press which I'm co-editing with William Uricchio and Jesper Juul. Woof.
So, yes – all of this meant that life in 2009 was hectic as hell, and didn't leave a lot of time for reading, exercise, and not spending money on plane tickets. Fortunate or unfortunate, depending on how you look at it – but not at all a bad thing!
It's a new year now, though, and I'm reconsidering a number of the decisions I made in 2009. (Not the marriage. I'm keeping that one.) Primarily, this year I'm planning to buckle down and do a lot less traveling for conferences. I may do some more traveling for my consulting work (which is directly tied to the whole paying-off-debt thing) but for the most part I think this is the year I really need to write. On a larger scale, though, if you'll permit me to swipe and modify a line from Hollywood, it's starting to feel like 2010: The Year We Make Contact Up.

Need A Little Time To Make Up
The primary meanings of the phrase "make up" deal with either imagination or reparation, which is why this is such a timely phrase right now – and in some kind of weird micro-macro fractal reflection, this applies not just to me, but for all of us, particularly us Americans. For me it's going to be a year of writing (imagination) and paying down debts (reparation), but the whole world is going to have to use 2010 as a year of great imagination and reparation while we reimagine what the next wave of existence is going to be like, and as we pay off the disastrous debts we've incurred during the previous wave.
Right now, it feels like pretty much the whole damn planet is wondering the same things. What is the post-recessionary global economy going to be like? Is it reliant upon new energy sources and green-collar jobs? Is it a post-oil existence? Will America decline while other countries ascend? Will our new planetary society be more of a global village, will it be more hyperlocalized – or is it, in some weird anti-Venn diagram, simultaneously increasingly both? (Based on what I've been seeing during my travels, that gets my vote.)
Those of us in the media industries are worrying about slightly different things. How will the combination of recessionary economics and new technology change the media universe? (I've been thinking a lot lately about Borders' nosedive and the well-intentioned, if ill-executed, Barnes and Noble nook.) Further, in the 21st century, does 'digital' still have any great meaning? What happens when we push past that – what is 'post-digital', and what will post-digital media, entertainment and storytelling be like? One of the things that excites me about transmedia and comparative media studies is that they may be inherently post-digital; we no longer get so hung up on the explicit divide between the analog and the digital, but examine the unique advantages and affordances of each, which enables us to capitalize upon these features as they increasingly blend together – which sure seems to be the way we're going.

Profitability Sustainability Is King
One thing I wonder a lot about right now is whether the twenty-teens (damn, that sounds odd) will see a shift away from rampant profiteering and ridiculous, irresponsible spending and towards not just repaying our debts, but towards aiming for simpler, more sustainable levels of existence. One thing I've been wondering about for a long time is, simply, How much is enough? How does the cost of living in one part of the world compare to another? (I'm somewhat astonished to see that Boston isn't included in Mint.com's map of the world's most expensive cities.) How much is a house really worth? How much is a thought really worth, or an experience, or one's reputation? How do we handle value in an experience economy, or a reputation economy? (For some insight into the latter, check out the Whuffie Bank, where you can find me at my usual handle.)
What is a model for sustaining a good, solid lifestyle with a decent amount of enjoyment, a relatively high standard of living, a sufficient amount of thought and reflection, a decent reputation, and so on?
It may be me thinking about these things because I'm in my early thirties now and am obsessing over things like families and houses and careers and so on, but it's clear that the 21st century models of success are not the same as the 20th century models. Do you have to have Gaimanesque levels of success as an artist to have a nice house and writing studio in the American midwest? Do you need to go all Hollywood and make ridiculous piles of cash to "make it"? Plus, what's an unsustainable business model for guys like me now? My model has always been to hit the trifecta of consulting-writing-academic, but given today's hyperaccelerated demands, is that still sustainable?
It's possible that the proper response (the "mind like water" response for you GTD-heads out there) to our current scenario is "less is more", or, to put it another way, "less is more sustainable." On my way into campus this morning, there was an episode of The Diane Rehm Show on WGBH where (I think) Allen Sinai, the chief global economist and president of Decision Economics, bluntly stated that we Americans have to get used to a lower standard of living. I think he may be right – as Trevor Butterworth and his 'slow word' manifesto, the 'slow food' movement, and scores of others seem to be indicating, we are on the brink of a society throwing up its hands and surrendering to the impossibility of the ever-increasing demands for more, more, more. The recession may be an overcorrection to the fiscal irresponsibilities of the last decade, but it may also be a chance for many of us to catch our breath and rethink what "enough" means to all of us. You don't need a McMansion to be successful, but you do need enough to live comfortably and, hopefully, put your kids through college. So what does that cost now? How do you get it? And how do you get it without going insane?

Making Up Is Hard To Do
Anyway, that's what I think 2010 (and maybe 2011 and even 2012) will be all about – more so than ever before, at both the micro and macro levels. How do we make up new answers to these questions, and how do we make up enough for our previous errors and indulgences to return to a more stable and sustainable footing? It's not going to be easy, but that's, again, the nature of the universe.
But life is good. And even if things get crazy, life gets better. Here's to a wonderful 2010 for each and every one of us. Onward and upward!

October 7, 2009


Back(logged) in Boston.
I've just returned from a wonderful whirlwind trip to Los Angeles which found me first attending Indiecade in Culver City (where I got to hang out with my friends Doris C. Rusch, Josh Diaz, Brenda Brathwaite, Celia Pearce and Tracy Fullerton - and where, thanks to Brenda, I got to meet John Romero, which was very cool), paying a really terrific and insightful visit to USC's game lab (thanks, Kurosh!), touring LA first with my best man Talon and his wife Sara and then with Henry and his wife Cynthia, and then finally giving a relatively brand-new talk on designing migratory characters for transmedia stories in Henry's transmedia class at USC.
I'm now back in Boston, backlogged and trying to fend off a cold (stupid planes). There's been a number of interesting transmedia-related articles and things popping up across the web while I've been traveling. Here are the ones that have struck me as the most interesting:
I'm not even going to go into the big ones here – like Don "The Design of Everyday Things" Norman on transmedia as co-creation, or Kathy Hansen's proposal for how to use transmedia storytelling in job applications. Those are both posts on their own, which I'll sketch out as soon as I have some time.

September 22, 2009


Transmedia Storytelling and Entertainment: A Syllabus
Since the announcement that
Futures of Entertainment 4 will focus on transmedia
, since I'm actually on it (twice – check out August 24th and October 5th) and – most importantly – since Henry asked me to, I'm republishing Henry's syllabus for the transmedia storytelling class he's offering at USC this fall. The following post originally appeared at henryjenkins.org
on August 11th
; if you're not already following Henry's blog "Confessions of an Aca-Fan", then I humbly suggest you have some bookmarking to do! What follows is Henry's post, republished in its entirety.

September 16, 2009


Where in the world is Geoffrey Long?
For those of you wondering why I've been so silent lately, especially when teh Intarwebs have been so wonderfully flush with transmedia storytelling news, I have two responses:
I'm in Singapore. I'm currently on the other side of the planet from my regular home base in Boston – seriously, Singapore is a 12-hour time difference from Boston, which keeps things kind of simple but the jetlag is utter hell – and have had my hands full with GAMBIT-related things. (Such as, for example, the launch of Snap Escape, which is now live on Facebook).
I just launched the new interstitialarts.org. It was an unfortunate scheduling quirk that September 15th, the long-ago announced launched date for the new Interstitial Arts Foundation website and its attached brand-spanking-new Annex of short interstitial fiction happened to fall during this trip. Although I still believe in my heart of hearts that I can work from anywhere, there were some definitely odd things working against me on this one – not the least of which was getting reliable quasi-high-speed Internet connectivity from my hotel room. It's not easy to redesign a Wordpress install in public when your FTP connection keeps breaking every 5-10 minutes. Oy vey.
I will have plenty to say about the recent transmedia storytelling developments once I get back to Boston and things settle down a little bit. Until then, be good – and if you're in Singapore, come hear me talk at the Students Day at the Games Convention Asia 2009 conference on Saturday!

September 2, 2009


Transmedia extension as super-limited collector's item?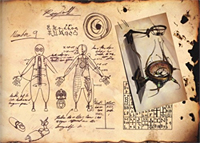 The folks behind the upcoming animated movie
9
have created a "mad science journal" that could be seen a prequel-esque diegetic artifact, insofar as it includes "ink blots, sketches and doomsday prophesies" as well as a whole bunch of information as to how the ragdoll characters of the film came to exist.
According to the article on io9.com, "Each book is encased in a uniquely numbered burlap bag, featuring a special forward by Ray Kurzweil, behind-the-scenes art, an extensive collection of stills from the film, commentary from director Shane Acker and producers Tim Burton and Timur Bekmambetov, and a DVD of the original short film by Shane Acker which inspired the full-length feature."
The catch is that only 999 of these books were made, which strikes me as sort of a tragedy. Such a project seems to be absolutely loaded with opportunities for additive comprehension, so ensuring that less than a thousand would-be fans have access to that enriched experience seems like a missed opportunity. (As readers of my Master's thesis, Transmedia Storytelling: Business, Aesthetics and Production at the Jim Henson Company know, similar art books were released as transmedia extensions for both Labyrinth and The Dark Crystal.) Still, in this day and age, I'd be utterly flabbergasted if some version of the same content didn't appear either online or in the inevitable collector's edition of the DVD.

August 28, 2009


Transmedia Storytelling and Entertainment: A Syllabus
Since the announcement that
Futures of Entertainment 4 will focus on transmedia
, since I'm actually on it (twice – check out August 24th and October 5th) and – most importantly – since Henry asked me to, I'm republishing Henry's syllabus for the transmedia storytelling class he's offering at USC this fall. The following post originally appeared at henryjenkins.org
on August 11th
; if you're not already following Henry's blog "Confessions of an Aca-Fan", then I humbly suggest you have some bookmarking to do!
Here's Henry's post, republished in its entirety.
---
Transmedia Storytelling and Entertainment: A Syllabus
by Henry Jenkins
Given the interest out there in transmedia or cross-media entertainment, I thought I would share the syllabus for the course I am teaching this fall at the University of Southern California. I am still shifting some details, as I deal with the scheduling of guest speakers, but all of the speakers listed have agreed to come. The readings are a good starter set for people wanting to do more thinking on this emerging area of research. I will be sharing reflections about the course material here throughout the fall, since I'm sure working through these readings in a class context is going to spark me to do some fresh thinking on the topic. I'd love to hear from others out there teaching transmedia or cross-media topics.
If you know someone at USC who you think might want to take this class, let them know. I still have room for more students.
Course Description and Outcomes:
We now live at a moment where every story, image, brand, relationship plays itself out across the maximum number of media platforms, shaped top down by decisions made in corporate boardrooms and bottom up by decisions made in teenager's bedrooms. The concentrated ownership of media conglomerates increases the desirability of properties that can exploit "synergies" between different parts of the medium system and "maximize touch-points" with different niches of consumers. The result has been the push towards franchise-building in general and transmedia entertainment in particular.
A transmedia story represents the integration of entertainment experiences across a range of different media platforms. A story like Heroes or Lost might spread from television into comics, the web, computer or alternate reality games, toys and other commodities, and so forth, picking up new consumers as it goes and allowing the most dedicated fans to drill deeper. The fans, in turn, may translate their interests in the franchise into concordances and wikipedia entries, fan fiction, vids, fan films, cosplay, game mods, and a range of other participatory practices that further extend the story world in new directions. Both the commercial and grassroots expansion of narrative universes contribute to a new mode of storytelling, one which is based on an encyclopedic expanse of information which gets put together differently by each individual consumer as well as processed collectively by social networks and online knowledge communities.
The course is broken down into five basic units: "Foundations" offers an overview of the current movement towards transmedia or cross-platform entertainment; "Narrative Structures" introduces the basic toolkit available to contemporary storytellers, digging deeply into issues around seriality, and examining what it might mean to think of a story as a structure of information; "World Building" deals with what it means to think of contemporary media franchises in terms of "worlds" or "universes" which unfold across many different media systems; "Audience Matters" links transmedia storytelling to issues of audience engagement and in the process, considers how fans might contribute unofficial extensions to favorite media texts; and "Tracing the History of Transmedia" pulls back to consider key moments in the evolution of transmedia entertainment, moving from the late 19th century to the present.
In this course, we will be exploring the phenomenon of transmedia storytelling through:
Critically examining commercial and grassroots texts which contribute to larger media franchises (mobisodes and webisodes, comics, games).
Developing a theoretical framework for understanding how storytelling works in this new environment with a particular emphasis upon issues of world building, cultural attractors, and cultural activators.
Tracing the historical context from which modern transmedia practices emerged, including consideration of the contributions of such key figures as P.T. Barnum, L. Frank Baum, Feuillade, C.S. Lewis, J.R.R. Tolkien, Cordwainer Smith, Walt Disney, George Lucas, DC and Marvel Comics, and Joss Whedon.
Exploring what transmedia approaches contribute to such key genres as science fiction, fantasy, horror, superhero, suspense, soap opera, teen and reality television.
Listening to cutting-edge thinkers from the media industry talk about the challenges and opportunities which transmedia entertainment offers, walking through cases of contemporary projects that have deployed cross-platform strategies.
Putting these ideas into action through working with a team of fellow students to develop and pitch transmedia strategies around an existing media property.
Required Books:
Pat Harrington and Noah Wardrip-Fruin, Third Person: Authoring and Exploring Vast Narratives (Cambridge: MIT Press, 2009), 636 pages.
Kim Deitch, Alias the Cat (New York: Pantheon, 2007), 136 pages.
Kurt Busiek and Alex Ross, Marvels (Marvel Comics, 2003), 216 pages.
Kevin J. Anderson (ed.), Tales from the Mos Eisley Cantina (New York: Spectra, 1995), 416 pages.
Joss Whedon, The Long Way Home (New York: Dark Horse, 2007), 136 pages.
All additional readings will be provided through the Blackboard site for the class.
Grading and Assignments:
Commercial Extension Paper: 20 percent
Grassroots Extension Paper: 20 percent
Final Project - Franchise Development Project: 40 percent
Class Forums: 20 percent
In order to fully understand how transmedia entertainment works, students will be expected to immerse themselves into at least one major media franchise for the duration of the term. You should consume as many different instantiations (official and unofficial) of this franchise as you can and try to get an understanding of what each part contributes to the series as a whole.
COMMERCIAL EXTENSION PAPER: For the first paper, you will be asked to write a 5-7 page essay examining one commercially produced media extension (comic, website, game, mobisode, amusement park attraction, etc.). You should try to address such issues as its relationship to the story world, its strategies for expanding the narrative, its deployment of the distinctive properties of its platform, its targeted audience, and its cultural attractors/activators. (Due Sept. 23)(20 Percent)
GRASSROOTS EXTENSION PAPER: For the second paper, you will be asked to write a 5-7 page essay examining a fan-made extension (fan fiction, discussion list, video, etc.) and try to understand where the audience has sought to attach themselves to the franchise, what they add to the story world, how they respond to or route around the invitational strategies of the series, and how they reshape our understanding of the characters, plot or world of the original franchise. (Due Nov. 18) (20 Percent)
FINAL PROJECT - FRANCHISE DEVELOPMENT PROJECT: Students will be organized into teams, which for the purpose of this exercise will function as transmedia companies. You should select a media property (a film, television series, comic book, novel, etc.) that you feel has the potential to become a successful transmedia franchise. In most cases, you will be looking for a property that has not yet added media extensions, though you could also look at a property that you feel has been mishandled in the past. By the end of the term, your team will be "pitching" this property. The pitch should include a briefing book that describes:
the core defining properties of the property
a description of the intended audience(s)
a discussion of the specific plans for each media platform you are going to deploy
an overall description for how you will seek to integrate the different media platforms to create a coherent world
a business plan which includes likely costs and revenue and the time table for rolling out the various media elements
parallel examples of other properties which have deployed the strategies being described
The pitch itself will be a 20 minute group presentation, followed by 10 minutes of questioning. The presentation should give us a "taste" of what the property is like as well as to lay out some of the key elements that are identified in the briefing book. For an example of what these pitches might look like, watch the materials assembled at http://www.educationarcade.org/SiDA/videos, which shows how a similar activity was conducted at MIT. Each member of the team will be expected to develop expertise around a specific media platform as well as to contribute to the over-all strategies for spreading the property across media systems. The group will select its own team leader who will be responsible for contacts with the instructor and will coordinate the presentation. The team leader will be asked to provide feedback on what each team member contributed to the effort, while team members will be asked to provide an evaluation of how the team leader performed. Team Members will check in with the instructor on Week Ten and Week Fourteen to review their progress on the assignment. Presentation (Dec.7, 9) Briefing Book (Dec. 14) (40 Percent)
CLASS FORUM: For each class session, students will be asked to contribute a substantive question or comments via the class forum on BlackBoard. Comments should reflect an understanding of the readings for that day as well as an attempt to formulate an issue that we can explore through class discussions or with the visiting speakers. (20 Percent)
Class Schedule:
*Guest Speakers are tentative, subject to availability. Shifts in speakers and thus topics and readings may occur after the semester starts.
Part One: Foundations
Week 1
August 24: Transmedia Storytelling 101
Henry Jenkins, "Transmedia Storytelling 101" Confessions of an Aca-Fan, http://henryjenkins.org/2007/03/transmedia_storytelling_101.html
Henry Jenkins, "Searching for the Origami Unicorn: The Matrix and Transmeda Storytelling," Convergence Culture: Where Old and New Media Collide (New York: New York University Press, 2006), pp. 93-130.
Geoff Long, "What Is Transmedia Storytelling", Transmedia Storytelling: Business, Aesthetics and Production at the Jim Henson Company, http://cms.mit.edu/research/theses.php, pp. 13-69.
August 26 Intertextual Commodities?
P. David Marshall, "The New Intertextual Commodity" in Dan Harries (ed.) The New Media Book (London: BFI, 2002), pp. 69-81.
Derek Johnson, "Intelligent Design or Godless Universe? The Creative Challenges of World Building and Franchise Development," Franchising Media Worlds: Content Networks and The Collaborative Production of Culture, PhD Dissertation, University of Wisconsin-Madison, 2009. pp.170-279.
Watch: Battlestar Galactica: The Face of the Enemy
Week 2
August 31: Media Mix in Japan
Anne Allison, "Pokemon: Getting Monsters and Communicating Capitalism," Millennial Monsters: Japanese Toys and the Global Imagination (Berkeley: University of California Press, 2006), pp. 192-233.
David Buckingham and Julian Sefton-Green, "Structure, Agency and Pedagogy in Children's Media Culture" In Joseph Tobin (ed.) Pikachu's Global Adventure: The Rise and Fall of Pokemon (Durham: Duke University Press, 2004), pp. 12-33.
Mizuko Ito, "Gender Dynamics of the Japanese Media Mix," Beyond Barbie and Mortal Kombat: New Perspectives on Gender and Gaming (Cambridge, MIT, 2008), pp. 97-110.
September 2: Toys and Tales
Jeff Gomez, "Creating Blockbuster Worlds" (unpublished)
Henry Jenkins, "Talking Transmedia: An Interview with Starlight Runner's Jeff Gomez," Confessions of an Aca-Fan, http://www.henryjenkins.org/2008/05/an_interview_with_starlight_ru.html
Mark Federman, "What is the Meaning of the Medium is the Message," http://individual.utoronto.ca/markfederman/article_mediumisthemessage.htm
Guest Speakers:
Jeff Gomez, Starlight Runner
Jordan Greenhill, DivX
Week 3
September 7 is the Labor Day holiday
September 9: Transmedia Branding
Faris Yacob, "I Believe Children are the Future," http://www.slideshare.net/NigelG/ipa-thesis-i-believe-the-children-are-our-future
Henry Jenkins, "How Transmedia Storytelling Begat Transmedia Planning...", Confessions of an Aca-Fan, http://henryjenkins.org/2006/12/how_transmedia_storytelling_be.html http://henryjenkins.org/2006/12/how_transmedia_storytelling_be_1.html
Guest Speaker: Faris Yacob, McCann Erickson New York
Week 4
September 14 Heroes and Alchemists: The New Storytelling
The 9th Wonders, Chapters 1-9 http://www.nbc.com/Heroes/novels/novels_library.shtml?novel=9
Henry Jenkins, "We Had So Many Stories to Tell': The Heroes Comics as Transmedia Storytelling," Confessions of an Aca-Fan, http://henryjenkins.org/2007/12/we_had_so_many_stories_to_tell.html
Carolyn Handler Miller, Digital Storytelling: A Creator's Guide to Interactive Entertainment (Amsterdam: Focal Press, 2006), "Using a Transmedia Approach", pp. 149-164 (Rec.)
Guest Speakers: Mauricio Mota, Mark Warshaw, Here Come the Alchemists
Part Two: Narrative Structures
September 16: Seriality
Angela Ndalianis, Neo-Baroque Aesthetics and Contemporary Entertainment (Cambridge: MIT Press, 2004), "Polycentrism and Seriality: (Neo-)Baroque Narrative Formation," pp. 31-70.
Jason Mittell, "All in the Game: The Wire, Serial Storytelling and Procedural Logic" (Harrington and Wardrip-Fruin, pp. 429-438.
Watch: The Wire http://www.amazon.com/Wire-Complete-Fourth-Season/dp/B000QXDJLI/ref=pd_bbs_sr_1?ie=UTF8&s=dvd&qid=1197321529&sr=8-1
"Young Prop Joe"
"Bunk and McNulty"
"Young Omar"
Jennifer Haywood, Consuming Pleasures: Active Audiences and Serial Fictions from Dickens to Soap Opera (University of Kentucky Press, 1997), "Mutual Friends: The Development of the Mass Serial," pp. 21-51. (rec)
Week 5 September 21: Soaps Go Transmedia
Sharon Marie Ross, "Managing Millennials: Teen Expectations of Tele-Participation," Beyond the Box: Television and the Internet (London: Blackwell, 2008), pp. 124-172.
Sam Ford, "From Oakdale Confidential to L.A. Diaries: Transmedia Storytelling for ATWT," As the World Turns in a Convergence Culture (Master's Thesis), pp. 141-162.
Louisa Stein, "Playing Dress Up: Digital Fashion and Game Extensions of Televisual Experience in Gossip Girl's Second Life," Cinema Journal, pp. 116-122.
Watch: Gossip Girl: Tales From the Upper East Side http://www.cwtv.com/thecw/gossip-girl-tales-from-the-upper-east-side
LA Diaries http://www.cbs.com/daytime/specials/la_diaries/episodes.php
September 23: Creating Alternate Realities
Christy Dena, "Emerging Participatory Culture Practices: Player-Created Tiers in Alternate Reality Games," Convergence, February 2008, pp. 41-58.
Jane McGonigal, Why I Love Bees: A Case Study in Collective Intelligence Gaming." Ecologies of Play. Ed. Katie Salen. (Cambridge: MIT Press, 2008), pp. 199-228. http://www.mitpressjournals.org/doi/pdfplus/10.1162/dmal.9780262693646.199
Dave Szulborski, "Puppetmastering: Creating a Game" and "Puppetmastering: Running a Game,"This Is Not A Game: A Guide to Alternate Reality Gaming (New York: New Fiction, 2005), pp. 207-284.
Guest Speaker: Evan Jones, Stitch Media
COMMERCIAL EXTENSION PROJECT DUE
Week 6
September 28: Speaking of Serials
Kim Deitch, Alias the Cat (New York: Pantheon, 2007) (Required Book)
David Kalat, "The Long Arm of Fantomas" (Harrington and Wardrip-Fruin), pp. 211-225.
September 30: The Unfolding Text
Neil Perryman, "Doctor Who and the Convergence of Media: A Case Study in Transmedia Storytelling," Convergence, February 2008, pp. 21-40.
Lance Perkin,"Truths Universally Acknowledged: How the 'Rules' of Doctor Who Affect the Writing," (Harrington and Wardrip-Fruin), pp. 13-24.
Matt Hills, "Absent Epic, Implied Story Arcs, and Variations on a Narrative Theme: Doctor Who (2005) as Cult/Mainstream TV," (Harrington and Wardrip-Fruin), pp. 333-343.
Part Three: World-Building
Week 7 October 5: Migratory Characters
William Uricchio and Roberta E. Pearson, "I'm Not Fooled By That Cheap Disguise," in Roberta E. Pearson, The Many Lives of the Batman: Critical Approaches to A Superhero and His Media (New York: Routledge, 1991), pp. 182-213.
Will Brooker, "Establishing the Brand: Year One," Batman Unmasked: Analyzing a Cultural Icon (London: Continuium, 2001), pp. 36-67.
Bob Kane, "The Legend of the Batman" (1938) and Bob Kane, "The Origins of the Batman," (1948) in Dennis O'Neil (ed.) The Secret Origins of the DC Superheroes (New York: DC, 1976), pp. 36-50.
Bob Kane, "The First Batman" (1956) and Dennis O'Neil, "There Is No Hope in Crime Alley," (1978) The Greatest Batman Stories Ever Told (New York: DC, 1988).
Guest Speaker: Geoffrey Long, GAMBIT
October 7: World Building in Comics
Matthew J. Pustz, Comic Book Culture: Fanboys and True Believers (Jackson: University of Mississippi Press, 1999), pp. 129-133.
Jason Bainbridge, "Worlds Within Worlds: The Role of Superheroes in the Marvel and DC Universe," Angela Ndalianis (ed.), The Contemporary Comic Book Superhero (New York: Routledge, 2008) pp. 64-85.
Sam Ford and Henry Jenkins, "Managing Multiplicity in Superhero Comics," (Harrington and Wardrip-Fruin), pp. 303-313.
Kurt Busiek and Alex Ross, Marvels (New York: Marvel Comics, 1993) (Required Book)
Alec Austin, "Hybrid Expectations, Expectations Across Media, CMS Thesis, pp. 97-127.
Week 8
October 12: Who Watches the Watchman?
Stuart Moulthrop, "See the Strings: Watchmen and the Under-Language of Media" (Harrington and Wardrip-Fruin), pp. 287-303.
Watch: NBS Nightly News With Ted Philips http://www.youtube.com/watch?v=nd5cInmK6LQ&playnext_from=PL&feature=PlayList&p=878F6464EEBE32F9&index=10
The Keene Act and YOU http://www.youtube.com/watch?v=qkWGZ1G7TAE&playnext_from=PL&feature=PlayList&p=878F6464EEBE32
Saturday Morning Watchmen http://www.youtube.com/watch?v=YDDHHrt6l4w
Guest Speaker: Alex McDowell, Production Designer, Watchmen
October 14: World Building in Science Fiction
Walter Jon Williams, "In What Universe?" (Harrington and Wardrip-Fruin), pp. 25-32.
George R.R. Martin, "On the Wild Cards Novels," in Pat Harrington and Wardrip-Fruin (eds.) Second Person: Role-Playing and Story in Games and Playable Media (Cambridge: MIT Press, 2007).
Cordwainer Smith, "The Dead Lady of Clown Town," and "The Ballad of Lost C'mell," J. J. Pierce (ed.) The Best of Cordwainer Smith (New York: Del Rey, 1975), pp. 124-209, pp. 315-337.
Week 9
October 19: Launching a New World
David Lavery, "Lost and Long-Form Television Narrative" (Harrington and Wardrip-Fruin), pp. 313-323.
Guest Speaker: Jesse Alexander, Executive Producer, Year One
October 21: Transmedia and Social Change
TBA
Guest Speaker: Bram Pitoyo, Wild Alchemy
Part Four: Audiences
Week 10
October 26: The Logic of Engagement
Ivan Askwith, "The Expanded Television Text, "Five Logics of Engagement,"; "Lost at Televisions' Crossroads," Television 2.0: Reconceptualizing TV as an Engagement Medium, CMS thesis, pp. 51-150.
Guest Speaker: Ivan Askwith, Big Spaceship
October 28:
Expanding the Audience
Kim Moses and Ian Sander, selections from Ghost Whisperer: The Spirit Guide (New York: Titan Books, 2008).
Guest Speaker: Kim Moses, Executive Producer, The Ghost Whisperer
Week 11
November 2: Fan Productivity
Jesse Walker, "Remixing Television: Francesca Coppa on the Vidding Underground," Reason, August/September 2008, http://www.reason.com/news/show/127432.html
Francesca Coppa, "Women, Star Trek, and the Early Development of Fannish Vidding," Transformative Works and Cultures (2008), http://journal.transformativeworks.org/index.php/twc/article/view/44/64 Bud Caddell, "Becoming a Mad-Man," http://drop.io/becomingamadman
November 4: The Encyclopedic Impulse
Janet Murray, "Digital Environments are Encyclopedic," Hamlet on the Holodeck: The Future of Narrative in Cyberspace (Cambridge: MIT Press, 1997), pp. 83-90.
Bob Rehak, "That Which Survives: Star Trek's Design Network in Fandom and Franchise" (Unpublished), pp. 2-79.
Robert V. Kozinets, "Inno-Tribes: Star Trek as Wikimedia" Consumer Tribes (London: Butterworth-Heinemann, 2007), pp. 194-209.
Watch:
Star Trek: Phase II "In Harms Way" http://www.startreknewvoyages.com/episodes.html
Week 12
November 9: The Power of Details
Kristin Thompson, "Not Your Father's Tolkien" and "Interactive Middle Earth," The Frodo Franchise: The Lord of the Rings and Modern Hollywood (Berkeley: University of California Press, 2007), pp.53-74, p. 224-256
C.S. Lewis, "On Stories," Of Other Worlds: Essays and Stories (New York: Harvest, 2002), pp. 3-21.
November 11: Ephemeral Fascinations
Michael Bonesteel, "Henry Darger's Search for the Grail in the Guise of a Celesttial Child" (Harrington and Wardrip-Fruin), pp. 253-267.
Amelie Hastie, "The Collector: Material Histories, Colleen Moore's Dollhouse, and Ephemeral Recollection," Cupboards of Curiosity: Women, Recollection, and Film History (Durham: Duke University Press, 2007), pp. 19-72.
Week 13
November 16 Independent Horrors James Castonguay, "The Political Economy of the Indie Blockbuster: Fandom, Intermediality, and The Blair Witch Project," in Sarah L. Higley and Jeffrey Andrew Weinstock (eds.) Nothing That Is: Milllennial Cinema and the Blair Witch Controversies (Detroit: Wayne State University, 2004), pp. 65-86.
The Blair Witch Project Website http://www.blairwitch.com/
Head Trauma Website http://www.headtraumamovie.com/
Guest Speaker: Lance Weiller, Head Trauma
Part Five: Tracing the History of Transmedia
November 18: Before the Rainbow
Neil Harris, "The Operational Aesthetic," Humbug: The Art of P.T. Barnum (Chicago: University of Chicago Press, 1973), pp. 59-90.
Mark Evan Swartz, "A Novel Enchantment," Before the Rainbow: L. Frank Baum's The Wonderful Wizard of Oz on Stage and Screen to 1939 (Baltimore: Johns Hopkins University Press, 2000), pp. 161-172.
Week 14
November 23: What Uncle Walt Taught Us
J.P. Telotte, Disney TV (Detroit: Wayne State, 2004), pp. 1-91.
Karal Ann Marling, "Imagineering the Disney Theme Parks," in Karal Ann Marling (ed.) Designing Disney's Theme Parks: The Architecture of Reassurance (Montreal: Centre Canadian d'Architecture, 1997), pp. 29-178. (Rec.)
November 25: Franchises and Attractions
Henry Jenkins, "The Pleasure of Pirates And What It Tells Us About World Building in Branded Entertainment", Confessions of an Aca-Fan, http://henryjenkins.org/2007/06/forced_simplicity_and_the_crit.html
Don Carson, "Environmental Storytelling: Creating Immersive 3D Worlds Using Lessons Learned from the Theme Park industry," Gamasutra, http://www.gamasutra.com/features/20000301/carson_pfv.htm
Week 15
November 30: Lessons From Lucas
Jonathon Gray, "Learning to Use the Force: Star Wars Toys and Their Films," Show Sold Separately (Forthcoming), pp. 232-247.
Will Brooker, Using the Force: Creativity, Community and Star Wars Fans (New York: Continuum, 2002), "The Fan Betrayed," pp. 79-99, "Canon," pp. 101-114.
Kevin J. Anderson (ed.), Tales from the Mos Eisley Cantina (New York: Spectra, 1995) (Required Book)
December 2: Across the Whedonverse
Tanya Krzywinska, "Arachne Challenges Minerva: The Spinning Out of Long Narrative in World of Warcraft and Buffy the Vampire Slayer" (Harrington and Wardrip-Fruin), pp. 385-399.
Joss Whedon, The Long Way Home (New York: Dark Horse, 2007) (Required Book)
Watch:
Dr. Horrible's Sing-Along Blog http://www.hulu.com/watch/28343/dr-horribles-sing-along-blog
December 7 Student Presentations
December 9 Student Presentations

August 25, 2009


Boston to Brazil and Back.
This past weekend I was fortunate enough to join my friends Maurício Mota and Mark Warshaw of The Alchemists (also here) as an invited speaker at the Descolagem lecture series in Rio de Janeiro, Brazil. Our hosts were Roberto "Beto" Largman and Marcia Oliveira, the founders of the Descolagem series and two genuinely warm and wonderful souls. (For example, Beto and I had a really fantastic discussion about the Spider-Man comics and films, video games and video game television shows, and the merits of various e-mail clients in the car on the way to the airport on Sunday, and I'm now coaxing him to come up for Futures of Entertainment 4 in November so we can continue the debate.)
The event was positively brilliant. The venue for the event was called Nave, or the Núcleo Avançado em Educaçáo - which was a public school that had been adopted by Oi Futuro, a division of one of Brazil's largest phone companies that is dedicated to the advancement of arts, education and culture. Nave is the kind of school that I would have dreamed of attending, if I'd known such a thing were possible - walking in, I was struck by how much the place resembled a design studio or an arts gallery more than a school. The space for the event inside of Nave was equally breathtaking: Beto and Marcia had arranged for a space about the size of a small indoor basketball court to be decorated with really impressive pixel art and dozens of LCD displays, with a digital campfire made up of about a dozen smaller displays arranged in a tower in the center of the floor. Surrounding the campfire was about a hundred bright red beanbag chairs, with four bigger beanbag chairs set up on one side for the four of us speakers. The result was the coolest classroom I'd ever seen, with multiple video cameras recording the event, casting us onto the LCD screens around the room so everyone had a good view, and streaming it online both into the overflow space in the lobby and across the Web into homes around the world. When we first walked in, the screens were all displaying the same video footage playing on the campfire, so there was a brief and unsettling sensation of walking into a burning building, but then we settled into the beanbag chairs and we were off to the races.
After Beto introduced us, Maurício kicked things off with a long, passionate description of the nature of transmedia storytelling, how he came to discover Henry Jenkins, C3 and our work, and how he saw transmedia storytelling having an impact on Brazil. (Luckily, the hosts had given Mark and I headsets so the translators could give us the English versions of what Beto and Maurício were saying.) After that, I was up, and I gave a revised version of my transmedia lecture, including a new section on how transmedia storytelling can be used in education. This was an even more advanced version of the talk I gave at Carnegie-Mellon earlier this year, but I was in the weird position of having to go faster than anticipated (since we started late due to a technical glitch) but having to talk much slower than usual (to accommodate the unfortunate translator). The results were a little more wobbly than I would have liked, but people seemed to have loved it and were excited by it, and that's what's important. After I was done, Mark rounded out the show, telling tales of his experiences as a transmedia producer on Heroes and Smallville and giving the audience a taste of what The Alchemists are cooking up now. We ran really late, but a bunch of people stuck around to talk with us afterwards and no one seemed particularly pissed, so, all things considered, I'd definitely call that talk a solid win.
As for the rest of the trip, although the weather was mostly gray and rainy, Maurício proved himself as a terrific tour director. He and his friend (and fellow Alchemist) Rafael showed Mark and I around town, pointing out sites both publicly interesting (the Christ, Sugarloaf) and privately important (the parts of the city where Maurício's family lived, fantastic places to eat and shop and walk). We gave another presentation at one of C3's new partner companies that was also terrifically well received, we joined Maurício's sister and girlfriend at a late-night samba concert in the shadows of an ancient aqueduct that was mind-blowingly cool, and we ate an unbelievable amount of really, really great food. (I'd always heard that Brazil has great beef, but I come from the middle of cow country in Ohio, so I always blew that off. I can now say that, yes, Brazil has some damn great beef.) On Sunday the sun finally came out, so I got to spend a little time walking along the beach near our hotel in Ipanema, which was just down the street from Copacabana. Those songs will never be quite the same to me again - they will now sound even better, now that I've seen these places for myself. The beach was amazing, with enormous waves crashing in, islands and massive tanker ships off on the horizon, and the mountains wrapping around the edges of the bay. Dozens of characters wandered the beach, including one guy who looked for all the world like he was ranting about the coming apocalypse in Portuguese while people practiced the apparently global standard reaction of ignoring him, and a group of four guys were playing a variant of volleyball that I can only guess was a form of futbol practice, since none of them were using their hands. (Imagine a weird cross of soccer, volleyball and hacky-sack and you'll get the gist of it.) As my last minutes in Brazil ticked away before I had to leave for the airport, I sat on the beach and watched the people, the mountains, the city and the waves. I felt the cool breeze on my skin and the sun on my face and I chuckled about how blessed Maurício, Beto and Marcia were to live in a part of the world where this was their winter.
I finally arrived back in Boston yesterday morning, tired and glad to see my fiancée again, but also really happy. Brazil was amazing, the Brazilians were wonderful to me, and I'm glad to have made so many great friends while down there. I'll upload some photos to my Flickr account shortly and see what I can do about uploading my slides. Meanwhile, you can see some photos of the event on Flickr by searching for photos tagged with 'descolagem', which will turn up things like this terrific set by Emerson Alacrim; you can see what people have been tweeting about the event by searching for #descolagem at Twitter; and I'm sure video clips will be popping up somewhere. I also have a couple interesting things afoot, so hopefully I'll have some more interesting posts coming up here on this blog in the near future. As always, stay tuned!

June 3, 2009


Henry Jenkins: Convergence Culture and Transmedia Storytelling in a Nutshell.
In this clip from the future (November 2009?) Henry sums up the basics of what he's been saying about convergence culture, transmedia storytelling and the Obama campaign.
I really like how the author describes the clip as a "viral-info-snack"; Henry would challenge the 'viral' terminology as part of his recent campaign to get us to start using the term 'spreadable' instead, but even so the very spreadability of this sucker is impressive. The flash and sizzle is a little much, but it's definitely a chewy bit of intelligent theory wrapped in a crunchy eye-candy shell.

May 27, 2009


On Vooks and Transmedia Resistance.
On April 4, 2009, the New York Times ran a piece by Brad Stone called "Is This the Future of the Digital Book?". In it, Stone writes:
Bradley Inman wants to create great fiction, dramatic online video and compelling Twitter stream -- and then roll them all into a multimedia hybrid that is tailored to the rapidly growing number of digital reading devices.

Mr. Inman, a successful Silicon Valley entrepreneur, calls this digital amalgam a "Vook," (vook.tv) and the fledgling company he has created with that name just might represent a possible future for the beleaguered book industry.
Inman's been working in the digitally-augmented publishing space for a while now: he's the founder of TurnHere, which creates promotional videos for authors and publishers. In 2008, Inman wrote a thriller called "The Right Way to Do Wrong" and used his company to film 24 short videos to "augment the book's main mystery". While I haven't seen the videos or read the book, based on Stone's piece this sounds like an interesting piece of transmedia storytelling - and as a transmedia storyteller, Inman's in a good place to create a new way for multiple components of such transmedia franchises to be delivered together.
The catch is whether or not the key to transmedia storytelling is in keeping the components distinct.
Based only on Stone's piece, the picture being painted of a Vook is similar to an old multimedia CD-ROM experience. Imagine a book filled with the usual pages of text, but then instead of the occasional half-page or full-page illustration you have a QuickTime window that plays a short video clip, embedded right in the flow of the text. We've been down this particular path before a decade ago, and the results there weren't so magnificient. Such radically compressed switches between media forms felt jarring and largely annoying.
I've described this phenomenon before as 'transmedia resistance', although previously I've focused on this as the reluctance of someone to follow a narrative out of one media form and into another due to a prejudice against the new form. The example I like to use is of a fan of Joss Whedon's Buffy the Vampire Slayer who refuses to pick up the 'eighth season' of the story since it's being told as comics. Some possible reasons for such resistance may include:
comics are expensive
the fear of dealing with 'comic book guy'
comics are "for kids"
the stigma against comics as a culture is too great
they may not know the mechanics of comics
comics aren't television
When the transmedia experience is collapsed into one single delivery mechanism, such a CD-ROM or perhaps one of Inman's vooks, some of these issues are addressed and others remain inherently problematic. The first two simply vanish - the expense is absorbed into the cost of the entire experience, and there is no need to deal with 'comic book guy'. These are both progress.
The second two not only remain, but they may in fact be powerful enough to devalue the experience as a whole. If part of a story for adults is told as comics, then some heavily prejudiced audience members may no longer consider the story to be for adults, or the story may be designed for a 'geek culture' that the audience member wants no part of. These external forces are going to plague transmedia stories until they don't - which is a simplistic thing to say, yet is also accurate. Audiences were prejudiced against superhero movies until a string of really great superhero movies convinced the mass audience that superhero movies could be good; unfortunately comics as a medium is still struggling to prove that it is as accessible to mass audiences as its characters. Listing the reasons for that would make up an entire other essay, but it's possible that such a tide shift may have to be generational. Video games have overcome much of this stigma already due to so many twenty- and thirtysomethings having grown up with video games in the 1970s, 1980s and 1990s. When kids who grew up with Pokémon and other manga reach full adulthood, the stigma against comics and its associated 'geek culture' may dissipate in a similar fashion - but that remains to be seen.
The last two are particularly troubling, and for pretty much the same reason. An unfamiliarity with the mechanics of comics results in an experience not that dissimilar from trying to follow a conversation that lapses into multiple languages. Even if you're familiar with the multiple tongues, unless you're completely fluent in all of them there's still a mental 'grinding of gears' as your mind shifts from one language to the next. The same thing happens in transmedia stories - and when it happens in the course of an encapsulated experience such as these old CD-ROMs or, possibly, Inman's vooks, an audience member is jarred out of the state of narrative flow. It's a disruption that frequently reminds the audience that what they're experiencing isn't real, but is in effect a mediated experience. People don't like this kind of disruption when they're trying to lose themselves in a fictional world; this is one reason why we don't have concession vendors walking up and down the aisles of movie theaters the way we do at baseball games.
Such disruption is lessened when it comes between distinct chapters, such as at the transition point between the seventh and eighth seasons of Buffy, because the audience member's mind is already out of the narrative world and is simply preparing to re-enter it, but it's still there. When an audience member is used to engaging with the narrative world in one media form, switching to another (as from television to comics) frequently makes the brain whine. "I'm used to experiencing this in this one form," the mind whines. "Why do I have to do work to experience it in another?" This is an important part to note - like all translation, until complete fluency is achieved, such a switch is, in fact, work. People will do it when the perceived payoff is sufficient - and, in fact, they may eagerly anticipate such switches, such as when a television series like Firefly makes the jump to the big screen in a film like Serenity. Such anticipation usually occurs when the audience member is both fluent in the new media form and in the new media form's unique advantages. A fan of Buffy the Vampire Slayer who loves the visuals may be thrilled by a move to comics or film, but a fan who's more interested in the internal workings of the characters and their relationships might be more interested if the series were to continue as novels.
Long story short, the key to such transmedia storytelling might be in maintaining a careful balance between consistently delivering good, quality content in distinct forms (always a good idea) and guiding the audience from one media form to the next without forcing it down their throats. Skillful transmedia storytelling, like any sufficiently advanced technology, might be indistinguishable from magic - until all the reasons I listed above are swept away by either fluency or some kind of a cultural shift, there is likely to be a subtle sleight of hand required to overcome such transmedia resistance. Delivering each component in a way that feels incomplete and then making the transmedia switch mandatory - such as reading one chapter of a vook as text and then having the next appear as a video clip - might run headlong into a concrete wall of transmedia resistance, with all the unpleasant results therein.

February 10, 2009


Whedon's New Business Model 'Horribly' Awesome
Last week Wharton at the University of Pennsylvania posted
an excellent in-depth interview with Joss Whedon
that is one of the best pieces of from-the-trenches insight that I've read in ages - especially in how Whedon digs into the emerging business model of independently-produced Internet content. Whedon is best known as the creator of the transmedia franchises
Buffy the Vampire Slayer
and
Firefly,
as well as the upcoming sci-fi/drama
Dollhouse,
but it's his recent experiment with independently producing (and monetizing) the superhero-romantic-comedy-musical
Dr. Horrible's Sing-Along Blog
that has us currently sitting up and taking notes. Created during the writer's strike and produced on a shoestring budget (approximately $200,000 and a lot of favors),
Dr. Horrible
was initially released for free online, then strategically taken down and put up for purchase on iTunes and finally released on DVD (complete with extras including fan-generated videos and
Commentary: The Musical!
) through
Amazon's on-demand DVD authoring system
. Although Whedon doesn't divulge actual numbers, he does admit that the project has now earned back over twice its original cost - and he's working on how to make it scale.