Recently in MIT Category
January 6, 2010


2010: The Year We Make Up
This is one of my favorite times, the liminal space between one year and the next. For most people, this time for intense thinking and planmaking runs from Christmas through New Year's, but at MIT this period is extended through the beginning of February. (Yet another reason I love it so much here at MIT.) According to MIT tradition, January is what's known as the Independent Activities Period, or IAP – originally founded (according to legend) in the 1960s as a way for students to take off and protest the Vietnam War all at once, instead of disappearing for random weeks out of the year. IAP has since evolved into a sort of micro-semester crammed in between the autumn semester and the spring semester, a month set aside for students (and faculty and staff) to enroll in courses they might not otherwise have a chance to take, to go off and tackle an externship somewhere, or to simply recuperate from MIT's normal grueling demands. (Another local legend likens an MIT education to drinking from a fire hose, which is truer than might be comfortable. This is, not coincidentally, why my friend Eitan named his new startup Firehose Games.)
I love this time not just for its interstitial nature, but because of the time it affords for reflection and planning. Years ago I launched a personal initiative called the Personal Improvement Project, or PIP (no relation to Fallout 3's pip-boy 3000, although I'm half-expecting a real one of those to show up at CES this week). This is the time of year when I mourn all the stuff I didn't get done in the previous year, and plan furiously for ways to achieve more of those goals in the year ahead. 2009 was a wonderful year, a crazy year, productive in ways I hadn't planned for, but, alas, rather unproductive in the ways that I had. Read the classics? Not so much. Get out of debt? Yeah, no. Get back in shape? Hells naw. To a certain extent, that's the nature of the universe – life is what happens when you're busy making other plans, man plans and God laughs, yadda yadda yadda.
This year, though? This year things are going to be different.

What Happened?
First, why did things go so wobbly in 2009?
For starters, in 2009 I got married. In 2010, I'm not getting married. This should help. Don't get me wrong – I loved getting married, but I love being married much more. For starters, being married is much cheaper than getting married. Further (and, perhaps, better), it's much less stressful. These are two hallmarks of a good marriage – if being married is cheaper and less stressful than getting married, you're doing something right. (Note that this most likely ceases to apply once kids become involved.)
Second, in 2010 I was racing like mad to prepare for applying for Ph.D. programs at the end of the year. Again, not so much. I finally wound up postponing applying to Ph.D programs for another year, which was an intensely difficult decision to make (at this rate, I won't be Dr. Long until I'm in my 40s), but it was the right thing to do. Being a grad student is a wonderful state of existence, but it's not a very lucrative one, and stepping right into that after just investing a bunch of money in my wedding was going to be a nightmare. So, the whole doctorate project is going to have to be pushed back until the fall of 2011 or even 2012.
Third, I took on a lot in 2009. Not just the wedding (although that was big enough), but also a whole mess of travel (Singapore, Germany, Los Angeles, Brazil, Pittsburgh, Austria, Florida, San Francisco...!), joined the Executive Board of the Interstitial Arts Foundation, took on a whole mess of projects at work (including writing my first video game) and am now in the middle of launching Playful Thinking, a new series of short game studies books published by the MIT Press which I'm co-editing with William Uricchio and Jesper Juul. Woof.
So, yes – all of this meant that life in 2009 was hectic as hell, and didn't leave a lot of time for reading, exercise, and not spending money on plane tickets. Fortunate or unfortunate, depending on how you look at it – but not at all a bad thing!
It's a new year now, though, and I'm reconsidering a number of the decisions I made in 2009. (Not the marriage. I'm keeping that one.) Primarily, this year I'm planning to buckle down and do a lot less traveling for conferences. I may do some more traveling for my consulting work (which is directly tied to the whole paying-off-debt thing) but for the most part I think this is the year I really need to write. On a larger scale, though, if you'll permit me to swipe and modify a line from Hollywood, it's starting to feel like 2010: The Year We Make Contact Up.

Need A Little Time To Make Up
The primary meanings of the phrase "make up" deal with either imagination or reparation, which is why this is such a timely phrase right now – and in some kind of weird micro-macro fractal reflection, this applies not just to me, but for all of us, particularly us Americans. For me it's going to be a year of writing (imagination) and paying down debts (reparation), but the whole world is going to have to use 2010 as a year of great imagination and reparation while we reimagine what the next wave of existence is going to be like, and as we pay off the disastrous debts we've incurred during the previous wave.
Right now, it feels like pretty much the whole damn planet is wondering the same things. What is the post-recessionary global economy going to be like? Is it reliant upon new energy sources and green-collar jobs? Is it a post-oil existence? Will America decline while other countries ascend? Will our new planetary society be more of a global village, will it be more hyperlocalized – or is it, in some weird anti-Venn diagram, simultaneously increasingly both? (Based on what I've been seeing during my travels, that gets my vote.)
Those of us in the media industries are worrying about slightly different things. How will the combination of recessionary economics and new technology change the media universe? (I've been thinking a lot lately about Borders' nosedive and the well-intentioned, if ill-executed, Barnes and Noble nook.) Further, in the 21st century, does 'digital' still have any great meaning? What happens when we push past that – what is 'post-digital', and what will post-digital media, entertainment and storytelling be like? One of the things that excites me about transmedia and comparative media studies is that they may be inherently post-digital; we no longer get so hung up on the explicit divide between the analog and the digital, but examine the unique advantages and affordances of each, which enables us to capitalize upon these features as they increasingly blend together – which sure seems to be the way we're going.

Profitability Sustainability Is King
One thing I wonder a lot about right now is whether the twenty-teens (damn, that sounds odd) will see a shift away from rampant profiteering and ridiculous, irresponsible spending and towards not just repaying our debts, but towards aiming for simpler, more sustainable levels of existence. One thing I've been wondering about for a long time is, simply, How much is enough? How does the cost of living in one part of the world compare to another? (I'm somewhat astonished to see that Boston isn't included in Mint.com's map of the world's most expensive cities.) How much is a house really worth? How much is a thought really worth, or an experience, or one's reputation? How do we handle value in an experience economy, or a reputation economy? (For some insight into the latter, check out the Whuffie Bank, where you can find me at my usual handle.)
What is a model for sustaining a good, solid lifestyle with a decent amount of enjoyment, a relatively high standard of living, a sufficient amount of thought and reflection, a decent reputation, and so on?
It may be me thinking about these things because I'm in my early thirties now and am obsessing over things like families and houses and careers and so on, but it's clear that the 21st century models of success are not the same as the 20th century models. Do you have to have Gaimanesque levels of success as an artist to have a nice house and writing studio in the American midwest? Do you need to go all Hollywood and make ridiculous piles of cash to "make it"? Plus, what's an unsustainable business model for guys like me now? My model has always been to hit the trifecta of consulting-writing-academic, but given today's hyperaccelerated demands, is that still sustainable?
It's possible that the proper response (the "mind like water" response for you GTD-heads out there) to our current scenario is "less is more", or, to put it another way, "less is more sustainable." On my way into campus this morning, there was an episode of The Diane Rehm Show on WGBH where (I think) Allen Sinai, the chief global economist and president of Decision Economics, bluntly stated that we Americans have to get used to a lower standard of living. I think he may be right – as Trevor Butterworth and his 'slow word' manifesto, the 'slow food' movement, and scores of others seem to be indicating, we are on the brink of a society throwing up its hands and surrendering to the impossibility of the ever-increasing demands for more, more, more. The recession may be an overcorrection to the fiscal irresponsibilities of the last decade, but it may also be a chance for many of us to catch our breath and rethink what "enough" means to all of us. You don't need a McMansion to be successful, but you do need enough to live comfortably and, hopefully, put your kids through college. So what does that cost now? How do you get it? And how do you get it without going insane?

Making Up Is Hard To Do
Anyway, that's what I think 2010 (and maybe 2011 and even 2012) will be all about – more so than ever before, at both the micro and macro levels. How do we make up new answers to these questions, and how do we make up enough for our previous errors and indulgences to return to a more stable and sustainable footing? It's not going to be easy, but that's, again, the nature of the universe.
But life is good. And even if things get crazy, life gets better. Here's to a wonderful 2010 for each and every one of us. Onward and upward!

December 4, 2009


Strange Little Beast: On Newly-Owning a PSP.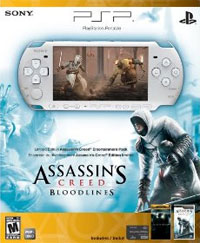 It's been something I've waffled over doing ever since I first joined up with
GAMBIT
. Should I? Shouldn't I? It's a lot of money, the ROI is somewhat questionable, but... But... Finally, yesterday the stars aligned, the proper slot machine tumblers of fate finally clunked into place, I was in the right place and the right time, and I found myself slapping my credit card down to buy a shiny new Sony PlayStation Portable, AKA the PSP.
What were the factors? I'm so glad you asked.
Research. I've been considering the PSP as a great platform for transmedia extensions for a while now, but the release of Assassin's Creed II: Bloodlines as a PSP-only narrative bridge between the Assassin's Creed and Assassin's Creed II console games clinched the deal. Throw in the PSP-exclusive Final Fantasy VII: Crisis Core and the upcoming Kingdom Hearts: Birth by Sleep and this reason hit #1 with a bullet.
Timing. Call it a near-miss of synchronicity: not only do I turn 32 on Sunday, but yesterday was the PlayStation's 15th birthday. This is making me feel both old and nostalgic; the fact that I can buy Final Fantasy VII at all for the PSP is awesome, but I vividly remember being a freshman in college and having my socks knocked off by my friend Kurt's shiny new copy of Final Fantasy VII. What can I say? I wanted to give myself a birthday present, and so I gave Sony a birthday present of my money.
Curiosity. Discovering the existence of a cradle for the PSP made me imagine using the PSP as an always-on Internet appliance. I've been looking at things like the tiny little Mimo USB-driven minidisplays and the new Chumby One as small Internet-enabled devices, functioning as simple kiosks for things like Flickr and Twitter.
So now I have my very own PSP-3000, courtesy of the PSP 3000 Limited Edition Assassin's Creed: Bloodlines Entertainment Pack. It's a strange color, described by Sony as 'pearl white'. This is something of a misnomer; I was expecting something kind of irridescent, like, well, a pearl. It isn't. Instead, the thing glitters. It's not that bad, especially when it's in a relatively low-light situation, but when the sun hits it just right, the sucker glitters like goddamned Edward. (Yes, I went there.) Again, it's not that bad, but I'm admittedly considering buying some kind of leather sheath for the device to man it up a little.
I haven't gotten to play the game very much yet, but so far my expectations for this device as a pocket computer have been coming down on the wobbly side. It's not entirely Sony's fault; I've been a heavy iPhone user since its initial release, so many of my expectations for what a portable device can and should be have been notably skewed – but when I started playing with the PSP, I realized that I had completely taken for granted that I'd be able to obtain some kind of dedicated Twitter app for this thing. Not only is that only apparently not the case (at least without hacking the device and installing some alternate form of OS, perhaps) but the experience of typing on this beast has been so utterly execrable that the very thought of attempting to write on this thing for even 140 characters at a time makes my ass twitch. Even attempting to pull up the Twitter site on a PSP is a groanworthy undertaking – not only is the browser astonishingly slow, but the wi-fi connection must be reestablished every time you launch it. This makes sense at some level – switching the wi-fi on and off as needed is a logical way to extend battery life – but asking me which of my established networks it wants me to to connect to every time is ridiculous, especially when the two choices are the network here on campus and the network at home. One simple bit of automated checking would have removed this annoyance: if one network is available and the other isn't, don't ask.
Another aspect of this thing which is distinctly odd is the sensation of having a spinning piece of physical media in the back of the device, and almost no on-deck storage. Again, this is almost certainly the result of being an early adopter of the iPhone and a very, very late adopter of the PSP, but I was somewhat amazed that I couldn't install my copy of Bloodlines to some kind of internal drive and then retire the Universal Media Disc (UMD). True, I can't do that with my Nintendo DS, either, but for some reason I thought of the PSP as a more forward-thinking device. Ha.
In fact, for a brief little while after first popping the UMD into the device I seriously considered taking the thing back and getting a PSP Go instead – and this is despite the litany, or even cacophony, of utterly disastrous reviews that have been lambasting the Go. As Ars Technica's Ben Kuchera so devastatingly advised Sony, "when your older, cheaper hardware is better and more able than your new offering, you need to fire some designers". Ouch.
So why was I even considering swapping the PSP-3000 for a PSP Go? First, I'm a design junkie, and the Go's slider-style industrial design is very sexy. Second, I'm also a digital downloads enthusiast – I can't remember the last time I bought a CD, and my physical Netflix discs have been sitting on the shelf gathering dust ever since Netflix Streaming arrived – and the PSP's digital-download only model is, in the abstract, incredibly attractive to me. Plus, the PSP Go is smaller, and as I noted in an earlier post, recent health issues have made me start to seriously reconsider how much junk I'm willing to carry around on a daily basis. If I'm going to add another device to my satchel, it'd better weigh as little as possible.
Still, the naysayers on the Go have me convinced. The fact that Sony's digital download versions are more expensive than the physical versions is a deal-killer, amplified by the fact that I can't buy heavily-discounted used UMDs and rip them into playable digital versions the way I might buy some used CDs and rip them into perfectly servicable MP3s. Sony also backed off on a planned trade-in program swapping physical media for digital versions, so UMDs and the PSP Go will apparently never get along – and since Crisis Core isn't available on for digital downloading yet, then 25% of the games driving me to buy a PSP at all just went away. (That number jumps up to a full one third given that Birth by Sleep isn't out yet.) I'm clearly a Square-Enix fan, as 75% of my PSP game wishlist are Squeenix games, but God knows I'm not the only one. Sony's managed to get Squeenix to put FFVII on their digital download service and (I think) the Final Fantasy-themed brawler Dissidia (itself a chimera of somewhat dubious genetics), but until Squeenix commits that all its future games will be available for downloading, then owning a PSP Go makes no sense for me.
As it is, this strange little device represents a fascinating new toy to tinker with over the holidays. I'm looking forward to taking it on our honeymoon so I can whack some Templars while en route to Florida, and I'm holding out hope that when I really start tinkering with it I can hack it to do some of the other things I thought it might be able to do out of the box – but I can't shake the feeling that in this post-iPhone environment, Sony is really missing out by not making those very functions stock. I'd pay a couple extra bucks per function if Sony enabled app downloads on their PlayStation Network, letting me set up my PSP as a kind of Chumby lite. I'd also jump at the chance to buy the PS2's Kingdom Hearts and Kingdom Hearts II on it the same way that I can get Final Fantasy VII, but apparently they're not available yet – or if they will ever be made available at all.
This drives home one of the negative affordances inherent in games as opposed to books, music or (now) even movies: books, music and movies all convert fairly well to portable versions which can be stored on one's laptop or phone, but console video games are almost completely locked down into one's living room. The PSP offers a function called 'remote play' which was, I believe, designed to address that somewhat, and the screen-to-screen interaction between Assassin's Creed II on the PS3 and Assassin's Creed: Bloodlines on the PSP is what drove me to switch to the PlayStation versions of the franchise from the Xbox 360 version I have of Assassin's Creed – but there is still such a very long, long way to go before I can be playing Uncharted 2 on my living room couch, pause the game, run out and jump on a bus to work, then pop open my PSP and continue the game from where I left off. Even taking greatly reduced graphics and other concessions to the form as givens, I feel like this is where we're heading. The fact that we're not there yet is slightly annoying – especially as games are attempting to become bigger and bigger components of the media diet of increasingly over-busy adults.
At the end of the day, I'm still fairly happy I bought my PSP, and I'm still looking forward to playing with it. That said, I'm looking forward even more to playing with what comes next, in the hopes that it will do what I hoped this device would do – and, with a little luck, the PSP2 or whatever it's called will arrive before it has an entirely new set of unrealistic expectations set for it by the rest of the market.

November 19, 2009


Free Public Lecture Tonight: Jeff Vandermeer on Transmedia
In the Boston area tonight for Futures of Entertainment, or a C3-minded local who can't make it to the conference? This evening from 5-7, the novelist, anthologist and cross-media storyteller Jeff VanderMeer is giving a free, open-to-the-public talk as part of MIT's Comparative Media Studies Colloquium lecture series and the unofficial kickoff to Futures of Entertainment! The talk will last about 45 minutes, after which the anthologist, essayist, NPR commentator and Booktour.com CEO Kevin Smokler will lead the Q&A session.
Here's the rundown:
Booklife: The Private and the Public in Transmedia Storytelling and Self-Promotion
Jeff VanderMeer with Kevin Smokler

Fictional experiments in emerging media like Twitter and Facebook are influencing traditional printed novels and stories in interesting ways, but another intriguing new narrative is also emerging: the rise of "artifacts" that, although they support a writer's career, have their own intrinsic creative value. What are the benefits and dangers of a confusion between the private creativity and the public career elements of a writer's life caused by new media and a proliferation of "open channels"? What protective measures must a writer take to preserve his or her "self" in this environment? In addition to the guerilla tactics implicit in storytelling through social media and other unconventional platforms, in what ways is a writer's life now itself a story irrespective of intentional fictive storytelling? Examining these issues leads naturally to a discussion on the tension and cross-pollination between the private and public lives of writers in our transmedia age, including the strategies and tactics that best serve those who want to survive and flourish in this new environment. What are we losing in the emerging new paradigm, and what do we stand to gain?

A writer for the New York Times Book Review, Huffington Post, and Washington Post, Jeff VanderMeer is also the award-winning author of the metafictional City of Saints & Madmen, the noir fantasy Finch, and Booklife: Strategies & Survival Tips for 21st-Century Writers. His website can be found at jeffvandermeer.com.

Kevin Smokler is the editor of Bookmark Now: Writing in Unreaderly Times (Basic Books) which was a San Francisco Chronicle Notable Book of 2005. His writing has appeared in the Los Angeles Times, the San Francisco Chronicle, Fast Company and on National Public Radio. He lives in San Francisco, blogs for the Huffington Post and at kevinsmokler.com, and is the CEO of BookTour.com.

Presented in conjunction with Futures of Entertainment 4.
The event is, again, free and open to the public – registration for Futures of Entertainment is not required. It begins at 5 PM, runs until 7, and is going down at room 4-231 (building 4, room 231) on the MIT campus. Parking on-campus is a little wonky, but there are multiple parking garages around; a better bet is likely to take public transportation. The Red Line in Boston comes straight to Kendall Square, which is right on the edge of the MIT campus. The lecture location is only a few minutes' walk from there.
Jeff is currently on tour supporting his new book Booklife, which he describes as "a unique writing guide to sustainable careers and sustainable creativity, the first to fully integrate discussion of the role of new media into topics that have always been of interest to writers". I just finished reading my copy this afternoon and I can personally testify that it's full of a wide range of great stuff. Jeff splits the book into two distinct sections, one on the author's Public Booklife (marketing, PR, social interactions and other public engagements) and Private Booklife (the actions, philosophies, emotions and other internal struggles of the actual act of writing) and both halves - plus the appendices - are packed with thoughtful insights and useful advice. For example, how do writers deal with envy - and what does Francis Bacon have to say about that? To steal a line from an old tomato sauce commercial, "It's in there!"
5 o'clock PM tonight, Thursday, November 19th, in room 4-231 at the Massachusetts Institute of Technology - I'll see you there!

July 19, 2009


The Future of Publishing.
A few months ago, I had the honor of organizing and moderating a keynote panel for the sixth Media in Transition conference here at MIT. Our title (and topic) was "The Future of Publishing", and MIT World has just published the video recording of it online. I've embedded a copy of it here (all 94 minutes of it, be warned):
My honorable speakers are described on the site as follows:
Small Beer Press, Gavin Grant's boutique Massachusetts publishing company, "is still in the business of producing paper objects." But new technologies are transforming his work in several ways: He licenses some books via Creative Commons; releases others as downloads in a variety of ebook formats (generating these can be an expensive "hassle"); and deploys social media, in the form of blogs and Facebook-enabled communication, to publicize and attract passionate readers to the firm's website. Grant sees Amazon and its Kindle as a bully driving readers toward best sellers, and is interested in the "hyperlocal" possibilities of the web for publishing: finding readers for his one-of-a-kind publications, and inviting them to peruse his non-mainstream book lists.

Agent Jennifer Jackson describes some intriguing direct marketing activities made possible by the web, including author-produced book trailers on YouTube, and an online media project undertaken by clients and other authors: a website consisting of episodes for a fictional TV show. Jackson also maintains blogs that she hopes provide "transparency" about her end of the business, a way to bridge "the great divide" between agents and authors. Her authors are concerned with digital piracy but Jackson feels wide distribution of an author's work ends up generating more sales over time.

Robert Miller's frustration with the trade publishing model -- in particular, astronomical advances to authors, and book return rates of 40% -- led to HarperStudio (a Harper Collins offshoot). His notion of "starting something from scratch" involves making digital and physical books available simultaneously to the reader. His first offering is a collection of previously unpublished pieces by Mark Twain that are available as individual books, or in discounted bundles with audio books and downloadable books. He celebrates the reduction in production costs in moving to digital, but he's wary of the small but rapidly expanding ebook market, which he anticipates will impose a "downward pressure on prices," a loss of revenue that will negatively impact his business.

Bob Stein envisions a wholesale evolution of the essence of books, from objects to "a place where readers and sometimes authors congregate." His Institute on the Future of the Book hosts experiments in publishing, such as one where an author essentially blogs and moderates responses around a particular subject. Readers could someday collaborate with dead authors, adding chapters to finished books, for instance. He sees ebooks as transitional: "The experiments which have to do with increasing sales of book are interesting, and will prolong publishing but won't invent the future of how humans work together to increase our knowledge, which is what publishing used to do." These new expressive forms won't emerge quickly. It took 300 years after the invention of the printing before the first novel was written, he notes, but inexorably, "we're shifting the ways humans communicate with each other."
My panelists delivered on the promise of the topic beautifully, providing terrific insight into the state of the publishing industry and what the future may have in store for all of us. A sort-of follow-up to the talk will be going down in November, when none other than Jeff VanderMeer will be coming to MIT to speak on a similar topic, which he addresses at great length in his upcoming book Booklife (Oct. 15, 2009; Tachyon Publications).
Added bonus: I now have a profile on MIT World. Next stop: TED...

May 19, 2009


On storybots.
Yesterday I had an amazing meeting with several of my friends and coworkers to discuss a new possible project coming down the pike, and although I can't tell you what that project is yet, it wound up triggering some intense late-night thinking.
How do robots tell stories?
We've all seen robots as characters - C-3PO and R2-D2 in Star Wars, Data in Star Trek, the Cylons in Battlestar Galactica, Pixar's WALL-E, Number 5 in Short Circuit, and the kid in Small Wonder are just a sampling from Western stories, and the list explodes if you incorporate Eastern stories like Voltron, Robotech, Transformers, Mega Man/Rockman, Astro Boy and so on. But what about robots as storytellers? That list is significantly smaller - we children of the 80s remember Teddy Ruxpin, of course, and Disney's animatronic Hall of Presidents; newer models include the Robo-Mursaki from Japan's Robo-Garage, which gives a performance of The Tale of Genji, and now Violet's Nabaztag robot bunny is getting into the act with Book:z, RFID-enabled texts that apparently make the robot bunnies read the stories aloud. (I haven't tried this yet and the details remain sort of scant on the Violet site, so I may be getting this one wrong.) So far, the answer to "how do robots tell stories" appears, technically, to be "by playing MP3 or other audio files metatagged with particular triggers to activate limited motions and facial reactions at certain points of the story".
But what if?

The new Nabaztag 'ztag' RFID chips enable the Nabaztag 'mother robot' to perform certain actions if a ztag is sensed nearby, such as those embedded in the new Nabaztag:nano mini-bunnies. I've written
on toys and transmedia storytelling before
(which led to the presentation I gave on a similar topic at the Toy Researchers Association in Greece last summer), which suggested a mechanic for the presence of RFID-enabled action figures to unlock certain episodes inside of a database which could then be streamed via a wi-fi enabled playset hooked up to a screen of some sort - but what if the robot itself was the performer of the narrative? What if the playset was a Ruxpin-like character telling a story triggered by the presence of the RFID-enabled figures - or a new story downloaded each week via podcast or RSS - which had the story chapters tagged with if/then branches dependent upon which action figures were in the presence of the playset? A certain degree of marketing could be embedded in this, of course ("To hear how Stratos wrested the Emerald of Jun-ka away from Trap Jaw, order Stratos and Trap Jaw online at www.giveusyourmoney.com"...) but not enough to be crushingly over-commercialized; educational components could be added to the system organically
through the addition of optional educational characters,
such as engineers, musicians, scientists and historians. Parents that wanted their children to get a dose of education threaded through their narratives could add those figures to the collection and thus activate the educational mode of the story. Similarly, parents that wanted to deliver strong female role models could load the collections with strong female characters. And not all figures could have their chapters delivered in the same media - one character may deliver its tale in comics each week, and another might deliver its story in a downloadable game. In its ideal state, a full collection of figures could result in a rich transmedia, educational experience, delivered in such a fashion that could deliver an element of performance through the animatronics of the storytelling robot.
The components need not even be action figures - they could be diegetic artifacts placed in the hands of the storyteller bot, like an antique placed in the hands of a kindly grandfather. The robot's eyes go up to the ceiling, one of its hands (the one not holding the artifact) lifts to its chin, the robot says "Let me see... My, this takes me back..." while the file is being wirelessly downloaded from a remote server, and then the storybot begins to unreel its tale. Taking a page from location-based entertainment, if the bot were wirelessly connected to other accessories in the room, it might transform the entire local space into a performance chamber by triggering those devices to come to life when appropriate, filling televisions and digital picture frames with images from the storyworld, or playing music and sound effects through wi-fi enabled radios or surround sound systems. Such performative actions might even be built into the story itself; imagine if the storybot were made to look like Gandalf or Dumbledore, using its magic to trigger these events in the child's own living room. We already see similar technology at use in universal remotes; a storybot could be programmed to work with the devices in a living room (or playroom) in the same fashion as a Logitech Harmony, or an entire platform of devices could be created inside of the storybot's parent brand. I myself have wired up my own living room with remote-controlled lighting using a simple Christmas tree infrared key fob I bought for around twenty bucks at Target; including dimmer switches in the system, or support for existing brands of home automation equipment, would not be overly complex.
On a more personal note, it's also possible that this idea could be mashed up with the Digital Storytelling Movement, using such performative recording devices to tell our own stories, such that a robot in question could be "haunted" by my ghost telling personal stories of my time at MIT to my great-grandchildren, or telling such tales remotely to friends around the world. The digital picture frames in the home could keep up the pictures from my time at MIT to keep the pictures from that particular story up for a week in order to remind the child of the week's lesson as they go about their daily lives. Recording such rich experiences may not be that complicated either - simple motion capture through Wiimotes could be used to 'tag' personally-recorded MP3s to encode the digital performances to be delivered through such storybots, and tagging the MP3s with photos to deliver to the screens could theoretically be not much more complicated than creating a slideshow or Flickr album.
So here's the question - this is possible, yes, but is it sound? That is, does storytelling through robots enable any kind of a advantage over storytelling through a television screen? Would an episode of the newly-renewed (!) Dollhouse be improved by Joss Whedon's voice narrating the whole thing, and being customized based on whether or not you had the figures of Boyd, Topher and Alpha? Or is this its own thing? Are we simply seeing the emergence of a new kind of storytelling, or - better yet - are we seeing the re-emergence of personalized, one-on-one, performative storytelling?
Where do we go from here?

May 1, 2009


April: The Month That Got Away. (Kinda.)
OK, now that that's out of the way... Great Caesar's ghost, what a month. Alas, the 2009 30|30 project didn't work out, as I'd feared - still, eighteen poems is better than I fared last year, when I petered out at thirteen (yet still not as good as the first year I did it, when I scored the full 30). Besides, I probably could have pulled it off if it hadn't been an utterly insane month otherwise.
Ah, April 2009. Seriously. Where did you go?
On the first weekend of April, my friend Ken came to town, and on Friday night Ken, Laura and I hung out with our mutual friend Ryan, then jumped in the car on Saturday morning to see Aaron and Josh and Amy and Laura Marx and Rob and Laura+Rob's new baby, Scott. Much fun was had by all until late, when we returned to Boston for more Rock Band and general tomfoolery, and I returned Ken to the airport on Sunday.
On the second weekend of April, my parents came to town, both to visit me and Laura and to join us in attending the big Joss Whedon event at Harvard on Friday night. That accomplished, we got up early on Sunday, jumped in the car and headed for Portland, Maine – which was, as always, awesome. We poked around there for a while, then headed north to Freeport to see the home of J. Crew, then traveled further north to crash for the night in a motel outside of Bangor. On Easter morning we got up, traveled into Bangor so I could check "see Stephen King's house" off my lifelong to-do list, and then headed down Route 1A, curving down the coast until we reached Camden. In Camden the four of us stopped for lunch and the best clam chowder, fried shrimp and blueberry dessert I've ever had at this little place called Cappy's. Seriously. If you're ever in Maine, you must go to Cappy's.
Heading into the third weekend of April... On Thursday, April 16th, the Comparative Media Studies brought Chris Claremont to town. Those of you who don't know Chris Claremont's work should know that he is the creator of a huge chunk of the X-Men mythology, including - to quote Wikipedia - "Rogue, Psylocke, Shadowcat, Phoenix, Mystique, Emma Frost, Siryn, Jubilee, Rachel Summers, and Madelyne Pryor", as well as "Sabretooth, Avalanche, Strong Guy, Multiple Man, Captain Britain, Mister Sinister, and Gambit". Those of you who do know Claremont's name will understand how tickled I was to be able to serve as a tour guide of sorts for he and his wife (the lovely Beth Flesicher), running them down to Million Year Picnic for an impromptu signing and then bringing them back for the Colloquium lecture that evening - a long interview with Claremont about his career, which I co-moderated with Henry Jenkins and Lan Le. (There's a podcast of the event available if you're interested.) We hung out at Henry's until late that evening, listening to stories and talking about the industry, and then the next day I hung out with Chris and Beth for a while at the GAMBIT lab. While we didn't name the GAMBIT lab explicitly after Claremont's ragin' cajun, having him hanging around the lab was still extremely cool.
But wait, there's more! After Claremont left, Laura's friend Emily came into town from New York City, and we had a blast hanging out with her - and then, on Saturday morning, we tossed Emily in the car and headed north to Maine again! Laura and I had had so much up there with my folks the weekend before that we decided we simply had to share it with Em - so back we went to Portland for lobster rolls and blueberry sodas, and then up north again to Freeport and a trip to the L.L. Bean mothership. We'd planned to hit Camden as well, but time ran out on us, so we settled for blueberry pie at an inn in Camden and then rocketed back down the coast to grab dinner at Legal Sea Foods at Burlington (not as nice as Cappy's, but still a good sight different from Em's usual fare).
Right. That brings us to the week of April 20-26, which was pretty much spent preparing for the Media in Transition 6 conference. This was a Very Big Deal, since not only was I presenting a new paper ("Play Chapter: Video Games and Transmedia Storytelling", which can be downloaded at www.geoffreylong.com/playchapter for the interested), but I was also moderating a plenary panel on the Future of Publishing which I'd assembled for the event. Although my friend Kevin Smokler (Bookmark Now, Booktour.com) had to bow out at the last minute, the lineup of the panel was still a real dream team of speakers: Bob Miller from HarperStudio, Jennifer Jackson from the Donald Maass Literary Agency, Gavin Grant from Small Beer Press and Bob Stein from the Institute for the Future of the Book. I couldn't have asked for a greater group of speakers, nor could I have dreamed that the resulting conversation would go as smoothly and as perfectly as it did. Again, there's a podcast of the event up, although I'm still keeping my fingers crossed that a video version will eventually surface somewhere. In addition to the wonderful panel, I also had the chance to reunite with some old friends - including Jonathan Gray, Jason Mittell, Ivan Askwith and Ksenia Prasolova, although I'm still bummed that I somehow missed Bob Rehak in all the chaos - and met some great new ones, including Geoff Way and Burcu Bakioglu, both of whom are doing some intriguing new research into transmedia storytelling. The conference was amazing, and I'm still coming down.
All of this brings us to this weekend, which is technically the first weekend in May - and later today I'll be loading up a massive timeline of Boston-area video game companies and their creations onto a projector as part of GAMBIT's contribution to the Boston CyberArts festival. A big hat tip to Josh Diaz, Philip Tan and Kent Quirk for being my co-conspirators on this project, as well as to Mike Rapa for hopefully helping out with the technical side of things. I'll let you know how it goes!
So, yes - add to this my continued involvement with the Interstitial Arts Foundation, some possibly very exciting new developments with several writing projects, and preparing for even more crazy stuff coming up in the next few weeks, and "busy" doesn't even begin to describe it. So, again, eighteen poems in the midst of all of that isn't too shabby. I may try and bang out the remaining twelve poems over the next little while to round out the project, but I already have other projects crowding the plate for this upcoming weekend - including some other writing projects and preparations for such upcoming events as the retreat for the Convergence Culture Consortium the weekend of May 7-8, and somewhere this weekend I'm determined to catch Wolverine. Because, hey, I'm a huge nerd and that's how I roll.
May you live in interesting times, indeed. I'm hoping to do a better job of keeping up with this journal in the next month, but, as always, we'll see what happens. Do keep in mind that even if things are pretty quiet around here, I'm likely to be blogging over at the IAF or at GAMBIT, and I'm fairly active on my Twitter account. Stay tuned!

January 27, 2009


[C3] The Future of Entertainment is... Paper?
I have a new post up today over at the MIT Convergence Culture Consortium weblog, "The Future of Entertainment is... Paper?" In it, I basically stare agog at the awesomeness that is PaperCamp, a one-day event that went down on January 17th in London and that I'm kicking myself for having missed. At the end of the piece I start ruminating a little about how PaperCamp and its 'protospimes' tie into my recent thinking on the idea of The Converged Author, which is definitely shaping up to be one of my key research topics of 2009. Check it out!

January 20, 2009


On Literature and Comparative Media Studies.
(Note: I should preface this bit of writing with a warning: what follows is a first attempt to set down some things I've been struggling to articulate for the past couple of years. As such, it may be slightly less than ideally coherent, but hopefully out of it some clarity will emerge.)
What is literature?
It's remarkable how explosive three words can be. "I love you" and "this is war" win out in the big picture, to be sure, but among academic circles (particularly in the humanities) "what is literature" can be almost as provocative. When you start mucking about with anything so heated, it's a good idea to start out with definition, or in this case, seven:
writings in which expression and form, in connection with ideas of permanent and universal interest, are characteristic or essential features, as poetry, novels, history, biography, and essays.
the entire body of writings of a specific language, period, people, etc.: the literature of England.
the writings dealing with a particular subject: the literature of ornithology.
the profession of a writer or author.
literary work or production.
any kind of printed material, as circulars, leaflets, or handbills: literature describing company products.
Archaic. polite learning; literary culture; appreciation of letters and books.
Note that the first four definitions all use variants of the word 'writing', definition six specifies printed materials, and definition seven explicitly uses the word books. (I find definition five to be absurdly insufficient: defining "literature" as "literary work or production" is like attempting to define "milk" as "milky work or production".)
And yet, and yet – imagine the outrageous clamor that would ensue if a professor were to suggest that Shakespeare should be banned from the study of literature, despite the fact that Shakespeare's works were not written to be read, but performed. In other words, Shakespeare's creations were primarily performative, not textual.
Such an argument might go as follows:
Shakespeare shouldn't be taught in literature classes, as his work was performative, not textual.

But clearly the strength of Shakespeare's work is to be found in the poetry of his words. "To be or not to be", "I will break my staff and drown my book" – these phrases have lasted for centuries due to the artfulness of their construction.

Have they? Reinterpretations of Shakespeare's works have been around almost as long as the originals; such a reimagining as West Side Story is still recognizable as Romeo and Juliet, even though it deploys none of the same language.

Perhaps this is due to a second strength of Shakespeare, which is also considered a component of literary studies: the structures of storytelling, such as character creation and plot development. It stands to reason that if Shakespeare's work were primarily performative, what should reach down through the ages are not the words and the structures but the actions, such as the dances Bob Fosse created for West Side Story, or the music by Leonard Bernstein and Stephen Sondheim. While both of these are considered exemplary, they do not fall under the definition of literary.

But why don't they? Music and dance moves can be recorded as written marks such as musical notes or dance charts – why is literature constrained to works of the alphabet? If the definition is, as suggested earlier, "writings in which expression and form, in connection with ideas of permanent and universal interest, are characteristic or essential features", and music and dance moves can both be written down, then clearly music and dance should be included in literary studies just the same as poetry, novels, history, biography or essays.

But they're not narrative.

Nowhere in the above definitions does the word 'narrative' appear.

Perhaps it should?

Poetry is studied as literature, and it's frequently not narrative. Besides, even if the word 'narrative' was included in such a definition, music, dance, film, comics and video games, robots, mobile devices or holographic television all can be used to tell stories.

But that's not their primary purpose.

It could be argued that telling stories is not the primary purpose of language, either.

Yet still, when we use the word 'literature' it remains associated with text in our mind, with language.

Of the elements I listed, only dance feels like it doesn't use language, and even then it's possible to imagine a dance performance that incorporates text or language through music, spoken words, projected text or a libretto.

Perhaps the answer is to be found elsewhere, then. In his Literary Theory, Terry Eagleton suggests that the study of English literature only came about as a way to inject formative philosophies and ideals into the minds of each new generation. Mythologies, legends, folklore, and religions serve as the literature of a culture insofar as they transmit traditions. This partly justifies the creation of a canon that is to be studied, as opposed to arguing that any text is worthy of study.

While that may be true, it fails to explain why works such as Casablanca exist in both the cultural memory and the tradition of film studies, if not literature: it's incredibly difficult to assign a particular moral value to Casablanca, but it does stand as an important work because of how it exemplifies a particular structure of creation. In the same way that The Searchers is worth experiencing as an example of the Western, or All Quiet on the Western Front stands as an exemplar of the war story.

Yet those do display "ideas of permanent and universal interest", as they both deal with the human experience. Even John Wayne's bastard of character in The Searchers can be instructive to audiences as to the dangers of the damaged.

But these are all films – should they be considered literature?

Perhaps, but a huge portion of their value is also to be found in how they demonstrate what can be done in a particular media form. Casablanca, The Searchers and All Quiet on the Western Front are all memorable for their performances and cinematography as much as they are for their dialogue, their characters or their narrative structures.

Which suggests that they should perhaps be studied in both Drama and Literature departments?

Oh, definitely.

But isn't this too narrow, too exclusive? Shouldn't even Literature students be made aware of the import of the performances and cinematography, if only to draw their attention to how important both factors might be?

Perhaps. But this suggests a need to examine what each media form brings to the table, so that anyone opting to write for a given form knows not only how to create great dialogue, characters and narrative structures, but also how to play to the strengths of a given form.

A comparative literature for media, then?

Perhaps.

But isn't that just media studies?

It seems to me that just studying what each media form does well, or just studying the effects of media forms, might fall under the rubric of media studies. The notion of comparative media studies might also incorporate this, but under the understanding that the study of multiple media is to be pressed into the service of examining how stories are told, traditions are conveyed, and culture is created in the same fashion as our traditional notion of literature in each of the myriad forms of media being created, consumed and explored in the 21st century is simply an updating of the definition of studying literature.

So this reading of Comparative Media Studies might simply be considered modern Literature?

Perhaps.
That's the conversation happening in
my
brain lately, which knits together my interests in English Literature, Film, Drama, Art, Literary Theory,
Comparative Media Studies
and the Media Lab's upcoming
Center for Future Storytelling
. It also describes the lay of my mental landscape concerning my Ph.D. plans, my plans for future books and how I might someday structure interdisciplinary courses taught inside of a Literature department (or whatever exists in 2015 or whenever I actually become The Good Doctor Long). Thoughts?

January 8, 2009


Antici...
This is a tiny little thing, but I was thinking this morning about how the GAMBIT website uses funny terminology for each of its sections. Back when Philip and I were first designing it, we wanted to name each section after a component of the gaming experience, so "News" became "Updates", "Careers" became "Join Game", "About Us" became "Campaign" and so on.
This came up because a graduate student writing an article on us pinged me to ask some very basic questions, which would have all been answered by a quick trip to our website. Initially I was irritated because it felt like said student simply hadn't done her homework, but then I wondered if perhaps our funny naming conventions weren't part of the problem. You couldn't simply type in "http://gambit.mit.edu/people" and go to our people section, or "http://gambit.mit.edu/games" and go to our games section.
Or could you?
Ten minutes later, the GAMBIT site now offers logical redirects at:
Trying to anticipate everything people might type in is a fool's errand, of course, but this is a nice start. Of course, a working search function would be nice too, but that's coming up fast on the to-do backlog.
...Pation. (Didn't want to leave you hanging, did I?)

December 22, 2008


Videoblogging Singapore.
Greetings to anyone coming to this site via the mySingapore Twitter stream! To provide you with some context, my name is Geoffrey Long and I'm the Communications Director for the US side of the Singapore-MIT GAMBIT Game Lab. In early December 2008 I flew from chilly Cambridge, Massachusetts to sunny Singapore to help our Singapore lab present at SIGGRAPH Asia 2008 and to see Singapore for the first time myself. Armed with my trusty Canon PowerShot SD890 IS, I decided to keep a running videoblog of my experiences there – and the results are below. You can also find still photographs from my trip in this Flickr album.
And now, the links:
Thanks for stopping by, and let me know what you think!