October 2008 Archives
October 28, 2008


MIT after MIT.
As longtime readers of this blog know, I started my Master's degree at MIT in 2005, finished it in 2007 and then immediately went to work at MIT as the Communications Director for both Comparative Media Studies (the program where I'd earned said master's) and for the newly-formed Singapore-MIT GAMBIT Game Lab. I was completely flabbergasted by the amount of work that being a grad student in CMS had entailed, but I was utterly floored when the amount of work as an employee was even more than that. Still, the past year-and-a-half have been incredibly rich and rewarding, and has allowed me time to continue my studies, which was my main reason for wanting to stick around. Even though I'm not currently in any kind of degree-granting program (and yes, the desire for that delayed Ph.D does have me occasionally wailing and gnashing my teeth), my time has been far from wasted – especially since becoming a researcher at GAMBIT in addition to its Communications Director.
The amount of media I've been consuming has been obscene. Barely a week goes by when I'm not buying another book, movie, or game in an attempt to bring myself up to speed in multiple categories. It's been a ridiculously overwhelming project, learning tons about scholarship, theory and criticism in games, films, comics and literature, but lately I've been noticing that I'm making serious progress. Granted, I'm still only about 75%-80% of the way through the AFI top 122 films and I've barely scratched the surface of a whole ton of material, but it's remarkable how much more grounded I feel now than I did when I was a graduate student – and most of that has come after graduation. I have a greater grasp now on Callois, Huzinga, Ryan, Bolter and other game theorists; I'm familiarizing myself with the work of David Bordwell and other film scholars; I'm reading up on the history of comics in the early 1900s; I'm digging deeper into experimental animation from characters like Svenkmajer and the Brothers Quay... Plus I've been filling in tons of gaps in my experience with the genre canon – for example, this weekend I read H.P. Lovecraft's At the Mountains of Madness for the first time, observing carefully when and where I was caught up in his description of his bizarre world and when I was skimming paragraphs due to his blatant violations of 'show, don't tell'. I'm also hard at work revising my writing, banging out essays for possible publication, gathering my wits about me for possible short stories and researching both how to write book proposals and how to approach literary agents.
Long story short, even though CMS doesn't have a Ph.D, this is what I'd imagine a Ph.D in CMS would be like. Maybe someday we'll actually get one and I can set about turning this wooden puppet of research into a real boy of a degree. Then again, even if not, this is probably how the rest of my life will be when it's not being dedicated to errands, repairing houses and/or cars, raising kids and other life challenges. And actually, that sounds simply awesome. More actual writing and publishing, please, but this is pretty much the groove I've been looking for all along.
Life is good!

October 26, 2008


Death of physical bookstores = death of genre-ghettoization?
While reading this Mediabistro piece on Michael Chabon, Jeffrey Ford and why genre tags don't matter, I found myself reflecting on Borders' current struggles with solvency. I'd be devastated if Borders and Barnes and Noble went under due to Amazon, just as I've been deeply mournful of all the indie bookstores put under by Borders and Barnes and Noble, but there might be one upside to the disappearance of the physical bookstore: the possible death of genre-ghettoization of authors. As Chabon and Ford so eloquently explain:
Chabon pointed out that the idea that writers would only work within one genre is a relatively new one; look at the range of stories Edgar Allan Poe or Rudyard Kipling told, for example, or Isaac Bashevis Singer. "Singer is unquestionably recognized as a literary writer," Chabon explained, "but is also as much a part of the supernatural literary tradition as Poe." In this vein, Ford recommended that we both pick up Beneath the American Renaissance, a book by David S. Reynolds about the 19th-century popular culture that shaped what we now regard as American literary masterpieces.

"I don't know why it's such a big deal," Ford said of the genre-straddling, to which Chabon replied, "The people it matters the least to are the ones who are doing it. In so many other artistic mediums, it's not weird at all." He cites the career of filmmaker Robert Altman, who went from war comedy to private eye story to western (to take just one short segment) with ease. "The fact that he was working in all those genres--that's standard operating procedure in Hollywood."
Don't get me wrong – the idea of genre will continue to exist, but perhaps this idiotic categorization of authors into only one genre will finally disappear. Characters like Jonathan Carroll who write wonderfully difficult-to-categorize books will no longer be shunted off into just the sci-fi section or the literature section, since one of the most beautiful things about Amazon is that it's so easy to browse freely across books that are simply recommended through similar purchasing patterns.
As it is, the floundering of Borders is causing all kinds of consternation. Allow me to point you to Gregory Frost's recent essay in The Wild River Review, "Books Without Borders", wherein he laments Borders' recent decision to not stock his new novel. A bookstore opting to "skip" a new novel is unfortunately not at all that uncommon – as Andrew Wheeler notes, zero is the default order for any new book – but it's surprising in Frost's case because he's a well-established novelists whose novels are consistently solid-sellers, if not New York Times bestsellers. Frost's not alone – Borders has been slashing its orders on all kinds of authors in a mad struggle to stay afloat, including even Geoff Ryman, according to Lady Churchill's Rosebud Wristlet / Small Beer Press. As Link and/or Grant puts it so perfectly:
[Borders] is sitting tight, not ordering books, trying not to go bust. So, best of luck on the not going bust, might be a bit hard if they're not actually carrying the books people are expecting to find.
I'm torn, myself. Honestly, I think the widespread advent of book-buying online is a great thing insofar as it blows the doors off the amount of great niche content that's made available relatively quickly, and provides access to such special editions as those offered by Subterranean Press and Payseur & Schmidt, as well as a business model for tons of great new up-and-comers in film, comics, books and games all over the world. However, I'm also well aware that there's a serious threat of increased difficulty in making a living at this when it becomes increasingly difficult to separate the wheat from the chaff.
What I honestly don't know is how much the new models of online promotion and distribution (including word-of-mouth on blogs, free content distribution and ebooks) will offset the loss of physical copies in bookstores being picked up by people browsing. It might, or it might not – I honestly don't know how long it will be before any kind of definitive answer ever appears. The biggest reason to go with one of the Seven Sisters now is the big rumbling engines of their publicity departments – but if physical bookstores go away, how much will that still matter? And will the CPM on online book sites go through the roof if suddenly physical browsing ceases to be a feasible method by which to find new stuff?
Links list: 10-26-08.
I haven't done one of these in a while now, have I?

October 24, 2008


Tatar, Maguire and other luminaries.
This has been an amazing month for attending lectures. First there was Kelly Link at the Harvard Book Store, reading to promote her new book Pretty Monsters; then there was Jonathan Carroll at the Harvard Book Store, reading to promote his new book The Ghost in Love; then this week there was Maria Tatar and Gregory Maguire at the Brattle Theater (organized by the Harvard Book Store) to promote his new book A Lion Among Men; last night there was Art Spiegelman at the Brattle (organized by the Harvard Book Store) to promote his new/old book Breakdowns, and then today there was Jeet Heer, Ho Che Anderson and Diana Tamblyn at MIT courtesy of Sarah Brouillette, CMS, FL&L, Literature and the Kelly-Douglas Fund.
The upshot of all this? Living in Boston is awesome. MIT is awesome. And the Harvard Book Store is amazing.

October 22, 2008


Hear This Now: The Winterpills.
Courtesy of the lovely Small Beer Press newsblog comes my discovery of a new favorite group. Ever heard of the Winterpills? No? Then get thyself over to their official site or their Virb.com page and give their stuff a listen. Close harmonies, beautifully wistful and poetic lyrics (as SBP notes, yes, "You were born immortal and you'll die immortal" is a bloody amazing line, and I wish I'd thought of it, as is "We met first in cafés / and later in ruins" – I mean, day-um) and a myriad of both acoustic guitars and slightly distorted tweets, chirps and burbles make this group easily one of my favorite new discoveries of 2008. And yes, they're on iTunes. There went thirty bucks...
And now I must away, as Laura and I have tickets to tonight's Gregory Maguire / Maria Tatar event at the Brattle and I am sufficiently stoked for both of us and all of you out there in Internetville.

October 20, 2008


Absinthe Robotte.
A new piece for my portfolio: the artwork that I created for the ABSINTHE multimedia arts salon that I emceed this past weekend in Union Square...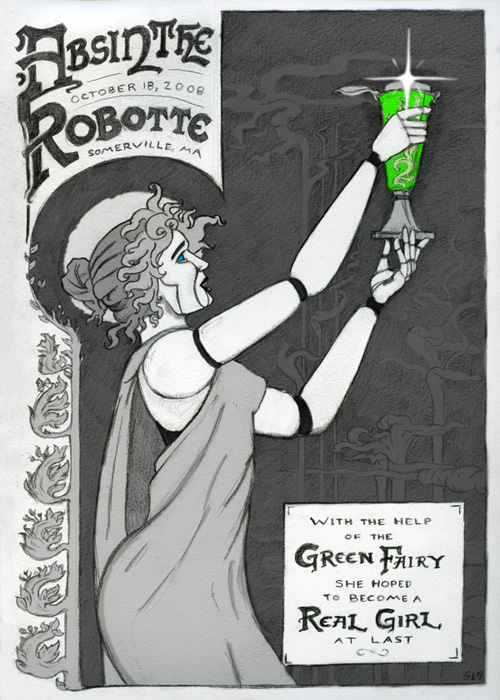 Big props to Joelle for putting together this awesome event! (And, for the curious, a link to the original beautiful art that inspired this piece. The original is full of rich, vibrant colors, but I wanted to keep mine largely grayscale with only a few accent colors to make them really pop – the green of the absinthe, of course, but also the sky blue of the hope in her eyes – and to drive home the cool, chilly, metallic tone of her artificial existence. La belle epoxy, if you will.)

October 16, 2008


Radiohead's IN RAINBOWS: by the Numbers
Here's some juicy news concerning last year's "pay what you want" experiment from Radiohead:
according to Rolling Stone
and
musically.com
, Radiohead's publisher Warner Chappell confirmed yesterday that "Radiohead made more money before
In Rainbows
was physically released than they made in total on the previous album
Hail To the Thief
".

October 15, 2008


A great year for meeting people.
If you had told me when I was sixteen that later in my life I would, in the course of approximately one year, spend some genuine facetime with Neil Gaiman, James Morrow, Mike Mignola, Kelly Link and Jonathan Carroll I would have said that you were nuts. (Well, I would have also said "Who's Kelly Link?" back then, but that's beside the point.)
If you'd told me that I would have gotten the chance to meet Rand Miller (the co-creator of Myst), Bill Willingham (who writes Fables), befriend Raph Koster and listen to a lecture by Guillermo del Toro in that same year, I'd've told you that you were also insane.
If you'd told me that if you extended that window out to eighteen months it would also include getting to meet Jeff Smith and graduating from MIT, I'd've told you were completely barking mad.
Yet, that's the eighteen months it's been for me. When I look back on 2007-2008 and think about all this economic disaster and political hoo-rah and all the rest of the bizarreness afoot in the world, that's what I should remember – that this year-and-some-change has been amazing, wonderful and incredibly stimulating.
All of this is brought up by my attending back-to-back lectures by both Stephen Greenblatt (the noted New Historicist from Harvard) here at MIT and Jonathan Carroll (one of my favorite novelists) at the Harvard Bookstore last night. Consider my mind officially blown.

October 9, 2008


@C3: Metafun for Metaplayers.
Over at the C3 blog, I've just posted a quick write-up (with photos!) of Bruce Sterling's excellent keynote lecture at the 2008 Austin Game Developers Conference. You can find the entry under the title Metafun for Metaplayers.
Metafun for Metaplayers
A few weeks ago, I had the pleasure of attending
Bruce Sterling
's keynote lecture at the 2008
Austin Game Developers' Conference
. (I was there co-presenting a video game adaptation workshop with Matthew Weise, a comrade-in-arms of mine at the
Singapore-MIT GAMBIT Game Lab
.) Sterling was, as ever, utterly brilliant; given my previous exposures to Sterling at SXSW conferences in the past, I was expecting to be entertained. What I hadn't expected was for Sterling to give his entire lecture as a piece of performance art.
Thanks to the inestimable
Raph Koster
, we have a
mostly complete transcript
of Sterling's presentation, which opened thus:
Hello, thanks for having me into your event today, and thanks for that intro. Though there is a problem with that: I am not Bruce Sterling. He couldn't make it. He sent me instead. The reason he couldn't make it is that in 2043, Bruce is 89. Dr. Sterling is too frail to get into a time machine to talk to game devs, so he called on me to do it. I am one of his grad students. I volunteered, sort of, to journey back in time using some of our new technical methods. It wasn't exactly easy, but I am here and fully briefed.
Priceless. You should definitely swing by Koster's site and read the whole thing, even though it can't compete with the sheer ludicrousness of
Sterling
Dr. Sterling's unnamed grad student whipping a cheap kitchen towel out of a bag and introducing it as his computer.
"So my PC is like a towel," not-Sterling said. "Cheap and old and the dullest thing in the world, I have always had one. '2008, computer pioneers, they still think computers are exciting! They don't get that computers in 2043 are like bricks, forks, toothbrushes, towels.' I researched that subject, and yeah, for an old fashioned audience, a mid-21st century computer is cool. So here it is: General Electric personal mediators, very stable, five years old. No full functionality in 2008 because we don't have the cloud here yet. It tapped into something called Windows Vista when it got here and gave up, gone all limp, nothing left on here but this frozen screensaver pattern." Which, of course, was the pattern on the towel. Like I said, priceless. What really left me howling, however, was when not-Sterling all but name-dropped C3.

October 8, 2008


An amazing season for media.
I have just discovered that, in addition to Gaiman's The Graveyard Book, Pratchett's Nation, Link's Pretty Little Monsters and Carroll's The Ghost in Love, Louis De Bernieres' new book A Partisan's Daughter hit shelves today.
I yield! I yield! My poor wallet! What else could this fall possibly throw at me?
(Well, there's this, this, this, and this, not to mention this, this, this and this. Arrrgh.)

October 6, 2008


Doodle du jour: Crazy Bicycle.
Don't mind me, just trying to get my drawing skills back – which have apparently atrophied worse than a fish's feet.